This essay is adapted from Chapter 36 of Outdoor Monuments of Manhattan: A Historical Guide. I've kept cross-references to other chapters in the book. Outdoor Monuments has been "translated" into a fabulous app that you can enjoy on your phone or tablet for the images and music, even if you're not in New York. The Guides Who Know Monuments of Manhattan videoguide is available for iPhone users (free Preview; complete app) and Android users (free preview; complete app).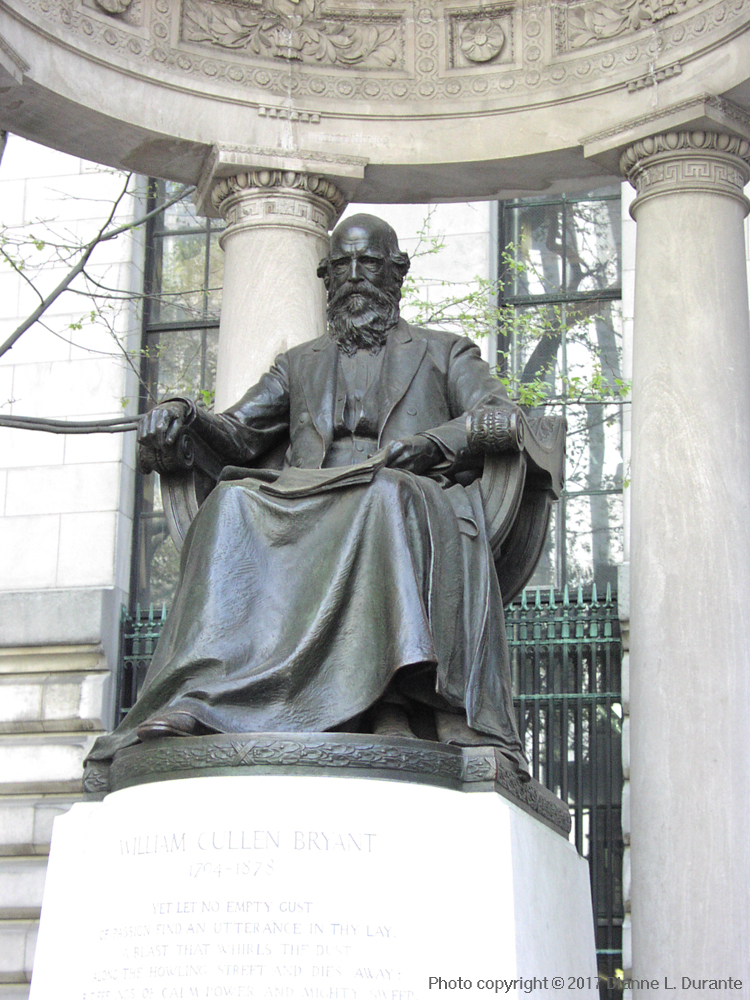 Sculptor: Herbert Adams. Architect: Thomas Hastings.
Dedicated: 1911.
Medium and size: Overall about 50 feet wide; includes a bronze figure (6 feet) and a marble canopy and pedestal, flanked by urns and balustrades.
Location: Bryant Park west of the New York Public Library, between Fifth and Sixth Avenues and 42nd and 41st Streets.
About the sculpture
This is another great ensemble, like Saint Gaudens's Cooper (Chapter 10). Here the architectural frame is crucial for making the statue stand out against the huge blank wall of the New York Public Library. Thomas Hastings, architect of the Bryant Memorial, was also one of the architects of the Library, which was completed the same year this sculpture was dedicated.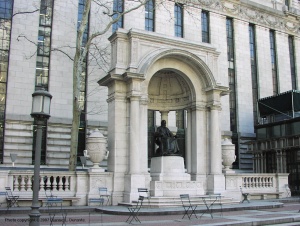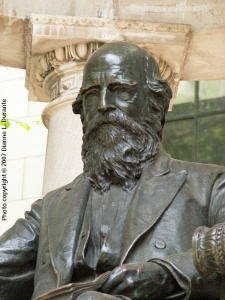 Bryant (with his trademark long beard) is memorialized as a grand old man of letters. A rug covers his knees, making him look at first as if he's wearing a toga, and he holds a sheaf of papers on his lap. On the statue's pedestal is an inscription from "The Poet," one of Bryant's later works:
Yet let no empty gust of passion find an utterance in thy lay,
A blast that whirls the dust along the howling street and dies away;
But feelings of calm power and mighty sweep.
Like currents journeying through the windless deep.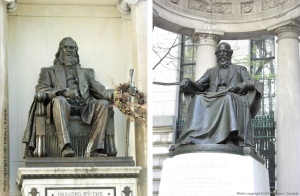 At first glance Bryant appears similar to Saint Gaudens's Cooper, dedicated seventeen years earlier. Both are authoritative, elderly men in conventional business suits. It's the seemingly minor differences that distinguish them. The position of Cooper's cane suggests that he may stand up at any moment, while the rug on Bryant's lap suggests he's a sedentary type, likely to retreat to his books and papers. Cooper sits on a fringed chair that's decidedly Victorian, while Bryant sits on a chair of ancient Greek style that recalls his love of the classics. Bryant is the bookish one, Cooper the man of action.
Both Cooper and the Bryant Memorial are excellent examples of works produced during the City Beautiful movement. One of the spurs of that movement was the 1893 Columbian Exposition in Chicago (see Columbus, Chapter 36; and here). Many of its twenty million visitors vividly remembered the sights, smells and ambience of the "White City." It was clean, well-lit and safe—the opposite of American cities such as New York and Chicago. Think Disney World vs. the South Bronx.
The City Beautiful Movement, which lasted from the 1890s until World War I, was in part a drive to improve cities physically, but it also aimed to improve city residents morally and intellectually. Many of New York's grandest public buildings date to this era: the New York Public Library, the Customs House at Bowling Green, Pennsylvania Station, and Grand Central Station (Outdoor Monuments Chapters 4, 20, 26). The sculpture that decorated these buildings, or was erected during the same period in Central Park and other public venues, was meant to edify passersby with illustrations of patriotism, good government, technological progress, civic harmony, culture or simply beauty. Wealthy and sophisticated residents felt that the floods of immigrants (in 1900, 41% of New Yorkers were foreign-born) needed to be shown the values and virtues of American citizens.
The flaw in the City Beautiful movement was the idea that art could teach abstract ideas, rather than presenting vivid models and reminders (see Hale, Chapter 8). However mistaken the motive, the decades during which this view of art as a didactic instrument dominated saw the production of many New York's most beautiful works of outdoor sculpture. See Appendix B of Outdoor Monuments for over two dozen works from this period.
About the subject
If you're of a certain age (ahem!), you'll remember these lines from high-school literature classes:
To him who, in the love of Nature, holds
Communion with her visible forms, she speaks
A various language . . .
Later described by New York Mayor William Jay Gaynor as "the most melancholy poem that was ever written," "Thanatopsis" made twenty-one-year-old William Cullen Bryant (1794-1878) a rising literary star—one of the first truly American poets. His reputation both benefited and suffered, as biographer William Aspenwall Bradley explains:
After a period in which he suffered somewhat of an eclipse through the rise of new schools and new poets to contest with him the palm of supremacy, his great age, the traditions of an earlier day which he represented, his personality which so perfectly embodied the prophetic and seer-like aspect of the poetic ideal, and finally local pride in the possession of a poet whom New York could produce to oppose the claims of its rival, Boston, to literary supremacy,—all these tended to create a regard for Bryant that was rather personal than literary. To-day the tendency . . . is to regard him rather as a figure, a landmark in the literary history of America, than as a true and original poet.
Some consider Bryant long-winded. I'm willing to forgive a great deal to a man who can compose a poem as poignant as "My Autumn Walk" (see below), written when three years of civil war had racked up half a million American casualties.
Although the emphasis in this sculpture is on Bryant as a poet, Bryant's widespread influence in New York was due as much to the logic and eloquence of his prose as to his verse. For over fifty years he was editor of the New York Evening Post, founded in 1801 by Alexander Hamilton (Chapter 53). "He had not the fiery, warlike temperament of Horace Greeley," said Bryant's New York Times obituary; "His fibre was too fine, his mind too pensive for those vigorous brutalities of the daily press in which Horace Greeley delighted." While Greeley's Tribune and Bennett's Herald (Chapters 7, 21) titillated readers with sensational stories, Bryant transformed the Post into the newspaper of choice for educated New Yorkers, forming American literary taste for half a century.
William Cullen Bryant, "My Autumn Walk" (1864)
On woodlands ruddy with autumn
The amber sunshine lies;
I look on the beauty round me,
And tears come into my eyes.

For the wind that sweeps the meadows
Blows out of the far Southwest,
Where our gallant men are fighting,
And the gallant dead are at rest.

The golden-rod is leaning,
And the purple aster waves,
In a breeze from the land of battles,
A breath from the land of graves.

Full fast the leaves are dropping
Before that wandering breath;
As fast, on the field of battle,
Our brethren fall in death.

Beautiful over my pathway
The forest spoils are shed;
They are spotting the grassy hillocks
With purple and gold and red.

Beautiful is the death-sleep
Of those who bravely fight
In their country's holy quarrel,
And perish for the Right.

But who shall comfort the living,
The light of whose homes is gone:
The bride that, early widowed,
Lives broken-hearted on;

The matron whose sons are lying
In graves on a distant shore;
The maiden, whose promised husband
Comes back from the war no more?

I look on the peaceful dwellings
Whose windows glimmer in sight,
With croft and garden and orchard,
That bask in the mellow light;

And I know that, when our couriers
With news of victory come,
They will bring a bitter message
Of hopeless grief to some.

Again I turn to the woodlands,
And shudder as I see
The mock-grape's blood-red banner
Hung out on the cedar-tree;

And I think of days of slaughter,
And the night-sky red with flames,
On the Chattahoochee's meadows,
And the wasted banks of the James.

O for the fresh spring-season,
When the groves are in their prime,
And far away in the future
Is the frosty autumn-time!

O for that better season,
When the pride of the foe shall yield,
And the hosts of God and Freedom
March back from the well-won field;

And the matron shall clasp her first-born
With tears of joy and pride;
And the scarred and war-worn lover
Shall claim his promised bride!

The leaves are swept from the branches;
But the living buds are there,
With folded flower and foliage,
To sprout in kinder air.
More
Bryant ran the New York Post, founded by Alexander Hamilton.
He introduced Lincoln for his famous "right makes might" campaign speech at the Cooper Union in February 1860, and read a moving poem at Union Square after Lincoln's assasssination ("Oh, slow to smite and swift to spare, / Gentle and merciful and just!").
He delivered a eulogy of Washington Irving (who had introduced Bryant's poetry to British audiences). A bust of Irving stands on Irving Place at 17th St.
Bryant spoke at the unveiling of several early statues in Central Park: Shakespeare, poets Halleck and Scotton the Literary Walk, and Italian patriot Mazzini. After the Mazzini speech, given on a hot June day in 1878, 84-year-old Bryant tripped on a friend's doorstep and suffered the head injury that led to his death a few weeks later.
For more on the City Beautiful movement, see my essays: first, second, third. One of the major proponents of the City Beautiful movement was William Stead, whose memorial stands in Central Park.
Want wonderful art delivered weekly to your inbox? Members of my free Sunday Recommendations list (email DuranteDianne@gmail.com) receive three art-related suggestions every week: check out my favorites from last year's recommendations. For more goodies, check out my Patreon page.