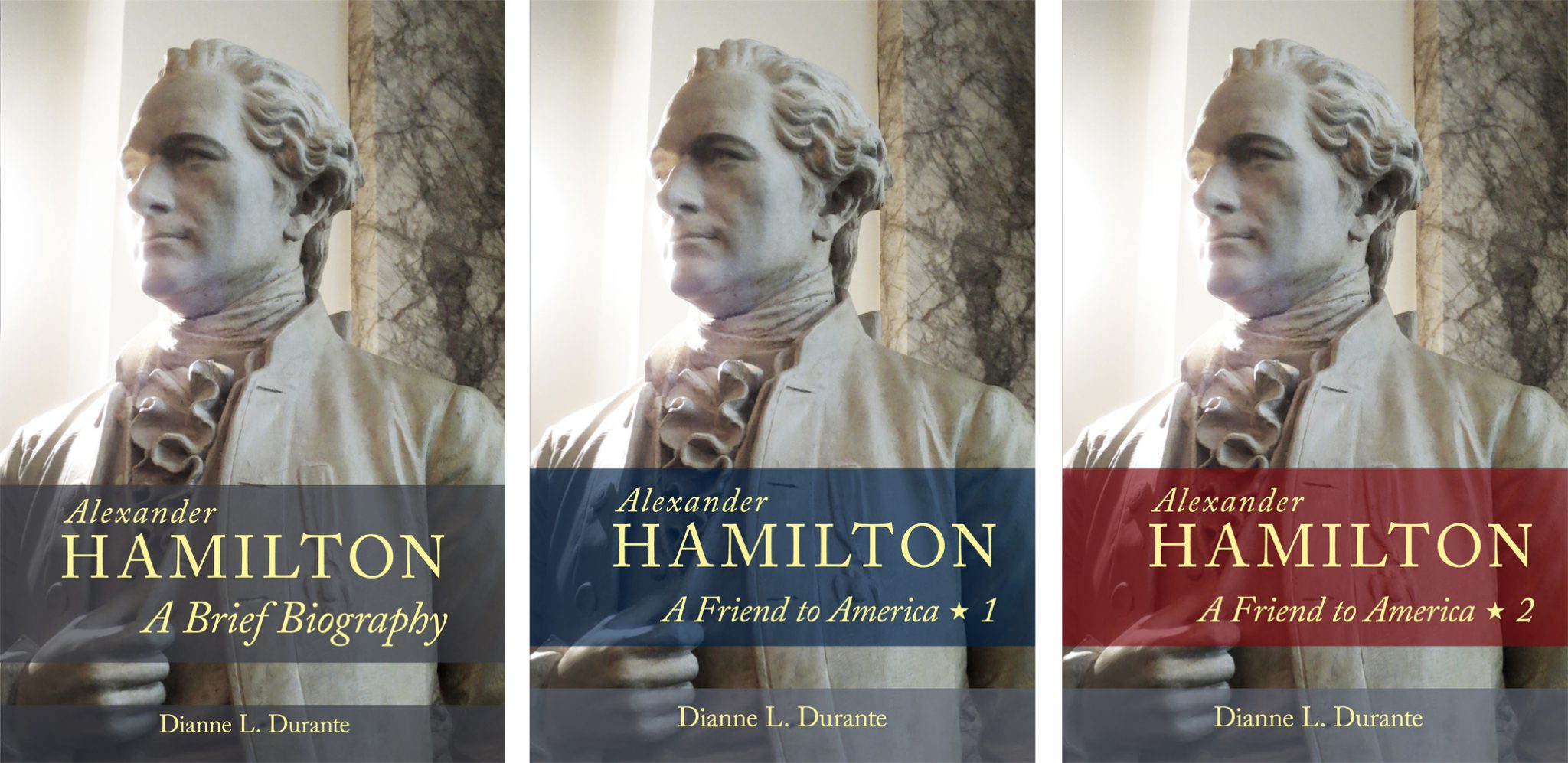 Now available: Alexander Hamilton: A Brief Biography and Alexander Hamilton: A Friend to America, volumes 1 and 2. (The "sell sheet" with all the information below is available as a PDF.)
Print version of all three volumes available on Barnes & Noble for $14 + $30 + $25 = $69.00 (printed by Ingram, here, here, and here).
Print version of all three volumes available on Amazon for $15 + $54.95 + $42 = $111.95 (printed by CreateSpace here, here, and here – it's on slightly heavier paper, but otherwise identical with the Ingram version)
Kindle ebook of Alexander Hamilton: A Brief Biography here
EPUB ebook of Alexander Hamilton: A Brief Biography should be available any day now (as of 6/23/18): search Barnes & Noble for "Hamilton Brief Biography"
Reviewed in the Alexander Hamilton Awareness Society's newsletter
Rand Scholet, president and founder of the Alexander Hamilton Awareness Society, wrote in a recent newsletter:
Author Dianne Durante has made a valuable contribution to the literature on Alexander Hamilton.  Though the research is clearly based on an in-depth study of primary source documents, the writings are conversational and give the reader a truer understanding of this remarkable Founding Father by keeping his voice heard throughout the pages.  The AHA Society highly recommends this three-book series on Alexander Hamilton.
The point of these three volumes
What were the important events of Hamilton's life? What were the ideas that drove him? Alexander Hamilton: A Brief Biography includes substantial quotes from Hamilton's writings, dozens of full-color images of Hamilton and his times, and a timeline setting Hamilton's life in the context of events in Europe and the United States. If you're a fan of Hamilton: An American Musical, this bio will give you more reasons to love the man and the musical. If you're a history geek or a fan of Hamilton, it will serve as a gateway to Alexander Hamilton: A Friend to America, a two-volume set with extensive excerpts from writings by Hamilton and his contemporaries.
The two volumes of Alexander Hamilton: A Friend to America are unique in their emphasis on primary sources. Using writings by Hamilton, Washington, Burr, Eliza, Angelica, and others, they stitch together an image of Hamilton's life, his times, and the ideas that drove him. These essays originally appeared as a series of weekly blog posts on intriguing topics such as:
Alexander's "death wish": what's the evidence for it?
Alexander and Angelica: yes, no, maybe?
What made Hamilton's first political essay so attention-grabbing?
Do we know the recipe for Alexander and Eliza's wedding cake?
Was Hamilton a laissez-faire capitalist, a proponent of Big Government, or …? Where did he draw the line between economics and politics?
Maria Reynolds: What the hell was he thinking?
What's the difference between history and art, and why do we need both?
All three volumes are 6×9 inches and include illustrations in color and black and white – a total of more than 300 images.
How I came to write these books
This is the introduction to Alexander Hamilton: A Friend to America, volume 1.
The two volumes (728 pages) of Alexander Hamilton: Friend to America supplement my 92-page Alexander Hamilton: A Brief Biography. Here's how such a big tail came to be wagging such a small dog.
Sculptures
Since 2002, I've been researching and writing about outdoor sculpture in New York City. When Ron Chernow's Alexander Hamilton appeared in 2004, I was eager to learn why New Yorkers had erected four lifesize sculptures of Hamilton. I enjoyed Hamilton's company so much that I worked up a walking tour of the sculptures, focusing on the relationship between the important events of Hamilton's life and the ideas that drove him. For me (writer's bias!), the best way to get to know someone is to become familiar with what he wrote. On the tour, volunteers read aloud excerpts from Hamilton's writings. In 2012, I turned my tour notes into a Kindle book—Alexander Hamilton: A Brief Biography—and then toddled off to work on other projects.
Musical
In 2015, along came Hamilton: An American Musical. By the time I listened to the soundtrack in January 2016 (see Chapter 1), tickets were scarce and expensive. I compensated by writing blog posts on DianneDuranteWriter.com. Once a week for sixteen months, I linked lines in the musical to writings by Hamilton and his contemporaries. Since I love visuals, I found early illustrations for the posts – included here in full color. I tackled the difference between art and history, and why we need both. When dealing with disputed points (e.g., Alexander's "death wish"), I talked about the process of writing history.
After I discovered the line-by-line Hamilton annotations on Genius.com, I began to focus less on matching lyrics to Hamilton's writings and more on stitching together an image of Hamilton's life and ideas via his own words. Because my time for research was limited, I chose not to delve into secondary sources. Instead, I read as many primary sources (original writings of Hamilton and others) as I could cram into each week.
That turned out to be quite a lot. Before I gave my talk on Hamilton in 2004, I spent hours poring over the 27-volume printed edition of Hamilton's works. This time around, not only did I read most of Hamilton's letters and essays online—I read the letters he was replying to, and eyewitness accounts of events he participated in.
I've tried to allow Hamilton, Washington, Angelica, Eliza, Madison, and their contemporaries speak for themselves. The lengthy excerpts from their writings are the backbone of Hamilton: A Friend to America, and make it unique among the hundreds of published works on Hamilton. (For those unaccustomed to such long stretches of eighteenth-century prose, I've broken up the quotes by highlighting key sections in red.)
If you're a fan of the musical, you'll recognize that the order of the early posts is based on the sequence of events used by Lin-Manuel Miranda. Aaron Burr, Hercules Mulligan, John Laurens, and the Marquis de Lafayette appear in Chapters 3-6 because they appear near the beginning of Act I. I hope you'll enjoy delving into the real lives of the characters. I'm still surprised and delighted by how much history Lin-Manuel Miranda managed to fit into Hamilton: An American Musical.
If you're a fan of the Founding Fathers rather than the Broadway musical, the extensive primary sources in Alexander Hamilton: A Friend to America will give you a new perspective on America during and just after the Revolution. To read them in chronological order, check out the cross-references in Alexander Hamilton: A Brief Biography.
A side note: I kept posts that were filler (such as Chapter 10) because if I deleted them, I'd have to change hundreds of cross-references—a horrifying thought. Another horrifying thought: making corrections to the blog posts (which are still online) as well as the printed version. The printed version is the up-to-date one.
Permissions
As first published, the blog posts included many lines from the musical. The producers of Hamilton: An American Musical denied my request to use the lyrics in the printed version. Hence I've stripped the lyrics from both books and blog posts. The few lyrics that remain fall under fair use.
Why "A friend to America"?
Seventeen-year-old Alexander Hamilton signed his first political pamphlet, A Full Vindication of the Measures of Congress, as "A Friend to America." His pen name nicely sums up the range of his achievements: writing in defense of the American colonies and the new nation, acting as Washington's aide-de-camp, promoting business, supporting the Constitution, and organizing the financial system of the new government. The man wasn't perfect, but he was damn good.
References
I hope that someone is, at this very moment, working out a way to make hyperlinks easy to translate into footnotes. Lacking that, I've left the hyperlinks underlined in the printed text and created pages on DianneDuranteWriter.com with clickable links (here and here for volumes 1 and 2, here for the Brief Biography). As a back-up, the links are also printed at the end of each volume.
Acknowledgments
I've thanked a number of scholars in the text. I'd like to also thank my husband, who was willing to discuss Hamilton and Hamilton for hours and hours. Thanks to my daughter, Allegra, whose Photoshop expertise made the cover much more attractive. And thanks to my sister / copy editor Jan Robinson, who caught many errors. If you find others, email me (DuranteDianne@gmail.com) and I'll fix them in a future printing.
More
The photo on the front cover of all three volumes was taken at the Museum of American Finance, which owns the plaster model of the granite portrait sculpture by Carl Conrads that was dedicated in Central Park in 1880. The Conrads sculpture shows Hamilton as an orator and writer; its base (used for the back cover) honors Hamilton's military service.
Want wonderful art delivered weekly to your inbox? Members of my free Sunday Recommendations list (email DuranteDianne@gmail.com) receive three art-related suggestions every week: check out my favorites from last year's recommendations. For more goodies, check out my Patreon page.