What I do and why I do it
I constantly seek out art that's inspiring, thought-provoking, skillfully executed, and/or beautiful so I can share it (in jargon-free language) with others who need and enjoy such art, but who don't have time to search for it themselves. As an independent scholar, writer, and lecturer, I focus on art history and history, with forays into food, history, politics, and publishing. For my publications, see
Amazon
and the
Books and Essays page
of this site.
Sunday Recommendations & Patreon
See
this page
for  how to join the free Sunday Recommendations list, or support my work and receive rewards.
Many thanks to my sponsors on Patreon at the $25 level:
Adam Reed, E.M. Allison, Duncan Curry,
John Cerasuolo, Earl Goudie, Adrina & Milton Cohen,
Jeri Eagan, Tara Smith & Ann Ciccolella

Writing addict & adept
At age five, I won my first writing award: a three-foot-long fire truck with an ear-splitting siren. I've been addicted to writing ever since. It earned me most of my college tuition, a four-week trip to Greece, and a ten-day Caribbean cruise. Oh, yes, and mortgage payments: my day job for 25 years was describing rare books in such an enticing way that customers were eager to pay my boss thousands of dollars for them. I also do freelance editing, writing, and copywriting (testimonials here): email me for info on rates (DuranteDianne@gmail.com.
I'm also a tour guide, independent researcher, freelance writer, and lecturer. My insatiable curiosity has led me to comment  on the arts, food, history, politics, and the business of writing and publishing: see the Books and Essays list. The challenge of figuring out how ideas and facts fit together, and then sharing what I know with others, clearly and concisely – that's what makes me leap out of bed in the morning.
Art & art history
When I was 17, my high-school art teacher lent me Janson's History of Art. It was my first clue that art was more than the rock-star posters and garden gnomes that I saw in Catawissa, Pennsylvania, and that history wasn't just a series of names, dates, and statistics. Soon afterwards I read Ayn Rand's fiction and nonfiction works, and discovered that art and history – as well as politics, ethics, science, and all fields of human knowledge – are integrated by philosophy. My approach to studying art is based on Rand's The Romantic Manifesto. (More on that here.)
As an art historian I'm a passionate amateur, and I write for other passionate amateurs. I love looking at art, and thinking about art, and helping other people have a blast looking at it, too.
Current projects
Innovators in Painting, the companion to Innovators in Sculpture, is a jargon-free overview that focuses on innovations that gave artists greater power to make viewers stop, look, and think about paintings.
Artist-Entrepreneurs: Saint Gaudens, MacMonnies, and Parrish: an adaptation for print and Kindle of a lecture at the Cordair Arts & Wine Weekend in July 2018.
Greek art and philosophy: how the content and sense of life of Greek are are related to Greek philosophy, and how long it takes for philosophical developments to be reflected in Greek art.
To be notified of new publications, join the Sunday Recommendations list.
Outdoor sculpture in New York City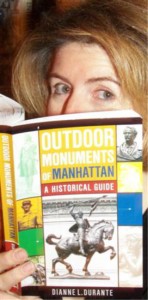 Since 2002, I've written extensively on outdoor representational sculpture in New York City. I believe that art at its best is emotional fuel, and while these sculptures don't rival Michelangelo's David, many of them are extremely well executed and represent people whose achievements are inspiring.
My website www.ForgottenDelights.com was created in 2002 to celebrate such sculptures. The essays originally posted there were moved in May 2019 to DianneDuranteWriter.com: see here for a list.
Outdoor Monuments of Manhattan: A Historical Guide (New York University Press, 2007), which includes 54 sculptures, was described by Sam Roberts in the New York Times as "a perfect walking-tour accompaniment to help New Yorkers and visitors find, identify and better appreciate statues famous and obscure" (1/28/2007).
In 2014, Guides Who Know published a "translation" of the book as Monuments of Manhattan, a videoguide app. Another app (in progress) covers Central Park.
Rants
I don't consider non-representational works to be art. Usually I don't bother to discuss them. But if you're up for a good rant, try this one on Christo's Gates or this one on the Turner Prize (2005).
Yes, I talk, too
I've given dozens of lectures on art history and history, at the Metropolitan Museum, Fraunces Tavern, and Hamilton Grange, as well as walking tours. The list of tours is here; list of lectures is here.
Words I live by
Knowledge is never wasted except on those too lazy to use it. (Did I mention I have a PhD in Classical Philology, and can read 10 or so languages?)
Aut inveniam via aut faciam: I shall either find a way or make one.
A is A.