About the National Gallery
Unlike the Louvre and the Prado, whose earliest holdings came from royalty, the National Gallery evolved from a collection of 38 paintings purchased by the British government from a private individual. Since 1824, its collection has increased to more than 2300 paintings ranging from the mid-13th to late 19th centuries. The main building, on Trafalgar Square, was constructed in 1838 and has been expanded piecemeal since then.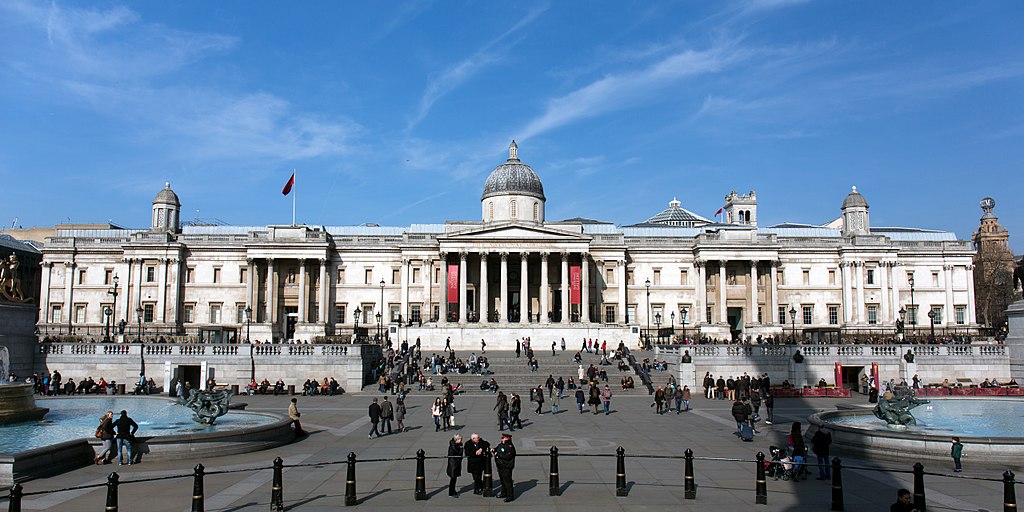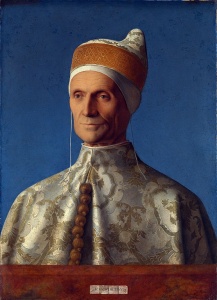 The character, the colors, the textures … a wonderful portrait by the artist who painted the Frick's St. Francis in the Desert, which I love for entirely non-religious reasons. (See How to Analyze and Appreciate Paintings.)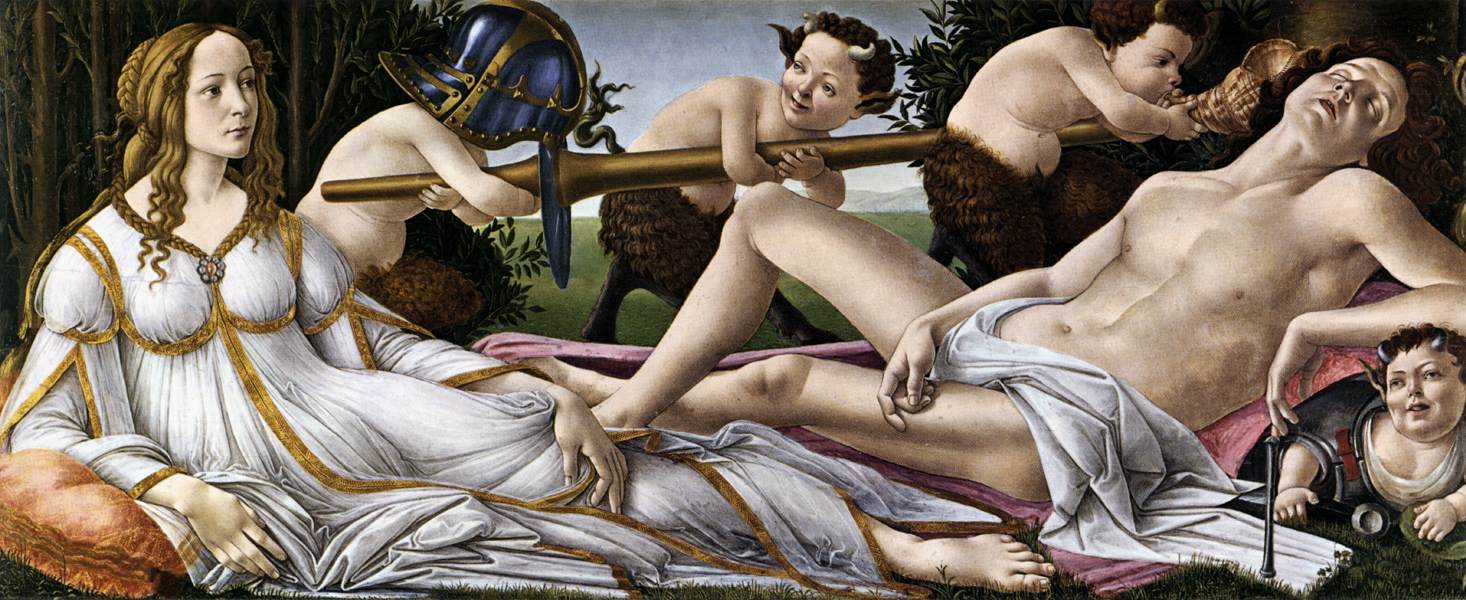 Well, that's pretty silly. Or: pretty and silly. The faces of Botticelli women are gorgeous.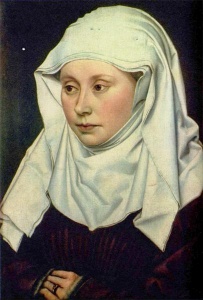 I kept thinking, "She looks like a nun, I shouldn't like her." Studying her was one of my earliest experiences of having my emotions radically changed by looking at a painting in detail. For more, see my blog posts of 8/9/17 and 8/12/17. They were part of my first (unpublished) book on art analysis: see "On me & the National Gallery," below.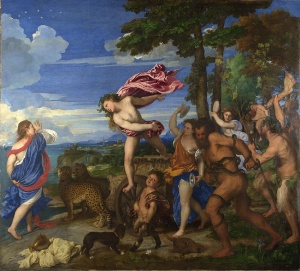 The colors and details of early Titian paintings are amazing: this and his Portrait of a Man in a Red Cap at the Frick leap to mind. Late Titian, not so much.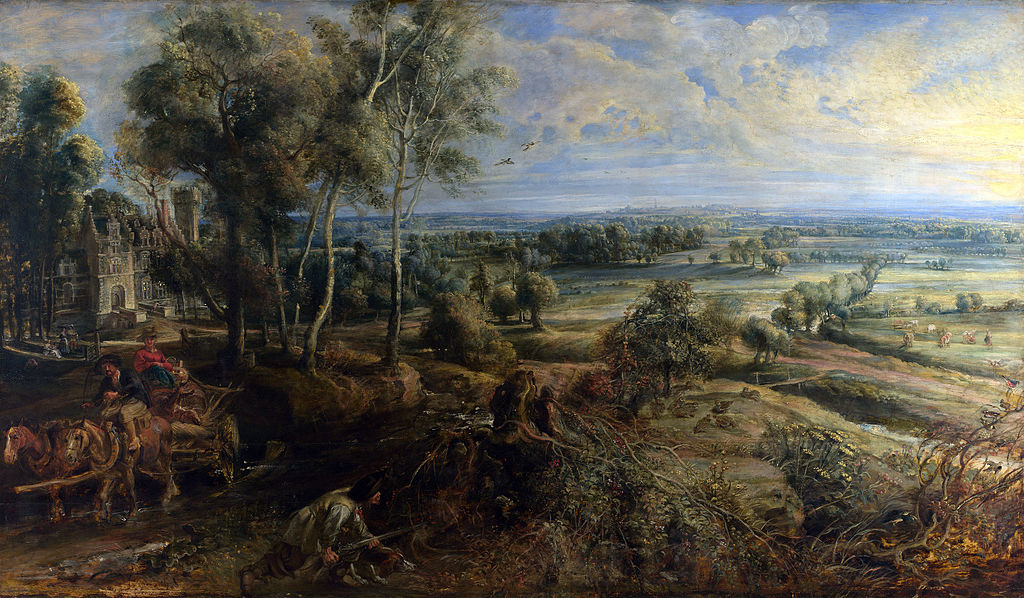 I sent this one to my Sunday Recommendations list on 4/30/2017 with the comment:
Since Protestantism forbade religious images, paintings of earthly subjects became common in wealthy Dutch homes during the 17th century. Rubens (1577-1640) was famous throughout Europe for his portraits and narrative paintings. This "portrait" of his own country estate was apparently painted for his own enjoyment, and kept growing: the wooden support consists of 17 different pieces of wood. Morrall's book on Rubens's technique has a detailed discussion of this work and nine others.
To join the free Sunday Recommendations list, visit this page.
On me & the National Gallery
Back in 1987, I heard Mary Ann Sures give a fabulous talk about emotional reactions to art: what various people were reacting to in certain works of art, and why. I had been interested in art history for years, and I left her talk excited to study it from that point of view. Then I realized I hadn't a clue how to state the theme of a work of visual art or how to pin down the cause of one's emotional reaction.
I worked for ten years or so on how to get from visuals to words and how to discuss emotional reactions to works of art. Eventually that resulted in two articles for The Objective Standard, which I turned into Kindle books: Getting More Enjoyment from Art You Love and How to Analyze and Appreciate Paintings. The unpublished prequel to those was a book of eleven essays on paintings at the National Gallery in London. I planned to self-publish it in black and white, and for illustrations, have people buy what I considered the best of the National Gallery's guidebooks. It took a year or more to write and polish the essays … and by that time, the National Gallery guidebook had gone out of print, replaced with a series of prohibitively expensive guidebooks. So I picked out another set of paintings and started again.
Because I tend to love works that I've studied in detail, I have far more favorites at the National Gallery than I can list in this post! Now that I've remembered those essays, perhaps I'll post them here eventually.
More
Almost made the cut: so many! (I'm linking to the National Gallery's pages for each of these, because they're the NG's paintings … but the reproductions are often better on Wikipedia.)  Masaccio's Virgin and Child, 1426; Uccello's Battle of San Romano,ca. 1435-1450 (part of the set of three paintings by Uccello mentioned in my post on the Uffizi); Rubens, Samson and Delilah, ca. 1610-1612; Chardin, The Young Schoolmistress, 1740? (perfect expressions!); Turner, The 'Fighting Temeraire', 1838 (I love Turner's giant glowing paintings: the Frick has two); Renoir, The Umbrellas, ca. 1880-1885 (loooove that combination of darkish blue and terracotta). Portraits: Jan van Eyck, Man with a Turban, 1433 (a self-portrait?) and The Arnolfini Portrait,1434; Albrecht Durer's portrait of his father, 1497; Hans Holbein the Younger, Jean de Dinteville and Georges de Selve, 'The Ambassadors', 1533 (with that funky anamorphic skull in the front); Titian's Man with a Blue Sleeve, ca. 1515 (I wants me that sleeve); Anthony van Dyck, Woman and  [utterly adorable be-ruffed] Child, 1620-1621; Goya, The Duke of Wellington,1812-1814. For other highlights of the collection, see the National Gallery's site and its Wikipedia and Wikimedia pages.
For more in the Five Favorites series, see Museums in the Obsessions cloud at right.
Want wonderful art delivered weekly to your inbox? Check out my free Sunday Recommendations list and my Patreon page (free or by subscription): details here.