About the Uffizi
The Uffizi Gallery in Florence is housed in a huge complex whose core was commissioned by Cosimo I de' Medici from Giorgio Vasari. Vasari (who is today most famous for his Lives of the Artists) began the work in 1560. The building housed the offices (uffizi) of Florentine magistrates, with a gallery on the top floor for the Medici art collection. The galleries gradually expanded as the Medici increased their collection of Renaissance sculpture and painting. Vasari noted that in his time, artists such as Leonardo da Vinci and Michelangelo gathered at the Uffizi "for beauty, for work and for recreation."
The last Medici heiress bequeathed the Uffizi to the city of Florence. Today it is the most visited museum in Italy.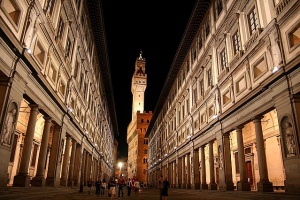 Giotto (ca. 1267-1337) looks medieval, and in fact he is – just barely. But in style and content, he's the most important predecessor of the Renaissance. He rediscovered techniques that had been lost since the time of the Romans. In this painting, he shades the drapery not in the purely decorative way that had been traditional for centuries, but in a way that suggests there's a human body beneath. (Contrast, for example, this image from an Italian manuscript of the 1340s.)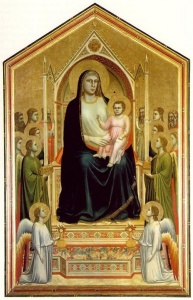 Just rediscovering the techniques used by the Greeks and Romans a millennium before his time would have been enough to earn Giotto a place in art history. But he also made several innovations, such as the use of light from a consistent source and setting a mood via expression and pose … which you'll have to wait for Innovators in Painting to hear about.
Masaccio (1401-1428), the first great painter of the Renaissance, was the first painter to use mathematically calculated linear perspective. Uccello (1397-1475), whose career overlapped with Masaccio's and extended much longer, is famous for being obsessed with perspective. This painting is part of a three-painting set. Each of the three is now in a different museum … but I'd love to see even one of them.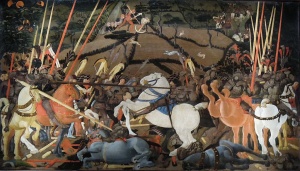 Lippi painted some of the most beautiful women I've ever seen. This tender, loving version of the Madonna and Christ Child goes back (if you're tracking such things) to Donatello's bas-relief Pazzi Madonna, which I discussed in Innovators in Sculpture.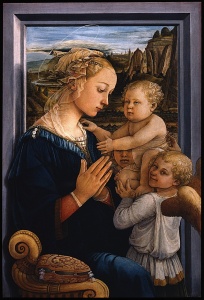 This unfinished eight-foot-square painting is one of the most influential in the history of art. Leonardo made several major innovations in painting: the one shown here is the organization of compositions by geometric forms, which allows him to include dozens of figures to help tell a story, while still focusing our attention on just a few of them … and for further discussion, you'll have to wait for Innovators in Painting. (Note: I highly recommend Walter Isaacson's recent biography of Leonardo, which I liked so much that after listening to the Audible version, I bought a print copy.)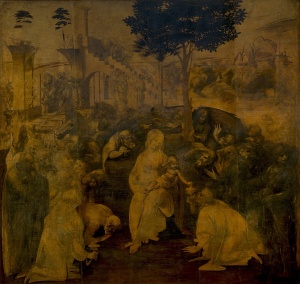 Sometimes called a self-portrait, but the current scholarly consensus seems to be that it's not. If you go for dark and handsome (I do) … wow.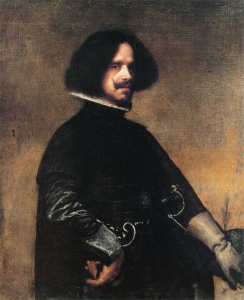 More
Almost made the cut: Sandro Botticelli, The Birth of Venus, ca. 1484-86. Piero di Cosimo, Perseus Freeing Andromeda, 1510 or 1513 (because the sea monster is a-MA-zing). Bronzino, Portrait of Eleonora di Toledo with her son Giovanni, 1544-1545 (because sometimes Bronzino is a-MA-zing, too). For other highlights of the collection, see the Wikipedia page.
For more in the Five Favorites series, see Museums in the Obsessions cloud at right.
Want wonderful art delivered weekly to your inbox? Members of my free Sunday Recommendations list (email DuranteDianne@gmail.com) receive three art-related suggestions every week: check out my favorites from last year's recommendations. For more goodies, check out my Patreon page.