Learn about the important events of Hamilton's life and the ideas that drove him. This 2-hour talk includes about 20 substantial quotes from his writings, plus images of the life and times of the Founding Father who loved and lived in New York. Fellow fanatics will have the opportunity to help with readings and/or burst into songs from the Hamilton musical. The tour includes images of Hamilton's life and times.
Comments from attendees: "Enjoyable." "Great time!" "Very well organized, created a sense of Hamilton that I didn't have before." "Delightful, funny, and interesting."
Optional: We can do the tour near one of Manhattan's four outdoor sculptures of Manhattan, near the Grange, or indoors, if the weather isn't cooperative or guests prefer a less strenuous tour.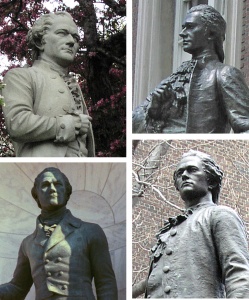 Next best thing if you can't make the tour: Alexander Hamilton: A Brief Biography and the 2 volumes of blog posts from 2016-2017 (details here), with extensive excerpts from primary documents such as Alexander Hamilton's letters.
To arrange a tour
Email: DuranteDianne@gmail.com
Phone: 917-392-2695
Private tours start at $400 per group (maximum 8 guests per group).
Interested in other tours? All the ones I offer are listed here – or see this printable PDF flyer, which includes contact information.