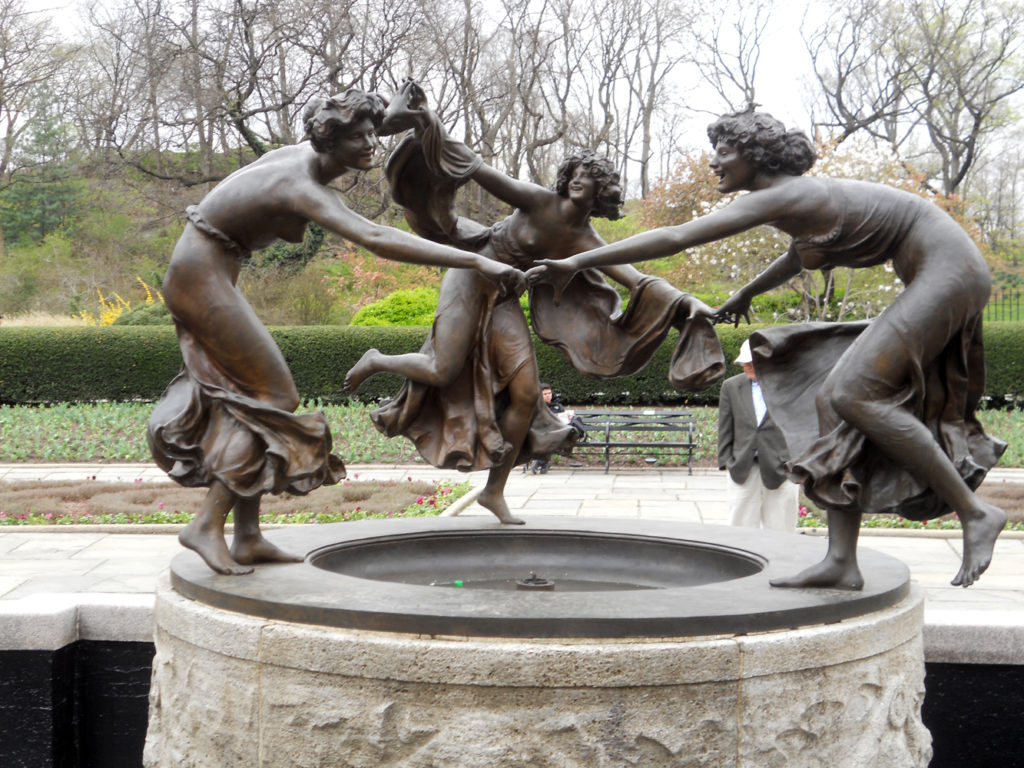 Also known as the Fountain of the Three Dancing Maidens
Date: before 1910
Sculptor: Walter Schott
Medium & size: Lifesize bronze figures on limestone base.
Location: Central Park at the Conservatory Garden. Enter at Fifth Ave. and 105th St., turn right and go to approximately 105th/106th St.
This sculpture – one of my favorites in Central Park- is a hand-me-down from New York's "Superman of Law". As a corporate lawyer, Samuel Untermyer was reportedly the first to earn a million-dollar fee. Eventually he moved on to drafting legislation. His legal fingerprints are all over the Federal Reserve Act, the Clayton Anti-Trust Act, and the Federal Trade Commission, as well as the Securities and Exchange Act passed under FDR.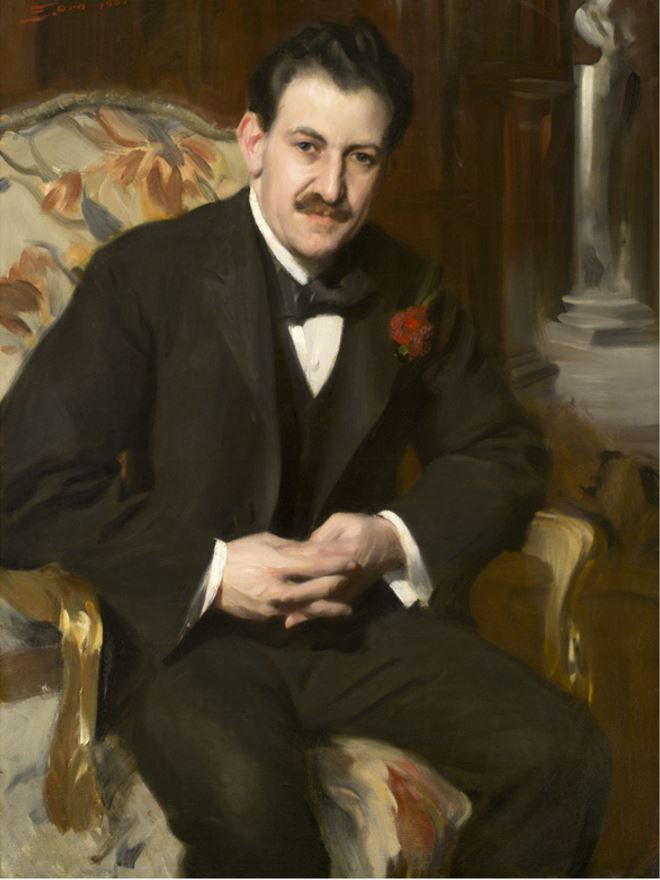 But let's talk about something less depressing than massive government interference in the economy. In 1899, when Untermyer was in his 40s, he bought a 99-room mansion in Yonkers. On Greystone's enormous grounds overlooking the Hudson River, a small army of gardeners tended 60 greenhouses, thousands of orchids, and millions of other flowers. The walled Greek Garden boasted an amphitheater, four reflecting pools, a columned overlook, and sphinxes by Paul Manship. The elegant Temple of Love, with hearts in its wrought-iron canopy, hovered over a man-made grotto. A thousand steps descended – past gardens in a rainbow of colors – to a spectacular vista of the river. The only gardens that could compare to Greystone's in size and splendor were those at Biltmore, the North Carolina home of Cornelius Vanderbilt's grandson.
Greystone in 1901.
Image: VictorianSource

Greystone Gardens ca. 1900.
Image: VictorianSource

Greystone Gardens. Image: VictorianSource

Greenhouse at Greystone, with Untermyer at the left. Image: YonkersGhostInvestigators


Visitors peering into a Greystone greenhouse.
Image: YonkersGhostInvestigators
One day a week, the fabulous gardens at Greystone were open to the public. On a bright October day in 1939, some 30,000 visitors crowded in to see a flower show. A few months later Untermyer died, bequeathing his estate to the City of Yonkers.
But given the lingering effects of the Great Depression, Greystone was a luxury Yonkers couldn't afford. The house was razed in 1948. The gardens were left to go to seed, then sold off piecemeal.
Greystone gardens deteriorating. Image: government employees via YonkersGhostInvestigators

Greystone empty in 1942, with the fountain still in front of it. Image: government employees
The fountain danced its way south, to be installed in the newly completed Conservatory Garden in Central Park. All photos below copyright © 2019 Dianne L. Durante.
Happy ending in progress
Part of the former gardens on the Untermyer estate have been taken over by the Untermyer Gardens Conservancy, which is gradually restoring them to their former glory. These photos were taken on a visit in 2013. (I need to get back there!) All photos below copyright © 2013 Dianne L. Durante.
More