About the MFA
The Museum of Fine Arts in Boston, founded in 1870, opened to the public in 1876 at Copley Square. It moved to its present neoclassical home on Huntington Avenue (near the Isabella Stewart Gardner Museum) in 1909. The MFA's collection of nearly half a million works is particularly strong in art of the Americas (including many works by John Singer Sargent, John Singleton Copley, and Winslow Homer), Egypt, the Dutch Golden Age, French Impressionism, and Japan.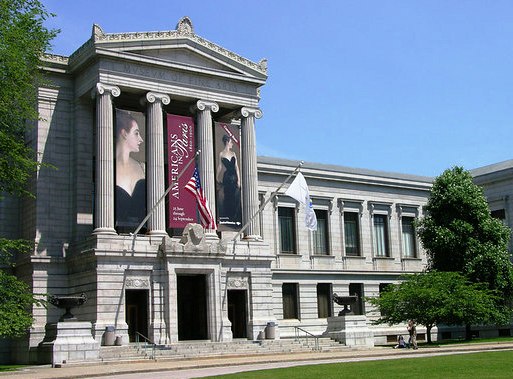 El Greco has never been one of my favorite artists: his landscapes generally have a ghoulish light, and his human figures are elongated to the point of insubstantiality. (You might see here and here: but your day may be better if you don't). The only exception: I love this portrait, for the man's bone structure and expression.
Cretan-born Domenikos Theotokopoulos trained in Italy, then emigrated to Spain – hence his nickname "El Greco". He was a close friend of the subject of this portrait, a theologian, orator, and poet. John Singer Sargent recommended that the MFA purchase this portrait.
Copley (1738–1815), American born and trained, painted this as a show piece for his first trip to England. The MFA's comments on it are worth reading. My Sunday Recommendations for 5/27/2018 included Copley's Paul Revere, also at the MFA. Support me on Patreon for access to those comments, via the compilation of recommendations available to supporters.
American Fitz Henry Lane (1804–1865) painted in the Luminist style, of which I'm particularly fond. The delicate glow of this work is amazing. See this post on the Luminists, with works by Lane, Bierstadt, Kensett, Church, and others.
The usual subjects of Winslow Homer (1836-1910) don't excite me, but I really like the colors and the way this one is composed.
The MFA has dozens of works by Sargent. I love this one for the way the daughter nestles her head into her mother's shoulder. They posed for this work in Sargent's temporary studio at Fenway Court, home of Isabella Stewart Gardner. The MFA's site includes fascinating information on Gretchen Osgood.
Almost made the cut
Albert Bierstadt, The Valley of the Yosemite, 1864
Edmund Charles Tarbell, Mother and Child in a Boat, 1892
John Singer Sargent, An Artist in His Studio, ca. 1904. I'm fascinated by the way he paints shades of white: for another example, see no. 5 above.
Sargent, Charles Stewart, Sixth Marquess of Londonderry, Carrying the Great Sword of State at the Coronation of Edward VII, August 1903, painted 1904
Sargent, Robert de Cevrieux, 1879. Sargent's range of portraits is stunning.
Sargent, The Daughters of Edward Darley Boit, 1882
Winslow Homer, The Blue Boat, 1892
More