The VersaQuill Copywriting Workbook is a systematic way to generate ideas for writing copy and to check what you've produced against accepted "best practices," as described by David Ogilvie, Victor Schwab, Bob Bly, and other prominent copywriters.
For serious copywriters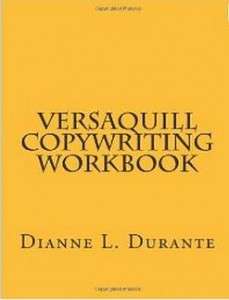 If you're earning money as a copywriter, you know there's no quick and easy way to write effective copy. What you need is a reliable way to mine some of the great ideas that have been accumulating in your subconscious as you compulsively read everything from cereal boxes to copywriting books.
The Workbook is for those of us who know how to write and love doing it—but who occasionally need help figuring out the most effective way to present a particular product or service, and who are willing to work to find it.
What's in the Workbook
Chapters 1-6 of the Workbook cover generating ideas and settling the basics of an ad. Chapters 7-10 cover writing the ad, from creating a hook through the final checks of nitty-gritty details and layout.
All chapters are organized as a series of fill-in-the-form worksheets for gathering information and checklists for reviewing the ad: 32 worksheets and 12 checklists in all.
Bonus: an appendix with 11 pages of thought-provoking and inspirational advertising quotes. For example: "Doing business without advertising is like winking at a girl in the dark. You know what you are doing, but nobody else does." – Steuart Henderson Britt, 1956
Sample topics
What are the most important features of this product and their corresponding benefits? Worksheet 1.1, with 20 questions
How does this product compare with the competition? Worksheet 1.4, with 12 questions (sample)
What physical, emotional, intellectual, social, or career factors might make a customer want to buy this product? Worksheet 2.2, with 51 questions
How can you check possible names, slogans, or tag lines? Worksheet 5.5, with 10 questions
How can you develop a hook for the ad? Worksheet 8.2, with 15 questions
Have you missed any major points in the content of the ad? Checklist 8.20, with 14 questions (sample)
Have you made any major errors in the layout of the text? Checklist 9.4, with 13 questions
Why pay for what you know already?
The questions on these worksheets and checklists will probably not be new to you. If you're earning money as a copywriter, you've heard and responded to most of them before … But I'm betting you've never seen them organized so that you can work through a project step by logical step, or so that you can quickly locate advice that applies to a specific part of a project.
The joys of "listmania"
Once upon a time I could pack for a 2-week cruise in an hour. Then I acquired a husband and a child, and packing became a time-consuming, anxiety-inducing chore—until I made a list that I could print out and check off every time we traveled. If I'm interrupted, I know just where to pick up again. Knowing I won't forget the nail-clippers frees me to think about which favorite scarves and shoes to pack.
The same principle applies to copywriting. Having lists of the basics of copywriting at hand, in the form of fill-in-the-blank, check-off-the-list pages, lets you focus on the creative part of writing. It also means that if you get interrupted, you won't have to struggle to recall a brilliant thought that vanished when someone started swearing at the coffee machine. There's a reason the wisdom of the ages is transmitted in written form: it's always there when you come back to it.
Of course, using the VersaQuill Copywriting Workbook doesn't guarantee that you'll produce great copy—any more than using a packing list guarantees that you'll have an Armani outfit to put in your suitcase. But when you use lists to help nail facts, generate ideas, and check for common blunders and omissions, you'll use your time more efficiently and more of your mind will be free to seek novel approaches.
The Workbook is a great weapon for your copywriter's arsenal: it will help you produce more effective copy in a shorter time and with less stress.
Order your copy of the VersaQuill Copywriting Workbook now!