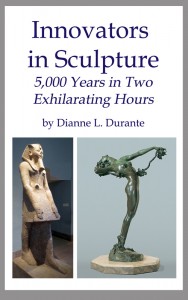 In 5,000 years, how did artists progress from creating works such as the Egyptian Hatshepsut to works such as Frishmuth's The Vine? To find out, we focus on innovations that gave the artists who created them—and all artists who followed—greater power to make viewers stop, look, and think about sculptures. Innovators in Sculpture is a jargon-free essay that provides a framework for looking at any period of Western sculpture, so that you won't be overwhelmed when you walk in the door of a museum. It'll also help you find more subjects, styles, and periods that intrigue you and appeal to you—that show the world the way you think it can and ought to be. And what's the point of looking at art, if not for moments like that?
Testimonials
Innovators in Sculpture is a revision of "Art History through Innovators: Sculpture," a 12-part series on Medium.com that was published in mid-2015. Here's what an engineer, a musician, a philosopher, and a sculptor said about the series:
The inspiration for these surveys
I'm a passionate amateur, not an academic. I write on art because I love looking at art, and thinking about art, and helping other people have a blast looking at it, too. So back in 2003, I offered 8 hours of lectures whose working title was the "Crash Cruise Course." It was a survey aimed at people who didn't know much about art, but who were vacationing at places with fantastic works and wanted to be able to appreciate them.
In 2008, I gave an evolved version of part of the survey at the Quent Cordair Arts Cruise on Voyager of the Seas. Soon afterwards, I transformed the survey into walking tours of the Metropolitan Museum of Art that covered 5,000 years of painting and sculpture in 2 hours each.
Seeing art in its three-dimensional, full-color glory is the most enthralling way to do the survey, and  Innovators in Sculpture includes notes for those who visit the MMA. But for armchair art historians or those who want to brush up before they arrive at the MMA, the book also includes hundreds of full-color images, including images of many fabulous works that aren't at the MMA.
Live tours
If you'd prefer to hear me deliver Innovators in Sculpture live at the Metropolitan Museum of Art, see details here.
Further reading
For more of my writing on art, see Books and Essays on this site and my Amazon author page. For more about my background, see About.