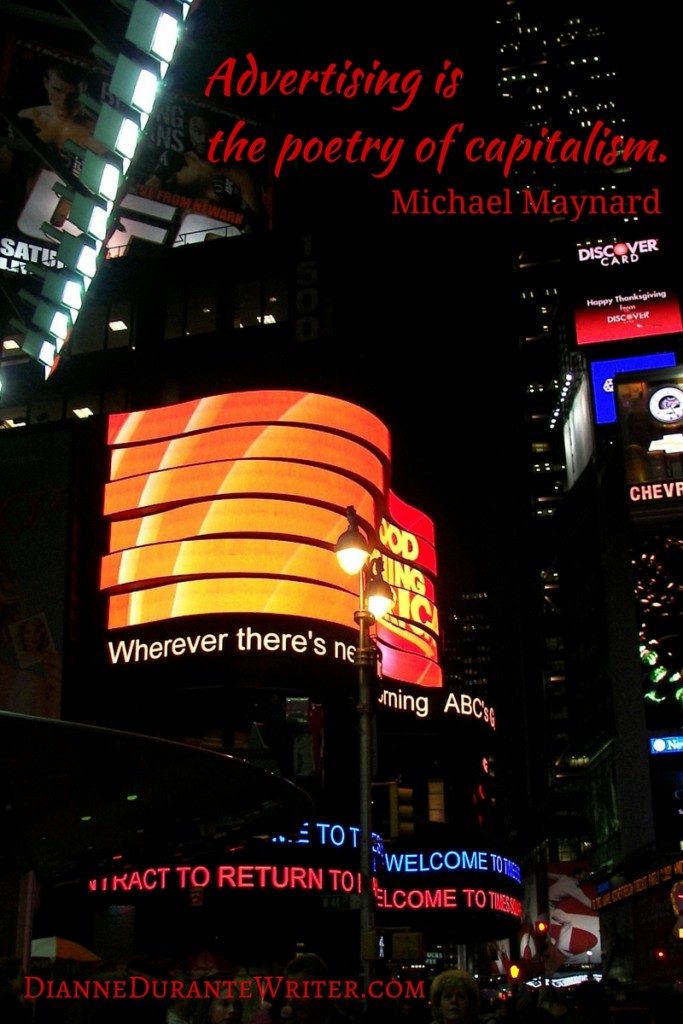 Advertising is the life of trade. —Calvin Coolidge
Advertising is "the lubricant for the free-enterprise system." —Leo-Arthur Kelmenson (1976)
Advertising is the poetry of Capitalism. —Michael Maynard, Chair of the Department of Advertising at Temple University
Advertising is the foot on the accelerator, the hand on the throttle, the spur on the flank that keeps our economy surging forward. —Robert W. Sarnoff
Doing business without advertising is like winking at a girl in the dark. You know what you are doing, but nobody else does. —Steuart Henderson Britt (1956)
You can tell the ideals of a nation by its advertisements. —Norman Douglas, Scottish novelist & essayist, in South Wind, Chapter 7 (1917)
It is often charged that advertising can persuade people to buy inferior products. So it can—once. But the consumer perceives that the product is inferior and never buys it again. This causes grave financial loss to the manufacturer, whose profits come from repeat purchases. —David Ogilvy
Advertising is not the noblest creation of man's mind, as so many of its advocates would like the public to think. It does not, single-handedly, sustain the whole structure of capitalism and democracy and the Free World. It is just as nonsensical to suggest that we are superhuman as to accept the indictment that we are subhuman. We are merely human, trying to do a necessary human job with dignity, with decency and with competence. —Leo Burnett
"It Pays to Advertise"
The codfish lays ten thousand eggs,
The homely hen lays one.
The codfish never cackles
To tell what she has done.
And so we scorn the codfish,
While the humble hen we prize,
Which only goes to show you
That it pays to advertise.
—Anonymous
Advertising is to business what steam is to machinery—the great propelling power. —Thomas Macaulay
More
I'm a copywriter as well as an art historian and historian. Some years back, for inspiration, I collected my favorite quotes about advertising; they ended up in the appendix of the Versaquill Copywriting Workbook. The quotes above are the first of eleven pages of quotes: I'll be publishing more here occasionally.
If you're impatient, order the book!
Want wonderful art delivered weekly to your inbox? Members of my free Sunday Recommendations list (email DuranteDianne@gmail.com) receive three art-related suggestions every week: check out my favorites from last year's recommendations. For more goodies, check out my Patreon page.