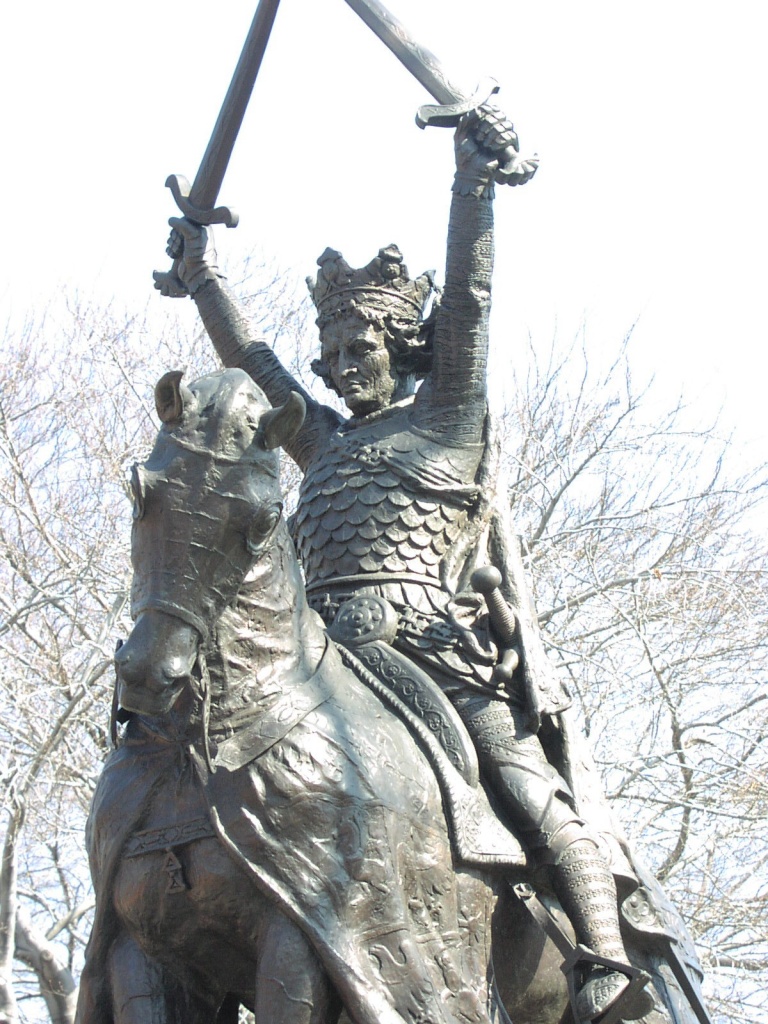 Sculptor: Stanislaw Kazimierz Ostrowski. Pedestal: Aymar Embury II.
Dedicated: 1939.
Medium and size: Bronze (14.6 feet), granite pedestal (10 feet).
Location: Central Park, north of the 79th Street Traverse and just east of Belvedere Lake. From the Park entrance just south of the Metropolitan Museum, walk west (uphill) and cross the East Drive, following the sign toward Belvedere Castle. At the fork at the top of the hill bear right and head downhill toward the Lake; the statue is on the right. Subway: 6 to 77th Street.
This essay is adapted from Chapter 37 of Outdoor Monuments of Manhattan: A Historical Guide. I've kept cross-references to other chapters in the book, all of which will eventually be updated and posted on this site. Click on "Outdoor Monuments of Manhattan book" in the Obsessions cloud at lower right to see which are already here.
About the sculpture
When the Nazis invaded Poland in September 1939, Hitler ordered his troops to meltdown for bullets a Krakow monument to Jagiello, the hero of Grunwald. Our Jagiello (by a different artist) was cast for the Polish Pavilion at the 1939 New York World's Fair, and after Hitler's invasion was purchased from the Polish government in exile.
Jagiello stands in his stirrups, brandishing a pair of swords sent by enemies to taunt him. (See About the Subject, below.) Grim lines bracket his mouth. He wears a massive crown: he's a king as well as a warrior. Heavy armor protects and conceals his body, but the fact that he can hold two huge swords over his head makes it clear that he wields physical as well as political power.
Like Bolivar (Outdoor Monuments of Manhattan, chapter 32), Jagiello is striking a pose, holding perfectly still. How can we tell? His cape, embroidered with the coats of arms of Poland and Lithuania, hangs motionless. Although Jagiello has dropped the reins, his horse is also perfectly still, head bowed, feet aligned. In an equestrian statue the behavior of the horse conveys a great deal about its rider's mood and ability to command. Jagiello'ssubdued horse obviously recognizes its master.
Based on the combination of Jagiello's pose and expression,the theme of this work is defiance—specifically, defiance in the face of an attacking enemy rather than Hale's defiance of defeat and death. (See Outdoor Monuments of Manhattan, chapter 8.) Advocating such defiance implies a certain view of the world: that winning is possible (else why fight?), and that one must not meekly surrender to enemies.
Given this message, it's certain that had this Jagiello been in Poland when Hitler invaded, it too would have been destroyed. Citizens of free countries are often blithely unaware that art makes important statements with the widest possible implications. (See Hale and News, Outdoor Monuments of Manhattan, chapters 8, 30). Dictators cannot afford to doubt it. Hitler, Napoleon III of France (under whom the Statue of Liberty was conceived;
Outdoor Monuments of Manhattan, chapter 1), and absolute rulers throughout the ages have attempted to control visual arts as well as political writings and speeches, realizing that a sculpture of an allegorical figure or someone from the distant past (such as Jagiello) can act as a potent reminder of ideas hazardous to all-powerful despots.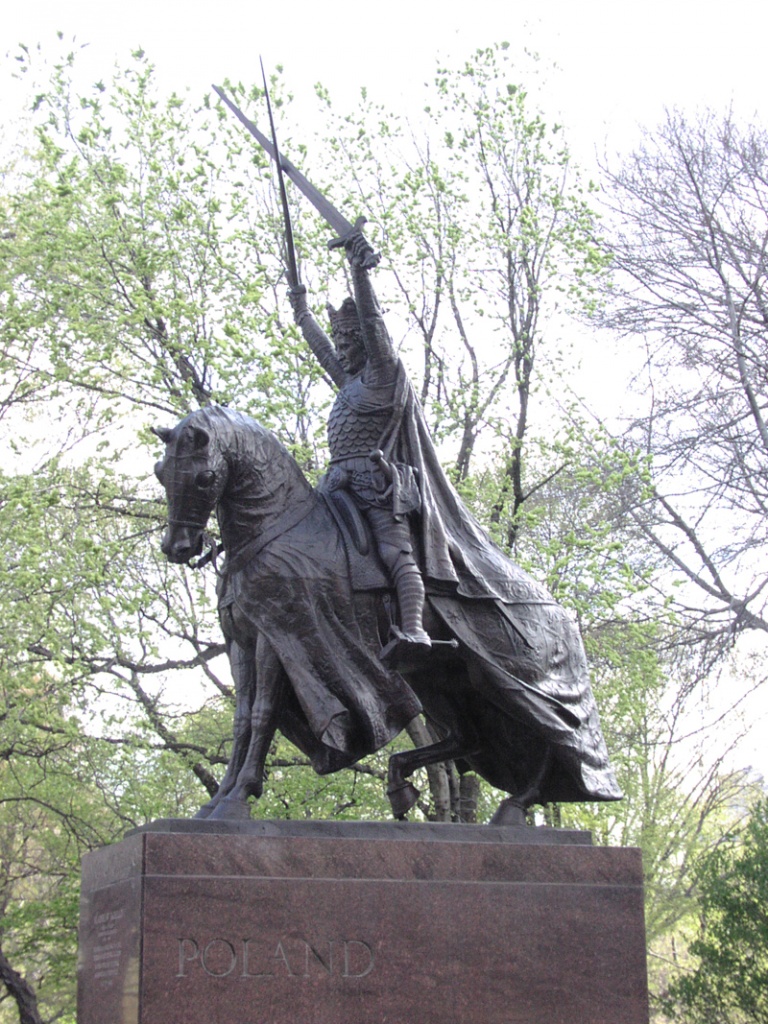 About the subject
When no crusades were under way in the Holy Land, the Teutonic Knights battled pagans in Eastern Europe. In a particularly malignant example of faith used to justify brutal force, they gained territory by murdering the inhabitants and replacing them with Christian immigrants. The Knights eventually lusted after ever more land, whether or not it was occupied by pagans. The author of Quo Vadis gave a vivid description of the Teutonic Knights:
The one who lives on the borders of the kingdom [near the Knights], never knows when he goes to bed in the evening, whether he will awaken in fetters, or with the blade of a sword in his throat, or with a burning ceiling over his head. . . . Neither the weak nor the powerful can agree with the Order, because the knights despise the weak and try to ruin the mighty. Good deeds they repay with evil ones. Is there anywhere in the world another order which has received as many benefits from other kingdoms as the knights have received from Polish princes? And how have they repaid? With threats, with devastation of our lands, with war and with treachery. . . . In their hearts they are always plotting means to annihilate this kingdom and the whole Polish nation. (Henryk Sienkiewicz, Teutonic Knights [Krzyzacy], trans. Samuel A. Binion, 1899)
In 1377 Jagiello became Grand Duke of Lithuania, the last pagan country in Europe. Nine years later, in order to establish a defensive alliance against the Knights, he married Queen Jadwiga of Poland. Jagiello immediately converted to Christianity. Mass baptisms were performed on his subjects.
That should have made his country off limits to the Teutonic Knights, but in 1398 the Knights invaded and occupied part of Lithuania. A decade later, sixty-year-old Jagiello and his cousin Witowt were ready to retaliate.
Early on the morning of July 15, 1410, tens of thousands of Poles and Lithuanians faced tens of thousands of Knights and their allies near Grunwald, south of Danzig. For hours Jagiello refused to engage the enemy, forcing the Knights to stand in the sun, roasting slowly in their heavy plate armor. His own men rested in the coolness of the forest. Eventually emissaries from the impatient Grand Master of the Knights approached Jagiello and threw two swords at his feet. "Lithuanians and Poles, Dukes Witowt and Jagiello, if you are afraid to come out and fight, our Grand Master sends you these additional weapons." "I accept both your swords and your choice of battleground," replied Jagiello, "but the outcome of this day I entrust to the will of God."
At mid-morning the battle began. By sundown the Grand Master, several hundred Teutonic Knights, and thousands of foot soldiers fighting for them lay dead, after one of the decisive—and last—battles of the Middle Ages.
More
Ostrowski was inspired to do a sculpture of Jagiello for the 500th anniversary of Grunwald, in 1910. He lost that competition, but when he had turned 60, he was commissioned to create a sculpture of Jagiello for the Polish pavilion at the New York World's Fair of 1939-1940. In September 1939, while the Fair was still open, the German blitzkrieg struck Poland. Jagiello would certainly have been destroyed if it had been returned to Poland after the Fair. Instead, it went into storage for several years, until Mayor Fiorello LaGuardia and Parks Commissioner Robert Moses suggested that it be placed in Central Park. The sculpture was given to New York City by the Polish government in exile and was dedicated in 1945, on the 535th anniversary of the Battle of Grunwald.
See Jadwiga Irena Daniec, "In the Footsteps of Stanislaw K. Ostrowski, 1879-1947," The Polish Review XXVII:1/2 (1982), pp. 77-91, accessed via JSTOR. See also this essay on the Polish Pavilion at the New York World's Fair.
I've posted on Jagiello on ForgottenDelights.com: here and here. The second post includes photos of the 1910 Jagiello in Cracow, its destruction by the Nazis, and the recreated version of it.
This post is adapted from one of the episodes in the forthcoming Guides Who Know app on Central Park. For more on Central Park, see here or click "Central Park" in the Obsessions cloud at right.
Want wonderful art delivered weekly to your inbox? Check out my free Sunday Recommendations list and my Patreon page (free or by subscription): details here.