From September to November 2018, I published a series of eight blog posts on what makes a memorable memorial: see them at the Portraits to Puddles link in the Obsessions cloud on this site. The combined essays are now available under the title From Portraits to Puddles: New York Memorials from the Civil War to the World Trade Center Memorial.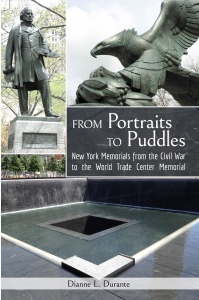 Formats
Video on YouTube, originally published in separate sections for my Patreon supporters. (Thanks, guys!)
Kindle version: same text as the blog posts, plus an appendix listing memorials in Manhattan to wars, warriors, and defenders (American and foreign), sorted by war or event. Price: $4.00
Print version: the blog posts and the appendix of memorials as in the Kindle version, PLUS a 73-page appendix listing those memorials in chronological order, each with illustrations. And at the end: notes on photographing outdoor sculptures and alphabetical indexes by artists and titles. I'm quite pleased with the quality of the color illustrations and the layout. HT to Jan Robinson for proofing and Allegra Durante for cover design. Price: $24.00
Sample pages from the print version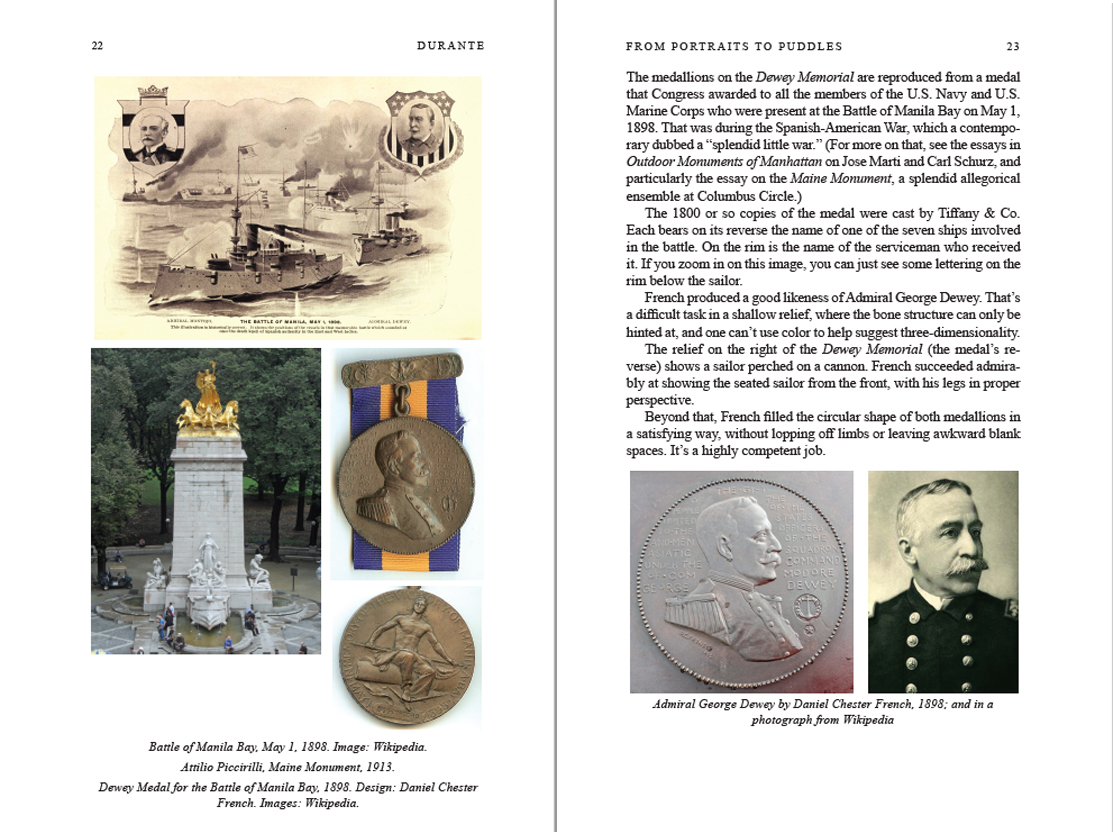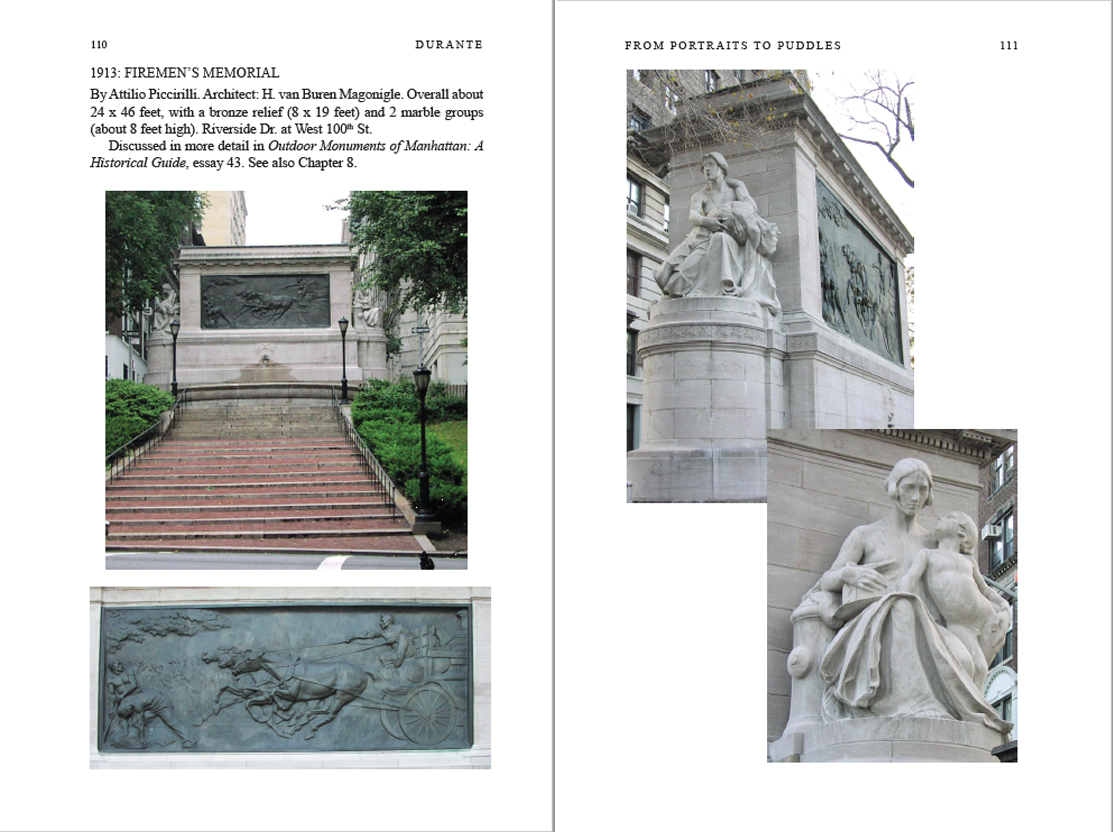 Reviews from Amazon
"I read this photo-packed essay in one sitting late last night–and I learned a lot from it. … Durante's tone is conversational but she speaks from a position of authority. Her photos are clear and often focus you exactly on what she's discussing at that moment. And because of this the book came across to me as even better, in some ways, than a walking tour. Anyone interested in why the recently dedicated memorial on the site of WTC is so unsatisfying, why others around New York are anything but — would do well to check out this short and easy-to-read essay."
"Dr. Durante's From Portraits to Puddles provides an enlightening and provocative case for an improved memorial at the World Trade Center site. Manhattan was once adept at supporting and sponsoring truly memorable memorials, as evident by the many examples provided by the author. Durante presents a convincing argument for the effectiveness of representational, figurative art, which was once the given and proven choice for tributes which the human mind could comprehend and appreciate for recognizing and recalling those who deserve to be remembered, honored and loved. … For anyone who believes that "Reflecting Absence" is sorely lacking in its capacity to adequately and properly honor and memorialize those who died there on 9/11, Durante's From Portraits to Puddles is a must-read."
"Durante combines art criticism with philosophy, showing how 20th-century changes to the American sense of life are reflected in its memorial sculptures. The shift away from heroism and the individual is made all the more poignant by the author's clear descriptions and tragic examples of what we've lost. In a way, this book is a memorial to memorials."
More
For a very recent example of a very good memorial, see my post on the dedication of a new sculpture of Alexander Hamilton (the work of Ben Victor) at the U.S. Coast Guard Academy in October 2018.
For a list of all my publications, see the Books & Essays page on this site.
Want wonderful art delivered weekly to your inbox? Check out my free Sunday Recommendations list and my Patreon page (free or by subscription): details here.