The Art Institute of Chicago was established in 1879, as the Chicago Academy of Fine Arts. Since 1893, its home has been a Beaux Arts building facing Michigan Drive that was constructed for the World's Columbian Exposition. (See About the Subject in this post.) A huge wing for modern art was added in 2009, making the AIC larger than any museum in the United States except the Metropolitan Museum (est. 1869).
The AIC is particularly strong in Asian and modern art – which is probably why I had some difficulty finding five items for this post. Its most famous holdings are pleasantly familiar, but didn't make the cut for my favorites: Seurat's A Sunday on La Grande Jatte, Picasso's The Old Guitarist, Edward Hopper's Nighthawks, and Grant Wood's American Gothic.
Trompe-l'Oeil Still Life with a Flower Garland and a Curtain, by Adriaen van der Spelt and Frans van Mieris, 1658
From the golden age of Dutch painting: a trompe-l'oeil (fool-the-eye) vase of flowers "behind" a curtain (18.25 x 25.125 inches).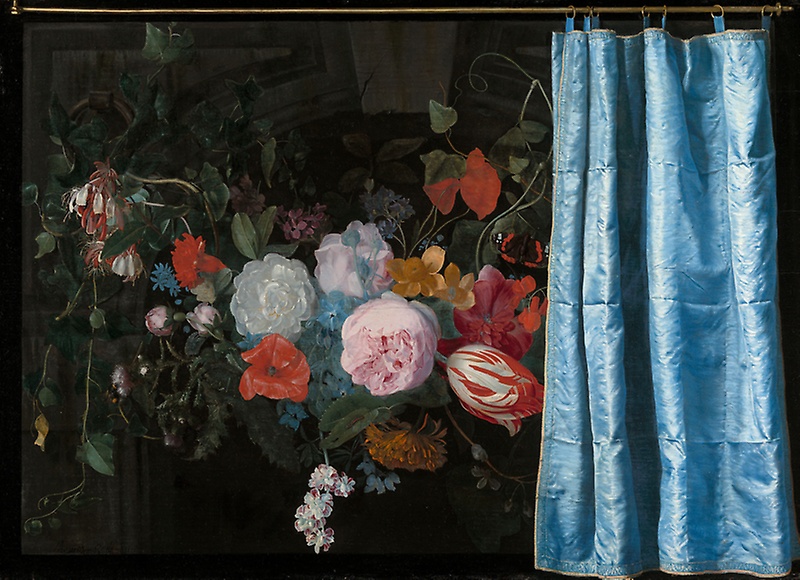 Coffer attributed to André Charles Boulle, ca. 1700-1720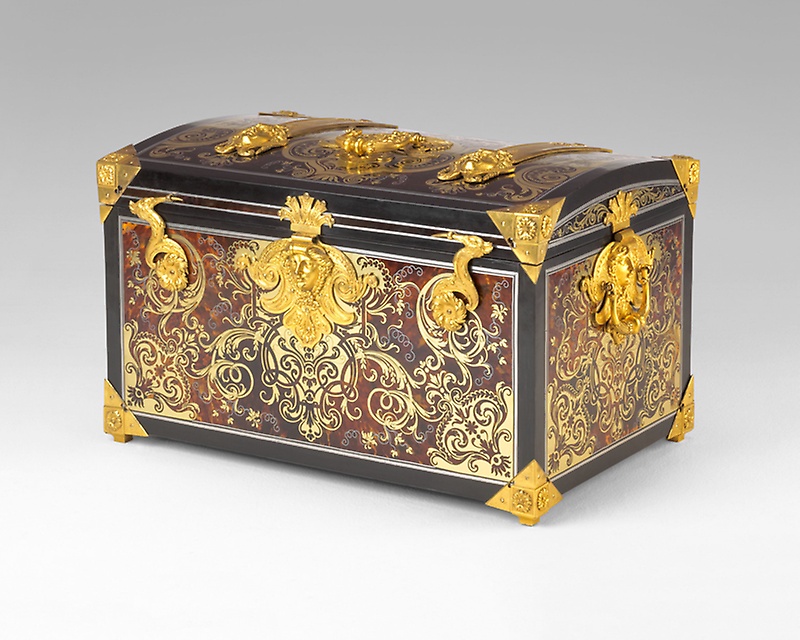 This dazzling coffer of oak, tortoiseshell, brass, pewter, ebony, and gilt-bronze (17.5 x 28.75 x 19 inches) was probably created during the reign of Louis XIV, the Sun King. "Boulle marquetry," used in this piece, involves inlaying metal on a tortoiseshell ground: the tortoiseshell's variation in color gives depth to the surface.
For more of Boulle's jaw-droppingly elaborate and beautiful works, see this Wikipedia article.
Paris Street, Rainy Day, by Gustave Caillebotte, 1877
I love the combination of slate-blue and terracotta in this painting (83.5 x 108.75 inches). Caillebotte (1848-1894) was a prominent Impressionist.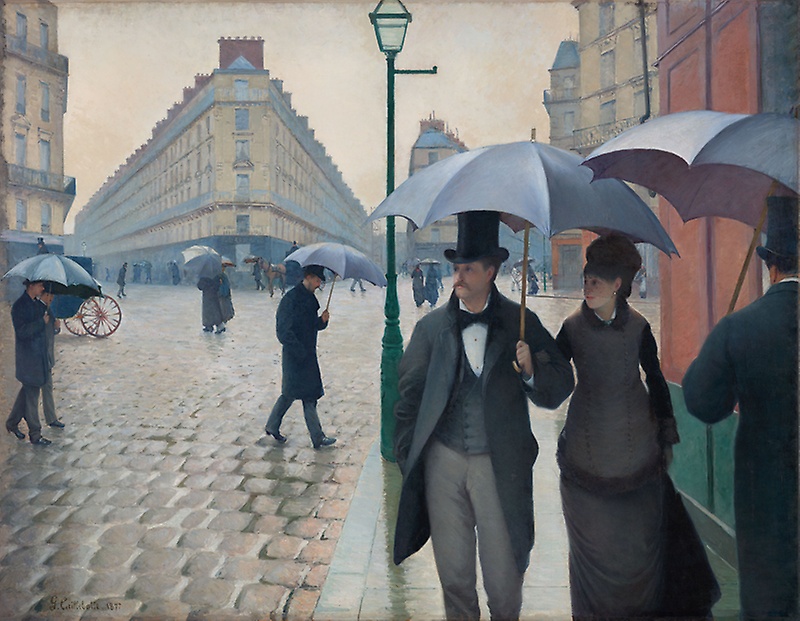 Stencil for the Chicago Stock Exchange Trading Room, by Louis Sullivan, 1893-1894
Louis Sullivan (1856-1924) is famous for this sort of motifs. This stencil pattern was used to decorate the walls of the Trading Room in the Chicago Stock Exchange. (See next item.)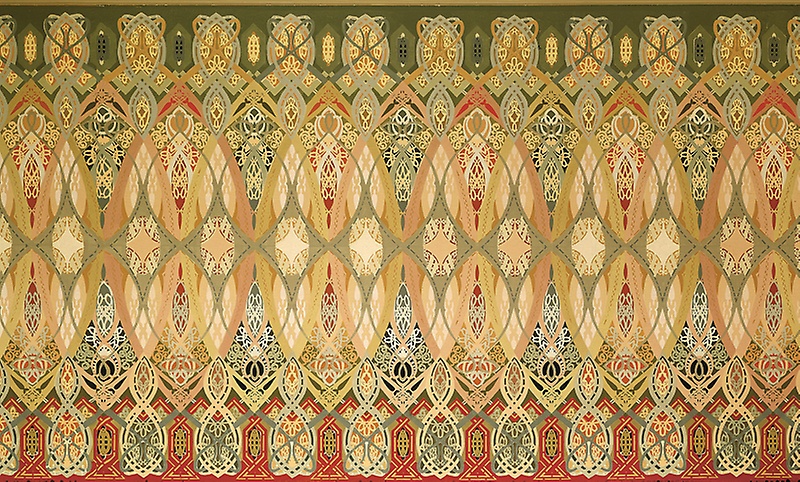 Trading Floor in the Chicago Stock Exchange, by Adler & Sullivan, 1893-1894
The thirteen-story Chicago Stock Exchange, one of Adler & Sullivan's major commissions, opened at Washington and LaSalle streets in 1893-1894 (photo here). After its demolition in 1972, the Art Institute incorporated salvaged pieces of Sullivan's elaborate stenciled decorations, molded plaster capitals, and art glass into a reconstruction of the Trading Room that's more than 5,700 square feet. Outside the AIC stands the monumental entrance arch from the Exchange (photo here).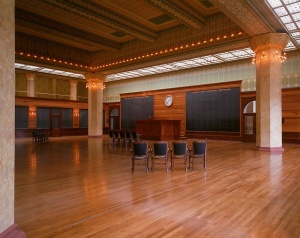 I do wish the Art Institute had some close-up views of the details of the room … Here's a pic I took back in 2011. I need to get back to Chicago with my new camera!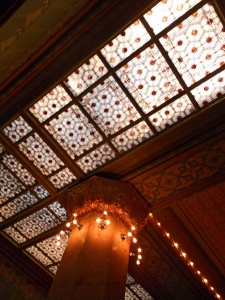 The Metropolitan Museum acquired the staircases from the Chicago Stock Exchange: they lead up to the second floor of the American Wing.
Carson Pirie Scott Building elevator medallion, by Louis Sullivan, 1903-1904
The Schlesinger and Mayer Store, known as of 1904 as Carson Pirie Scott and now as the Sullivan Center, was one of Louis Sullivan's last major commissions. The elevator to whose door this 23.5-inch medallion was attached was replaced for safety reasons. …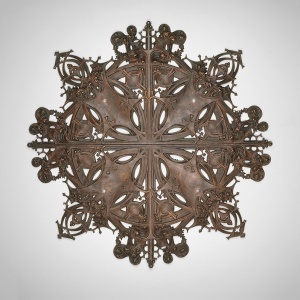 But the glorious building still stands. Because I can't resist Sullivan's designs: a few pics of the exterior details of Carson Pirie Scott.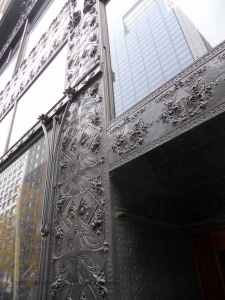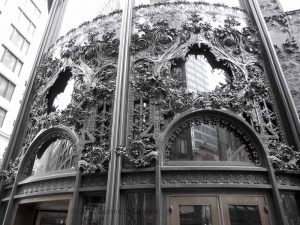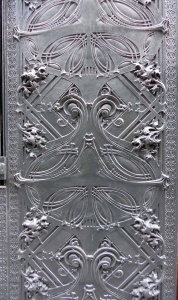 More
The only building in New York designed by Sullivan is the Bayard-Condict Building on Bleecker Street at Crosby.
I suspect I could get lost for days in The Complete Architecture of Adler & Sullivan, a 12-inch square, 461-page book with 815 photographs; but at $499, it's unlikely that I will … See some of the fabulous photos in this article.
Want more art like this delivered weekly to your inbox? Members of my free Sunday Recommendations list (email DuranteDianne@gmail.com) receive three art-related suggestions every week: check out my favorites from last year's recommendations. For more goodies, check out my Patreon page.