Prowling through my database of art recommendations past, present, and future, I noticed that quite a few of the artworks come from the first 15 years of the nineteenth century. In this post and the next, I'll put those works in context and add a few more.
Except for a few years of truce, Europe was at war from 1792, when the French Revolutionary government declared war on Austria, until 1815, when Napoleon was defeated at Waterloo. During this period the United States was trying to find its feet as an independent country. Artists were on the cusp between the Neoclassical style and the Romantic. All in all, it's a particularly interesting transitional period. I talked about French art of this period in Seismic Shifts in Subject and Style: 19th-c. French Painting and Philosophy. This post covers not just France but the rest of Europe and the United States.
1801
Major events: 1798-1802 Second War of the Coalition: France, Spain, and assorted "client republics" vs. the Holy Roman Empire (Prussia + Austria), Great Britain, Russia, Portugal, and assorted smaller political entities. Back in 1799, Napoleon returned from his Egyptian campaign and seized power from the Directorate, establishing a military dictatorship. In his role as First Consul, he had sole power to initiate legislation and to appoint all army officers, government officials, judges, and members of the Senate.
Villers (1774-1821) studied with Anne Louis Girodet-Trioson (see next work). I started with this image because the woman's calm, intent expression and the light in the painting remind me that the just-ended18th century was known as the Age of Enlightenment, the Age of Reason, or the Siècle des Lumières ("the Century of Lights").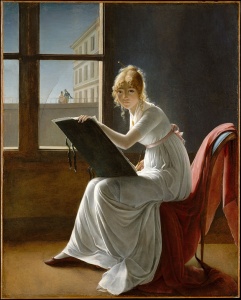 Anne-Louis Girodet de Roussy-Trioson, Ossian Receiving the Ghosts of the French Heroes, ca. 1801
Eighteenth-century archaeologists and historians brought to light much about ancient and medieval history that hadn't been known. "Ancient" was new; the Neoclassical style was enormously popular. In 1760, James Macpherson published a volume of the epic poetry of Ossian, a Gaelic bard from Roman times. Ossian's works inspired Goethe, the German Romantics, and Sir Walter Scott, among others. The poems are now generally acknowledged to have been written by Macpherson himself. Here's a French painter's vision of Ossian welcoming French Revolutionaries into heaven.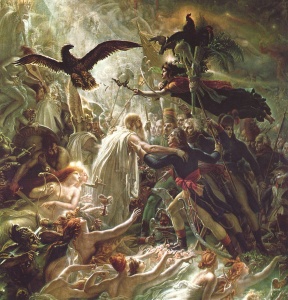 Sir Henry Raeburn, William Fraser of Reelig, 1801
This painting is one of my favorites among the treasures stashed away in the Metropolitan Museum's Lehman Wing. Reelig, a Scot, eventually took a post with the East India Company and lived with a harem of five or six wives in Delhi, where he was assassinated in 1843; but in this portrait, he's a fresh-faced 17-year-old.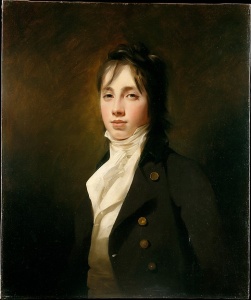 Rembrandt Peale, Rubens Peale with a Geranium, 1801
Charles Wilson Peale (1741-1827) earned fame for his portraits of George Washington, Thomas Jefferson, Henry Knox, Alexander Hamilton, John Laurens, and other Revolutionary War heroes. Of his 17 children, five became artists. Son Rembrandt (1788-1860) portrayed many prominent Americans of the early Republic; here he depicts his brother Rubens. The presence of the Peale family helped establish Philadelphia's reputation as one of America's cultural centers.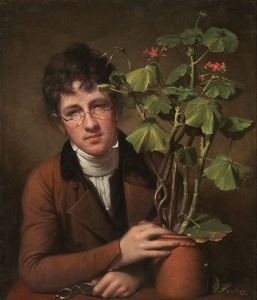 Beethoven, The Creatures of Prometheus, 1801
Beethoven's only music for ballet, which was at the time a new genre. This rather gorgeous video from 2014 features the Orchestre de Chambre Pelléas conducted by Benjamin Levy performing at the Concertgebouw in Amsterdam. More on this page (search "Prometheus").
Friedrich Schiller, Maria Stuart, 1801 (drama)
Drama with Mary Stuart as a tragic heroine. (A good read, by the way.) It was the basis for Donizetti's bel canto opera Maria Stuarda, 1835.
1802
Major events: The Peace of Amiens led to a 14-month halt in hostilities between France and the rest of Europe.
John Constable, Dedham Vale, 1802
Constable (1776-1837) was famous for landscapes in which he appeared to record precisely such natural elements as foliage, light, and moisture. By the mid-19th century, his works were the inspiration for Naturalists such as Millet and Courbet. See Seismic Shifts, Chapter 5.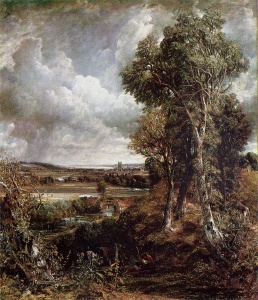 1803
Francois Gerard, Napoleon Bonaparte as First Consul, 1803
Napoleon (1769-1821) was First Consul of France from 1799 to 1804. I am stunned by the difference in Napoleon's appearance here vs. in the Ingres portrait painted in 1806 (below). Gerard, a pupil of Jacques-Louis David, was one of France's prominent portrait painters.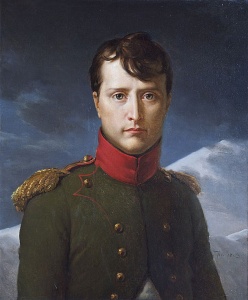 1804
Major events: Napoleon crowned himself emperor. He sold the Louisiana Territory to the United States for $15 million, which went into his war effort. He also revamped France's Civil Code, guaranteeing personal liberty, equality before the law, private property, civil marriage, and the right to divorce.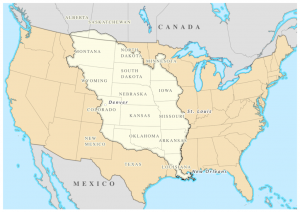 1805
Major events: At the Battle of Trafalgar in October, the British (under Vice-Admiral Horatio Nelson) established their supremacy at sea. At Austerlitz, in December, Napoleon soundly defeated the Russians and the Holy Roman Empire (i.e., much of what later became modern Germany): over 150,000 soldiers on the field, over 17,000 dead. [The number of soldiers and civilians who died during the Napoleonic Wars is staggering: somewhere between 3.5 and 7 million.]
Francisco de Goya, Dona Teresa Sureda, ca. 1805
More on Senor and Senora Sureda in this post. Goya (1746-1828) was one of the painters who rebelled against the "noble simplicity and quiet grandeur" that Winckelmann had advocated, and which, in the form of Neoclassicism, had swept through Europe during the late 18th century. Romantic painters focused on subjects calculated to arouse strong passions. The passions could be as positive as love or as negative as terror. The important thing was to make the viewer feel something.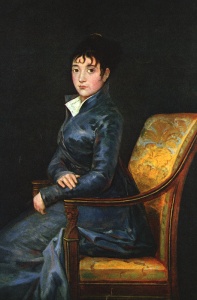 Sir Walter Scott, The Lay of the Last Minstrel, 1805
Breathes there the man with soul so dead
Who never to himself hath said,
"This is my own, my native land!"
Whose heart hath ne'er within him burn'd,
As home his footsteps he hath turn'd,
From wandering on a foreign strand!
If such there breathe, go, mark him well;
For him no Minstrel raptures swell;
High though his titles, proud his name,
Boundless his wealth as wish can claim;
Despite those titles, power, and pelf,
The wretch, concentred all in self,
Living, shall forfeit fair renown,
And, doubly dying, shall go down
To the vile dust, from whence he sprung,
Unwept, unhonor'd, and unsung.
Beethoven, Fidelio, 1805
In Beethoven's only opera, Leonore, disguised as a prison guard named Fidelio, rescues her husband Florestan, a political prisoner who's about to be murdered.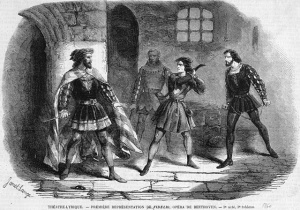 1806
Major events: Napoleon instituted his "Continental System," forbidding most of Western Europe to trade with Great Britain. Between 1806 and 1812, about 1.3 million soldiers were drafted into the French army.
Jean-Auguste-Dominique Ingres, Portrait of Mademoiselle Riviere, 1806
Ingres (1780-1867) was one of France's (and the world's) great portraitists.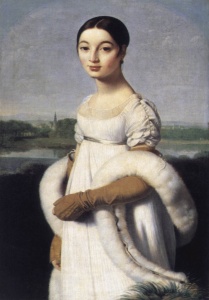 Jean-Auguste-Dominique Ingres, Napoleon on His Imperial Throne, 1806
Well that's a bit different from Gerard's portrait of Napoleon as First Consul (see 1803), isn't it?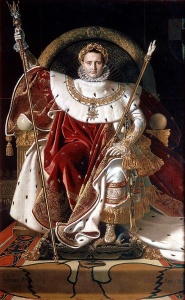 Antonio Canova, Napoleon as Mars the Peacemaker, 1802-1806
Despite the number of battles he's fought and the number of men who've died on his behalf, in 1806 there were still a lot of people who believed that Napoleon could bring peace to Europe. Canova (1757-1822) was Europe's leading Neoclassical sculptor.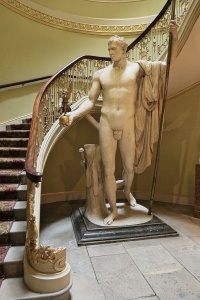 Napoleon commissioned the arch – which is about as Neoclassical as architecture gets – in 1806. It was not completed and dedicated until 1836, by which time the popularity of the Bourbon kings was flagging and there was a revival of pro-Napoleonic sentiment.
More
The second part of this post (1807-1815) appeared on Saturday 1/20/2018.
Want wonderful art delivered weekly to your inbox? Members of my free Sunday Recommendations list (email DuranteDianne@gmail.com) receive three art-related suggestions every week: check out my favorites from last year's recommendations. For more goodies, check out my Patreon page.