In college, I had a poster of Autumn  Landscape on my wall. It's much better on a computer screen, which provides some of the glow that the back-lighting does at the Metropolitan Museum.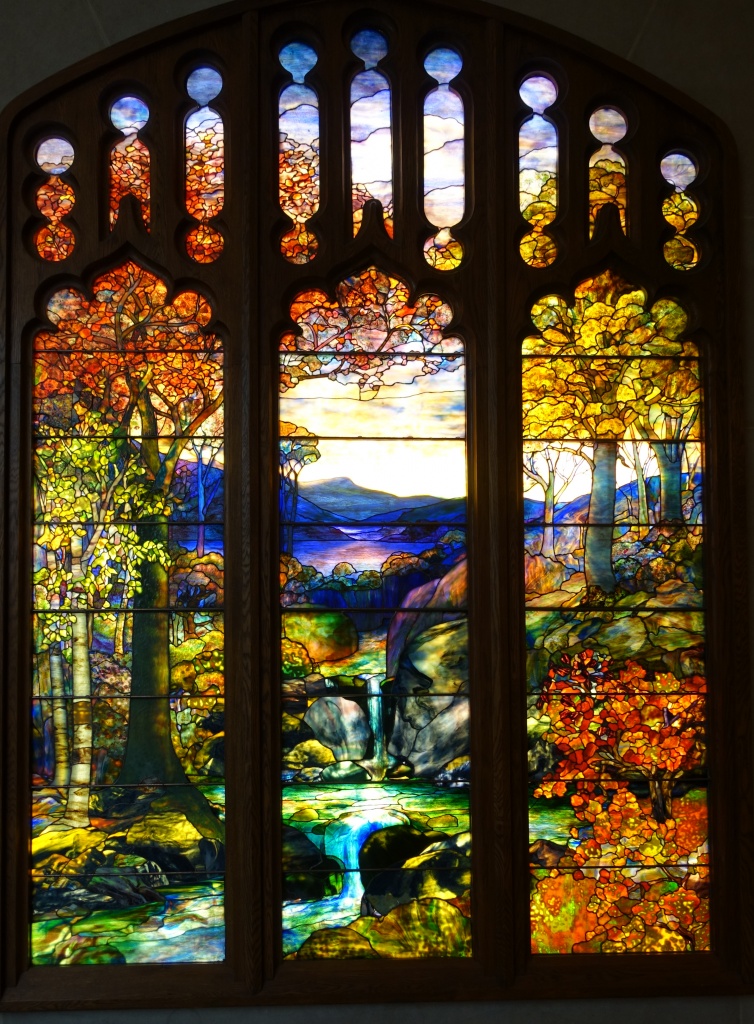 Until recently, I didn't know that this window was designed not by Louis Comfort Tiffany, but by Agnes Northrop (1857-1953), one of several female designers at Tiffany Studios. This shouldn't surprise me: Tiffany Studios was in the business of art, and the owners of such businesses generally have to choose whether to spend most of their time designing art or running the company. The Met owns a photo of young Agnes, who designed her first Tiffany window in 1895 – about three decades before Autumn Landscape.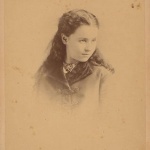 The Met also owns the sketch for Autumn Landscape.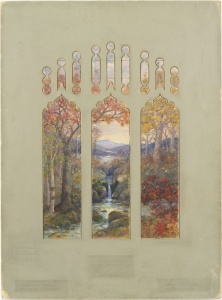 The sketch bears approval signatures of Louis Comfort Tiffany and of the man for whose home the window was commissioned, Loren Delbert Towle. It was slated for the landing of a staircase in  Towle's Boston residence, but Towle died before the house was completed. A former president of the Met purchased the window from Tiffany Studios and donated it to the American Wing in 1925.
Stained glass: medieval and modern
I could talk about the symbolism of Autumn Landscape, but the Met's site does that perfectly well. I could talk about the composition (balanced but not symmetrical, and handling the tricky transition from foreground to distance very well) or the repetition of colors (look at the way the oranges, yellows, and blues repeat to tie the work together). But on my latest visit to Autumn Landscape, I was fascinated by the glass.
Backtrack: as early as the 11th century, stained glass was used to tell stories in gigantic church windows. Each color was a separate piece of glass, and the pieces were held together by strips of lead. Details were painted on. Here's a sample from the Metropolitan Museum's collection.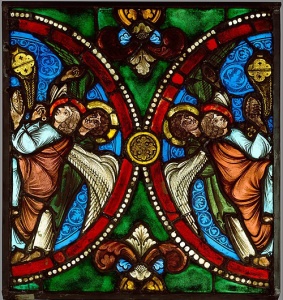 In Autumn Landscape, all the hues and textures were created by glass alone. For example: in the birch trees on the left side, several colors of melted glass are streaked together. The narrow black lines are the leading that holds the pieces together.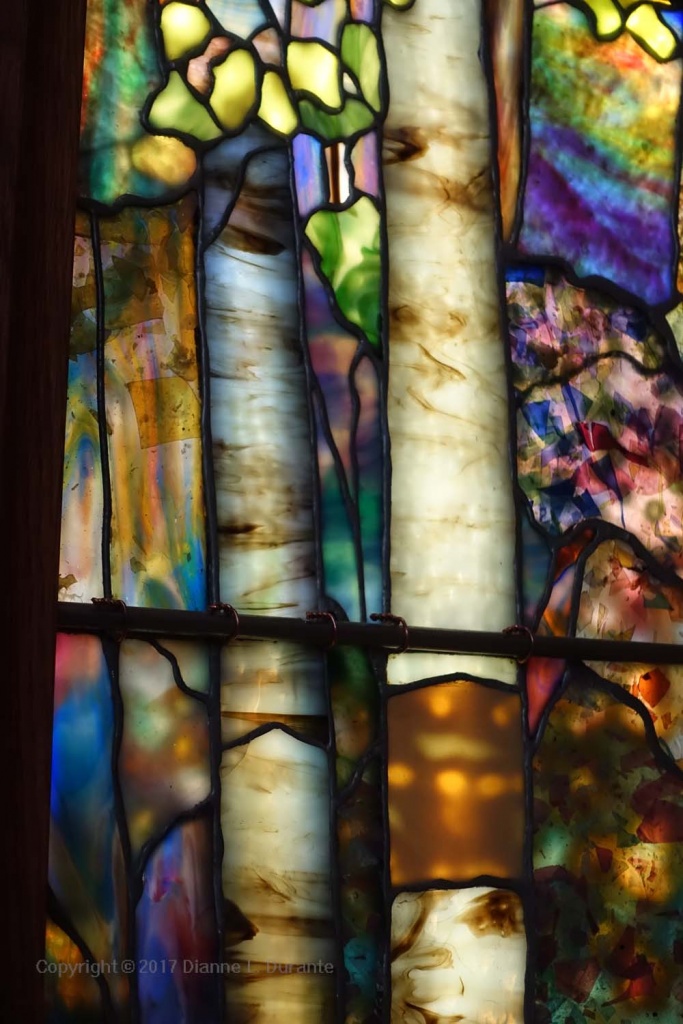 On the right side of the window is an example of "confetti glass": flakes of glass embedded in glass of a different color. It works very well for suggesting fallen leaves.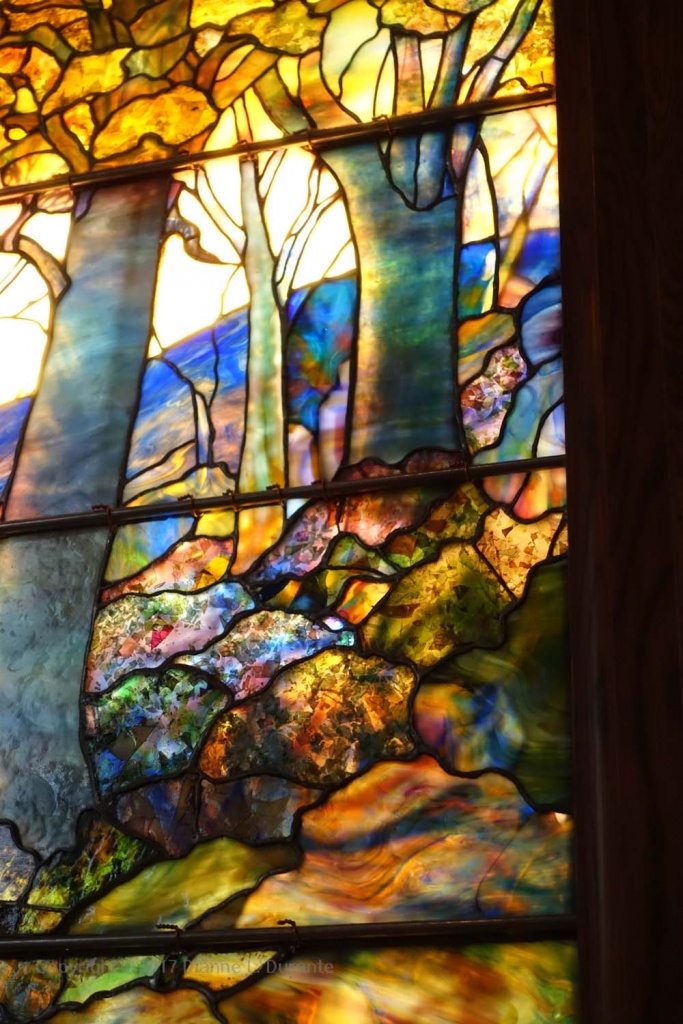 The sky is mottled glass, in which the colors are mixed more than on the birches, but are still visibly distinct. The mountains have a second layer of glass added behind them: the greater opacity sets them off from the glowing sky.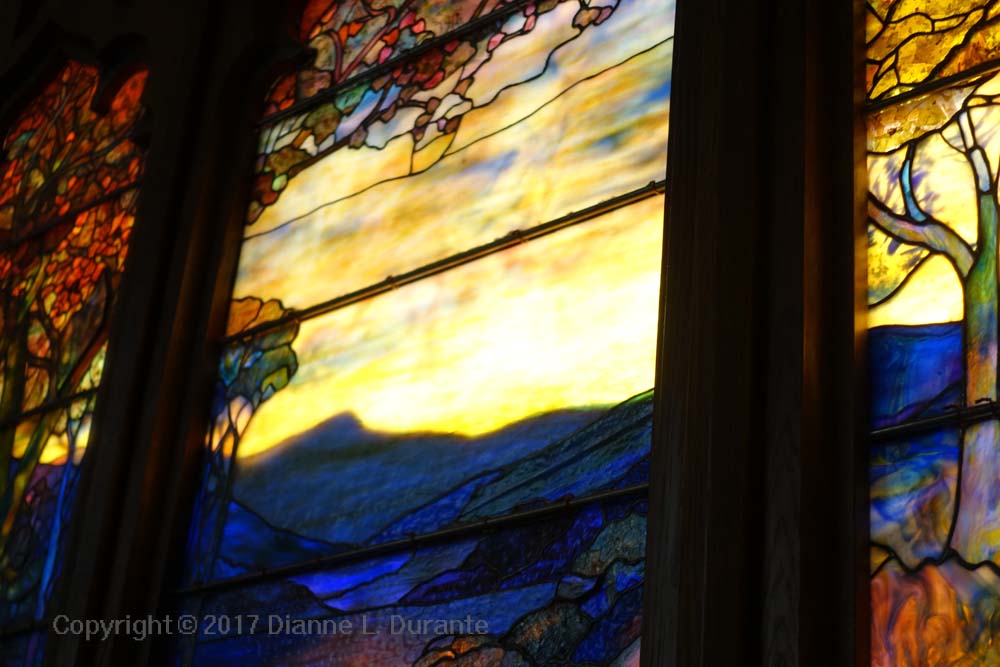 The water at the center is worked in ripples.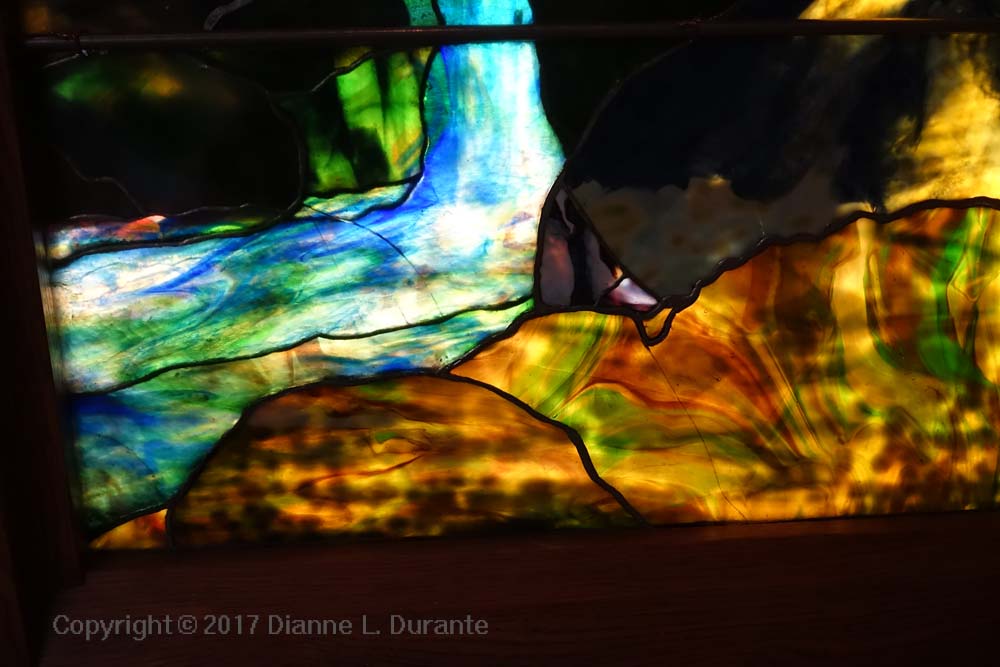 If you zoom in on the photo at the top of this post or (better yet) study this window in person in the American Wing, you can probably find even more techniques. Have fun!
More