I've often wished I could skip the first watching of an opera, and go straight to the second. Opera is a multi-media spectacle, but I'm a word-oriented person. On my first watching, I always obsess about catching all the subtitles. That makes it difficult to enjoy the music and acting. As a stop-gap, I usually try to do a bit of homework before I see an opera.
This fall, I'm hoping to see Bellini's Norma at the Metropolitan Opera, with Sondra Radvanovsky in the title role, Joyce Di Donato as Adalgisa, and Joseph Calleja as Pollione. (It will also be shown in HD at theaters across the country.) Norma, which premiered in 1831, is in bel canto style. Bel canto involves a beautiful voice singing a poetic text set to a beautiful melody, with lots of decorative runs and trills, and a demanding vocal range. If you don't know whether you like opera of this period, click here to start playing Norma's overture while you read the rest of this post.
Norma explores the collision of deep values: romantic love, love of one's children, friendship, duty, the desire for freedom. One needs the same patience as for reading Victor Hugo. The story doesn't move quickly, but the trip is fabulous.
Here's my crib sheet for Norma, including recordings of a handful of the most important arias, as sung on YouTube by a variety of remarkable  performers.
Setting and Characters
The story is set in Gaul (France) around 50 BC, a few years after Caesar and the Romans invaded.   (You remember: "Veni, vidi, vici.") The leader of the Gauls / Druids is Oroveso (a bass). His daughter Norma (soprano) is the high priestess of the Druids. Adalgisa (soprano) is the junior priestess. Pollione (tenor) leads the Romans.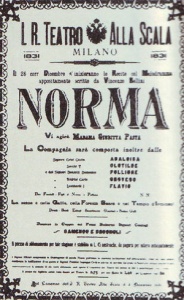 Plot Summary
Act I, Scene 1
Oroveso urges the Druids to rebel against the Romans ("Ite sul colle, o Druidi"). Pollione tells his friend, another Roman soldier, that Norma has borne him two children, but he's now madly in love with Adalgisa ("Meco all' altar di Venere"). Norma enters to perform religious rites ("Casta Diva"), and nixes an immediate rebellion. Adalgisa is torn between her duty as priestess and her love for Pollione ("Deh! proteggimi, O Dio!"). Pollione tells her that he must return to Rome the next day, and persuades her to elope with him ("Va, crudele, al Dio spietato"; "Vieni in Roma, ah! vieni, o cara").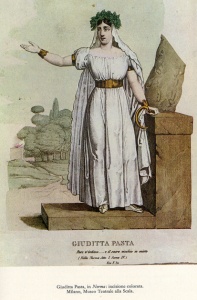 Act I, Scene 2
Norma wonders whether Pollione will take her and his children to Rome with him. Adalgisa arrives to ask Norma's permission to resign as priestess: she's fallen in love ("Oh! rimembranza!"). Norma agrees, then discovers Adalgisa is in love with Pollione, who hasn't yet mentioned to Norma that his affections have changed ("Oh non tremare"). After a furious trio sung by Norma, Adalgisa, and Pollione, Norma tells Pollione to leave.
"O rimembranza!" is a duet between Norma and Adalgisa in which they both remember falling in love … with, as it turns out, the same man. This version is sung by Montserrat Caballé and Fiorenza Cossotto.
Act II, Scene 1
Norma, at home, considers killing her children so they won't suffer when the Druids learn who their parents are. (How she's kept the villagers from learning that is a mystery.) Instead, she asks Adalgisa to take them to Rome ("Deh! con te, con te li prendi"). Adalgisa refuses, but then decides to remain in Gaul and try to persuade Pollione to return to Norma.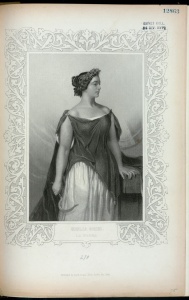 Act II, Scene 2
Oroveso tells the chorus of Druids that the time to attack has not yet arrived.
Act II, Scene 3
Norma learns that Pollione isn't just rejecting her – he's planning to kidnap Adalgisa, who now refuses to go to Rome with him. Norma rouses the Druids to attack the Romans. But who will be the required sacrificial victim in the rites that begin the war? That's easy: Pollione has been found lurking in the temple precinct. She tells him she'll spare his life if he'll give up Adalgisa. He refuses. She says she'll kill the children and Adalgisa; he begs her to kill him instead ("In mia man' alfin' tu sei"). She announces to the Druids that it would be better to sacrifice a priestess who has betrayed her vows … such as herself ("Qual cor tradisti"). Pollione flip-flops back in love with Norma. The opera ends with Norma and Pollione going to their deaths together.
"Qual cor tradisti," Norma's final aria; this version is sung by D. Dessi and F. Armiliato.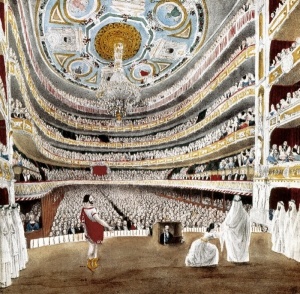 More
The role of Norma is one of the most challenging in the soprano repertoire. Lilli Lehman, who sang it in 1890, when it was first performed at the Metropolitan Opera, told a reporter: "Don't be alarmed about my voice. It is easier to sing all three Brünnhildes than one Norma. You are so carried away by the dramatic emotion, the action, and the scene [in Wagner] that you do not have to think how to sing the words. That comes of itself. But in Bellini you must always have a care for beauty of tone and correct emission. But I love Norma and Mozart's Entführung."
More on bel canto here.
Want wonderful art delivered weekly to your inbox? Members of my free Sunday Recommendations list (email DuranteDianne@gmail.com) receive three art-related suggestions every week: check out my favorites from last year's recommendations. For more goodies, check out my Patreon page.