There's a joke that all the famous paintings whose location you can't remember are in the Museo di Capodimonte, a palace built in 1738 atop a hill in Naples. Among many other holdings, the Museo has a couple portraits that made it into Janson's History of Art: Raphael's Portrait of Leo X with Two Cardinals and Titian's Paulo III and His Grandsons. But those two didn't make it to my favorites list. Here are the works I'd have run to visit, had I known that Capodimonte existed when I was in Naples.
View of Naples with the Return of the Aragonese Fleet

For centuries, southern Italy was ruled by royals from the Iberian peninsula or France. The reasons that led the king of Aragon and the Duke of Anjou to battle near Ischia, an island twenty miles north of Naples, are too convoluted to summarize in a sentence – and they don't interest me. But one of the appealing facets of the Renaissance is that artists start to consider the world worthy of representation again. This large work (8 x 2.5 feet, 245 x 82 cm) is the earliest panoramic view of Naples from the sea.  The artist included minute details of its fortresses and other buildings, a couple of which still stand. For close-ups of the painting, see here. For more on the history of the Tavola Strozzi, see Bill Dunnett's blog. For a survey of landscape painting, see my essay "Landscapes: History and Significance."
Parmigianino, Antea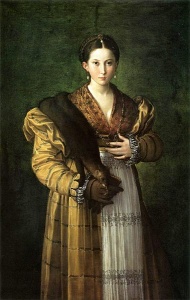 I've been sewing since I was ten, and I could spend a lot of time looking at the costume details here; but it's the face that rivets me. According to a story that goes back to at least 1725, the woman was the artist's mistress, a famous Roman cortesan. More here.
Giovanni Boldini, Walk in the Park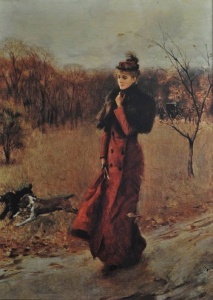 I can smell autumn when I look at this. Most of the painting is in an Impressionist-influenced style, but the face is clear and sharp. Alas, this particular reproduction is what art historians technically call "crappy". It turns out that Boldini also painted my favorite portrait of Giuseppe Verdi.
Pair of Astrolabes
The Museo di Capodimonte has a pair of astrolabes made in Seville around 1476. Each is about 17 cm / 6.5 inches in diameter. I can't find a copyright-free image of them, but they're similar to this planispheric astrolabe of ca. 1400 from the Parisian workshop of Jean Fusoris.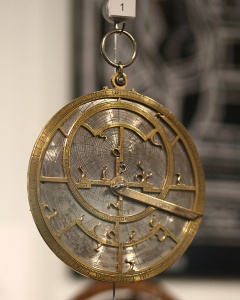 A slightly different type of astrolabe – a mariner's astrolabe – was used to allow for the often violent motion of ships. If you need a reason to admire Columbus, Vespucci, Cartier, da Gama, and other explorers, imagine heading to sea for an unspecified time with this widget and the stars as your only navigational aids.
Domenico Vanotti, Card table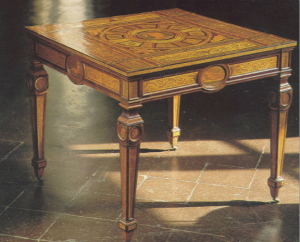 A lovely card table inlaid with Cupid and Psyche at the center and other mythological motifs in medallions. It's about 32 x 35 x 23 inches (82 x 89 x 60 cm) closed, but opens (as in the photo) to 34 inches (88.5 cm). Must be an amazing mechanism, because I can't see a break in the pattern of either side.
More
For more in the Five Favorites series, click "museums" in the Obsessions cloud at lower right.
The book on my shelf about this museum: The National Museum of Capodimonte.
Want wonderful art delivered weekly to your inbox? Members of my free Sunday Recommendations list (email DuranteDianne@gmail.com) receive three art-related suggestions every week: check out my favorites from last year's recommendations. For more goodies, check out my Patreon page.