There's a lot to be said for a building as full of art as the Metropolitan Museum of Art: if you don't like one piece, you can shift your gaze a foot and see another. But there's also much to be said for giving artworks – especially sculptures – space to breathe. At Brookgreen Gardens in Murrells Inlet, S.C., they have several hundred acres.
Anna Hyatt Huntington and her husband, scholar and poet Archer Huntington (of the railroad Huntingtons), purchased 9,000 acres in South Carolina in the early 1930s. They established Brookgreen Gardens as a place to display Huntington's sculptures and other American figurative sculpture among native American plants. In the section of the property open to the public, separate gardens highlight individual sculptures. If I could visit this place even half as often as I've recommended it, I'd be very happy.
Augustus Saint Gaudens, Diana, 1893
The original 14 1/2-feet-tall Diana graced the tower of Stanford White's Madison Square Garden from 1893 to 1925. That version is now at the Philadelphia Museum of Art.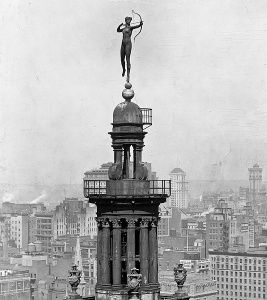 Saint Gaudens also created smaller versions of Diana. The Metropolitan Museum's gilded 8 1/2-feet tall Diana presides over the American Wing Courtyard.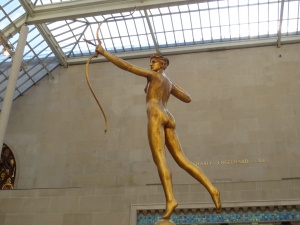 At Brookgreen, Diana (also 8 1/2 feet tall) has even more breathing space: she's on a tall pillar, overlooking a pool with fountains.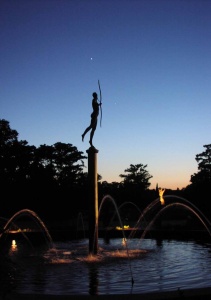 Anna Hyatt Huntington, Diana of the Chase, 1922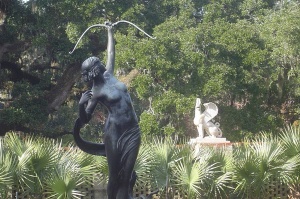 A better pic of Diana of the Chase is here – its copyright status isn't obvious, so I won't include it. (Incidentally, that's why all my photos in this post and elsehwere have a copyright notice on them: as a scholar and image researcher, I'm frequently exasperated not to be able to figure out whose property a given photo is. Orphaned photos, like orphaned books, are risky to reproduce.)
Evelyn Beatrice Longman, Victory, 1904
Longman (1874-1954) was the only woman who worked as an assistant to Daniel Chester French. Victory launched her career, winning a medal at the Lousiana Purchase Exposition in 1904. I couldn't find a copyright-free image of Victory at Brookgreen Gardens, so this one is courtesy of the Metropolitan Museum.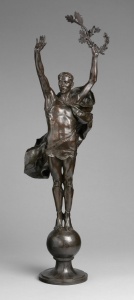 Richard McDermott Miller, Wind on Water, 1992
At Brookgreen, Wind on Water is poised with one foot on the ground, the other stepping into space above a pond. Brookgreen sells prints of it here. This is my pic from 2002 – low-res enough, I hope, to make it inoffensive for copyright reasons.
Janet Scudder, Frog Baby, 1901
Scudder (1873-1940), who studied with Frederick MacMonnies in Paris, was famous for sculpting charming bronzes to stand in gardens. She sold many works to Stanford White, architect of homes of the rich and famous as well as of the original Madison Square Garden.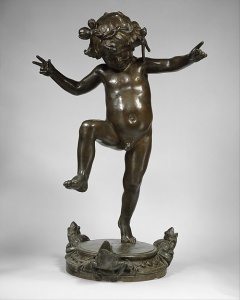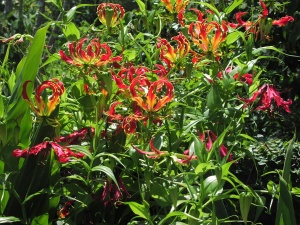 More