Big picture, please!
Innovators in Painting (a.k.a. Art History through Innovators: Painting) is queued up for editing and Kindle formatting. Add your name to my email list to be notified when it's available. Meanwhile, why not read Innovators in Sculpture?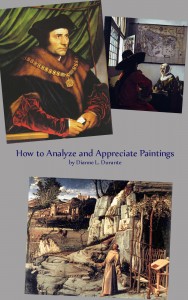 How to Analyze and Appreciate Paintings (Kindle) – Via discussions of Holbein's Sir Thomas More and Bellini's St. Francis in the Desert, we work through a series of questions to help you systematically observe the details of a painting, state what effect they have, and set them in the context of the rest of the work. As we go, we work out tentative themes and then a final statement of the theme; and finally, we evaluate the works in emotional, esthetic, philosophical, and art historical terms.
"How to Introduce Your Kid to Art" – advice from a former homeschooling parent and current art historian
Genres and periods
"Landscapes: History and Significance" – Landscapes have often been rated second-class compared to history and narrative paintings. How did this attitude develop, and what message or meaning can landscapes offer?
"Still Lifes: History and Significance" – At the famous Salon exhibitions in 19th-c. Paris, a mediocre mythological painting would have been displayed more prominently than the most exquisitely composed and executed still life. Why were still lifes considered second-class art for centuries? Is there an objective reason to rate them unfavorably vs. paintings that incorporate human figures?
Seismic Shifts in Subject and Style: 19th-c. French Painting and Philosophy (Kindle) – What caused the dramatic shifts in subject and style over the course of the 19th century – from Madame Recamier, by Jacques-Louis David (1800), to Luxe, Calme, et Volupte, by Matisse (1904)? This 30,000-word essay is a combination of art analysis and philosophical detection.
Specific works
I've discussed many specific works in blog posts: click Painting under Categories, or search for a specific work via the Search box at upper right.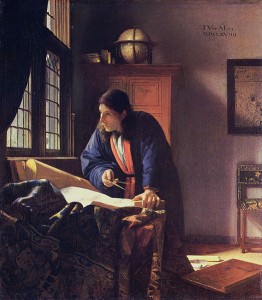 "Vermeer's Geographer" – "Think of a moment of insight – a moment when you had an integration of such scope that it made you stop writing, stop speaking, stop moving, so you could concentrate on working through the implications of that thought. What would you give for a reminder of that moment when you were tired, or had writer's block, or when you just needed to remember that one man improves, and the whole of mankind progresses, by such moments of insight? …"
"Comments on Tim's Vermeer "- Did Vermeer uses a lens and a concave mirror to project an image onto the canvas, which he then painted?