NOTE: This is still my guide to publishing my own ebooks on Kindle, but it was published in 2012, and I haven't kept it up-to-date. I unpublished it from Amazon's Kindle store on 1/7/2018. If you're interested in a copy, email me at DuranteDianne@gmail.com.
The goal of this book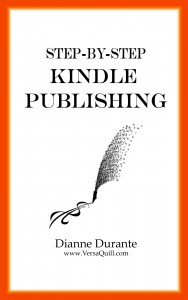 Step-by-Step Kindle Publishing is a guide to formatting text and illustrations for sale as an Amazon Kindle book. It's geared toward those of us who would rather be writing books than writing computer code. It includes step-by-step instructions for collecting Kindle-specific material and for formatting text via Kindle-friendly styles – a major time-saver.
Ignore the sections that are irrelevant to your work, do the bulleted items in the sections that are relevant, work through the final checklist, and you're ready to upload. Step-by-Step Kindle Publishing will help you turn your book into a Kindle book as quickly and efficiently as possible – whether you're publishing the Great American Novel, a scholarly monograph, or a political diatribe. Go to Amazon's listing and click Look Inside to read the first 10% for free.
Table of Contents
The book also has a 4-level, all-encompassing table of contents. But here's the essence:
Introduction: Ebook Design 101, Seven Facts and Best Practices
Chapter 1: Publishing a Kindle Book
Chapter 2: What You Need to Convert Your Book into Kindle Format
Chapter 3: Set Up a Seller's Account with Amazon
Chapter 4: Elements of a Kindle Book
Chapter 5: Set Up a Word Template for Kindle Formatting
Chapter 6: Preparing the Main Text for Kindle
Chapter 7: Challenges to Resolve Before Formatting the Text Chapter
Chapter 8: Create Kindle-Specific Items for Your Book
Chapter 9: Assemble Your Kindle Book
Chapter 10: Apply Formatting to the Text
Chapter 11: Place Images and Captions
Chapter 12: Create a Table of Contents (TOC)
Chapter 13: Insert Bookmarks for Kindle Guide Items
Chapter 14: Final Checks in Word
Chapter 15: Save Word Document
Chapter 16: Save Word Document as Filtered HTML
Chapter 17: Save Filtered HTML Files to Zipped Folder
Chapter 18: Upload Book to Amazon
Chapter 19: Preview and Revise
Chapter 20: Publish Your Book
Chapter 21: Revisions after Publication
Chapter 22: Getting Started on Promotion
Appendix 1: Working with Styles in Word
Appendix 2: Creating a Word-Generated Table of Contents (TOC)
Appendix 3: The Four-Level, All-Encompassing Table of Contents
About the Author, Dianne L. Durante
Sample: Getting More Enjoyment from Art You Love