The Kosciuszko Bridge, dedicated in 1939, carries the BQE at a dizzying height across Newtown Creek. It's a notorious bottleneck on the BQE, and like much of New York City's infrastructure, its maintenance has been neglected for decades. A few years ago, the powers that be decided to replace it.
The eastbound span of the new bridge is rising beside the old – a wonderful event if you happen to be addicted to photographing New York architecture and infrastructure. No major bridges have been constructed in the City since the Verrazzano in the 1960s. The new bridge will be cable-stayed, and will have 9 lanes plus a bike path and pedestrian walkway. For more details, see the official site and the Wikipedia article.
In the photos below, you can see the masts of side and the underpinnings of the roadway. All photos (c) 2016 Dianne L. Durante, which means: if you want to use them elsewhere, ask me nicely first.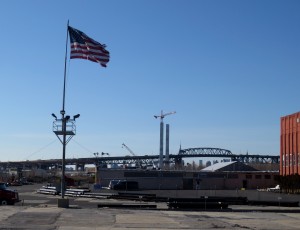 More
Want wonderful art delivered weekly to your inbox? Members of my free Sunday Recommendations list (email DuranteDianne@gmail.com) receive three art-related suggestions every week: check out my favorites from last year's recommendations. For more goodies, check out my Patreon page.