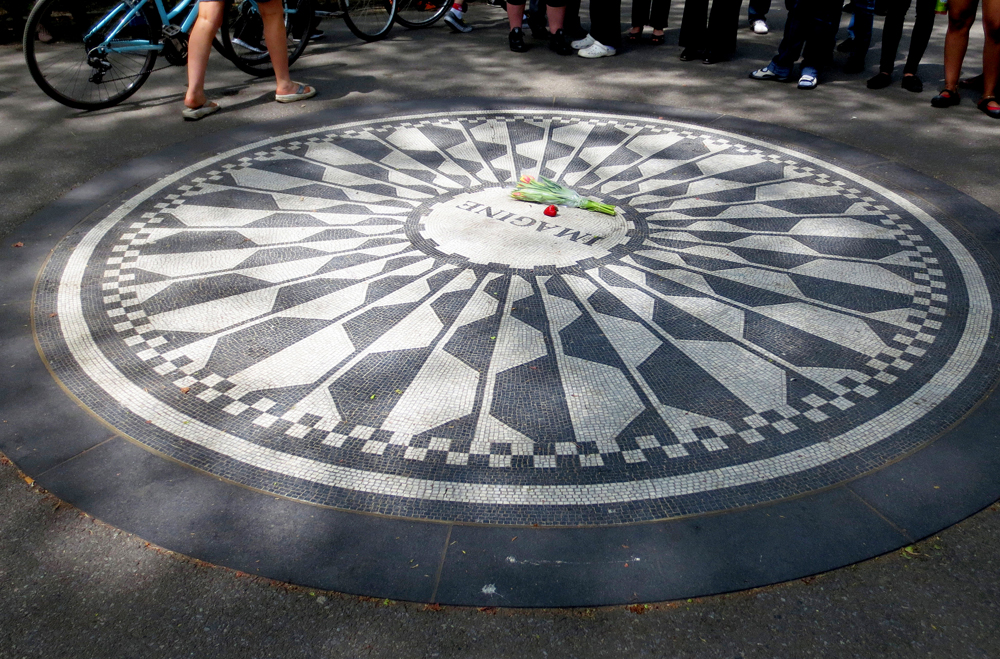 Imagine no John Lennon … I don't know if we can. But if you need reminders of how influential he was, in music and in the world at large, then the names of his two-part memorial in Central Park will do nicely.
In 1955, John – a rowdy 15-year-old with a cheap guitar – started a band. Five years later, the band had evolved into The Beatles. Soon John, Paul, George and Ringo were swept up in the worldwide whirlwind known as "Beatlemania." In 1966, John tossed off the comment that the group was "more popular than Jesus."

The boycotts, burnings, and Ku Klux Klan threats that followed were enough to make the Beatles long for … yesterday. A hit single released in early 1967 featured Paul McCartney's tribute to a Liverpool street on one side, and on the other, "Strawberry Fields Forever." John's song was inspired by an orphanage near his home whose gardens were his favorite hangout as a kid.

The inspiration for "Strawberry Fields Forever" was nostalgia, but it sounded like no pop single ever released. Parts of the vocal track were deliberately slurred. It used a strikingly weird combination of non-European and high-tech instruments. The style drove other rock musicians to push their boundaries and brought "psychedelic rock" into mainstream music.
At around the time "Strawberry Fields Forever" was released, John began to denounce the American government for its involvement in the Vietnam War. He was one of the first stars – in Hollywood or the music world – ever to oppose government policies so vehemently. John's week-long honeymoon with Yoko Ono in 1969 was, they declared, a "bed-in for peace."

"Give Peace a Chance," written on part two of the honeymoon, became the battle chant of the antiwar movement. "Imagine," written two years later – after the Beatles had broken up – became the movement's calm, prayerful hymn. John cheerfully admitted that "Imagine" was "virtually the Communist Manifesto," but its subversive message was cloaked in elegantly simple lyrics and a low-key piano, string, and drum accompaniment. The song remains a testimony to the power of music to move listeners – even those who don't agree with the lyrics.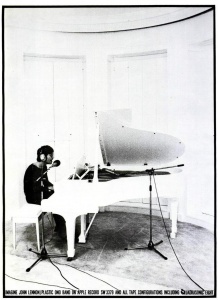 As "Imagine" was climbing the charts in August 1971, John and Yoko moved to New York, arriving as the American presidential campaign was getting under way. In 1972, for the first time, millions of 18 to 20-year-olds would be able to vote. At antiwar rallies, John told fans that the only way to "give peace a chance" was to vote against Richard M. Nixon.
Nixon promptly put John and Yoko under FBI surveillance. He ordered the Immigration and Naturalization Service to start proceedings to send John back to where he once belonged.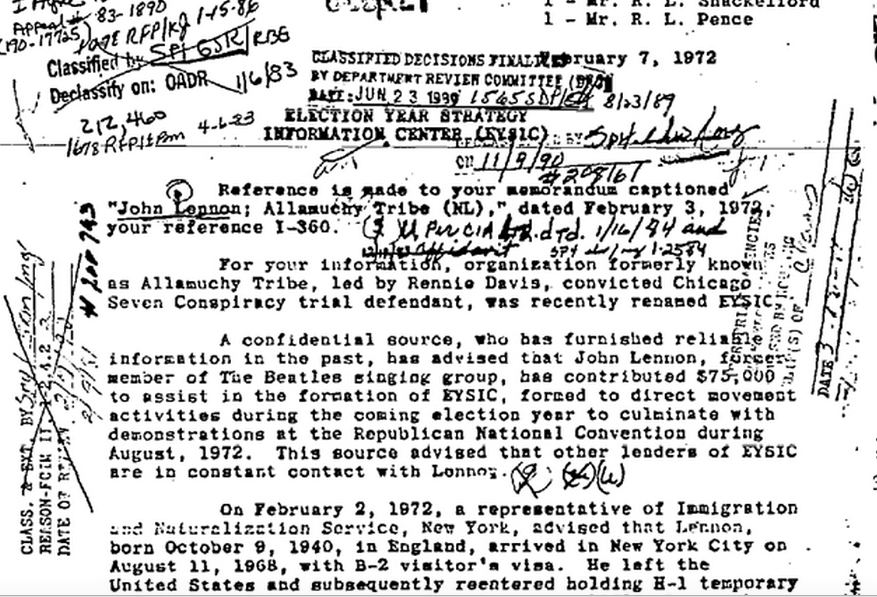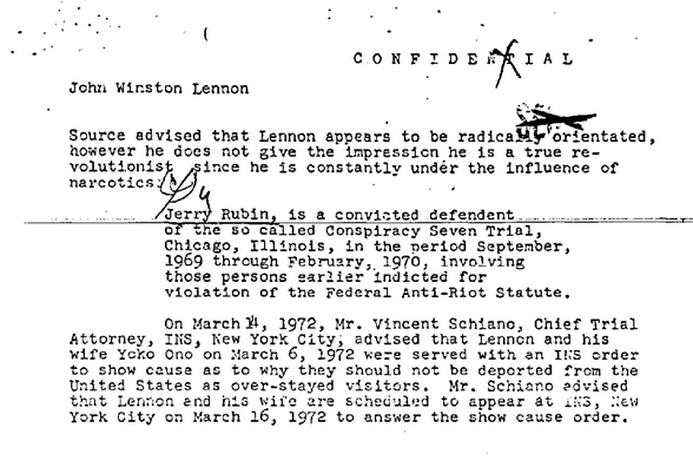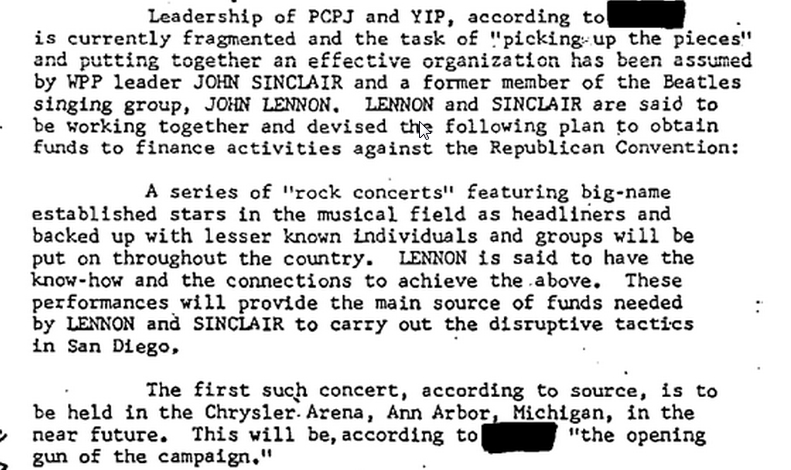 The deportation case dragged on past Nixon's landslide victory in 1972, past the Watergate scandal, and past Nixon's resignation. John was finally granted legal permanent resident status in 1975.
Meanwhile, John and Yoko had settled in the Dakota Apartments. John spent five years caring for their son Sean and watching other people's wheels go round and round. Then he got back on the merry-go-round, recording with Yoko the Double Fantasy album, released in November 1980. What forty-year-old John Lennon might have created had he not been shot a month later, none of us can even imagine.

More
John Lennon was born October 9, 1940, in Liverpool; he died December 8, 1980. Sgt. Pepper's Lonely Hearts Club Band was released May 26, 1967."Imagine" was released September 9, 1971 in the United States. The Strawberry Fields Memorial was dedicated on what would have been Lennon's 45th birthday: October 9, 1985.
This post is adapted from one of the episodes in the Guides Who Know app on Central Park (forthcoming). It wasn't one of the easy episodes. Lennon was such an integral part of my adolescence that stepping back to look at his influence was difficult. Also, unlike all my guys from the 19th century, one generally has to pay for decent illustrations of Lennon, and licensed use of Beatles music is expensive. The episode could easily have run a couple thousand dollars in permissions fees. I chose to use almost-quotes of Beatles songs.
Want wonderful art delivered weekly to your inbox? Members of my free Sunday Recommendations list (email DuranteDianne@gmail.com) receive three art-related suggestions every week: check out my favorites from last year's recommendations.  Patreon subscribers get a fourth recommendation, access to a compilation of all the recommendations, plus videos of the week's blog post and recommendations. If you simply follow me on Patreon (also free!), you'll get occasional notices of upcoming exhibitions and other info I want to share. The blog post of favorite recommendations from 2017 includes some Patreon recommendations, so it'll give you a sense of what I offer there.