This essay is adapted from Chapter 20 of Outdoor Monuments of Manhattan: A Historical Guide. I've kept cross-references to other chapters in the book, all of which will eventually be updated and posted on this site. Click on "Outdoor Monuments of Manhattan book" in the Obsessions cloud at lower right to see which are already here.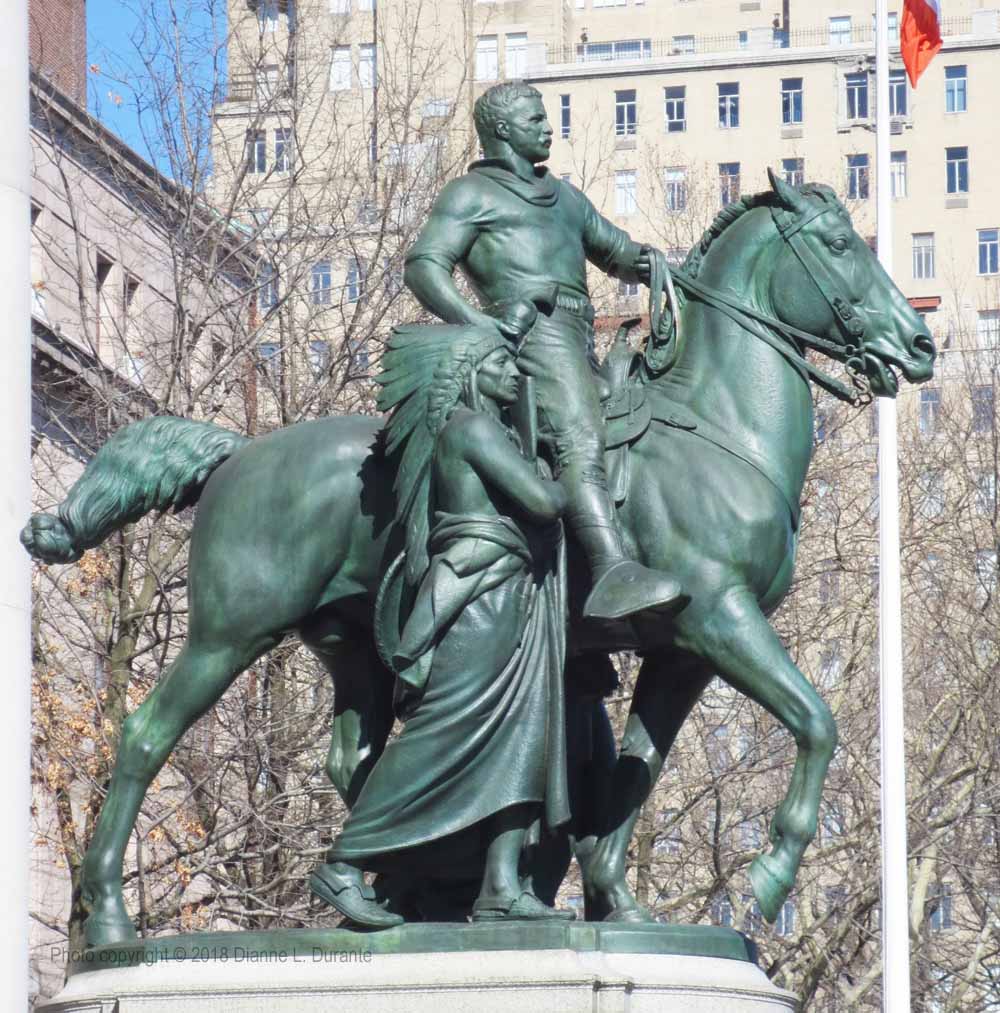 Sculptor: James Earle Fraser. Architect: John Russell Pope.
Dedicated: 1940.
Medium and size: Bronze equestrian group (10 feet), granite pedestal (8.6 feet). The Roosevelt Memorial includes friezes on either side of the equestrian sculpture and life-size figures on the cornice.
Location: American Museum of Natural History, Central Park West and 81st Street. (The plot of land on which the AMNH sits was designated a park on the Commissioners' Plan of 1811, and was put under control of the Board of Commissioners of Central Park in the 1860s. See my Central Park: The Early Years, chapter 6.6.)
About the Roosevelt sculpture
Roosevelt was a Rough Rider, governor of New York State, and president of the United States, but in front of the Museum of Natural History he's commemorated as an explorer and naturalist. On one side a Native American guide wearing a war bonnet carries a rifle.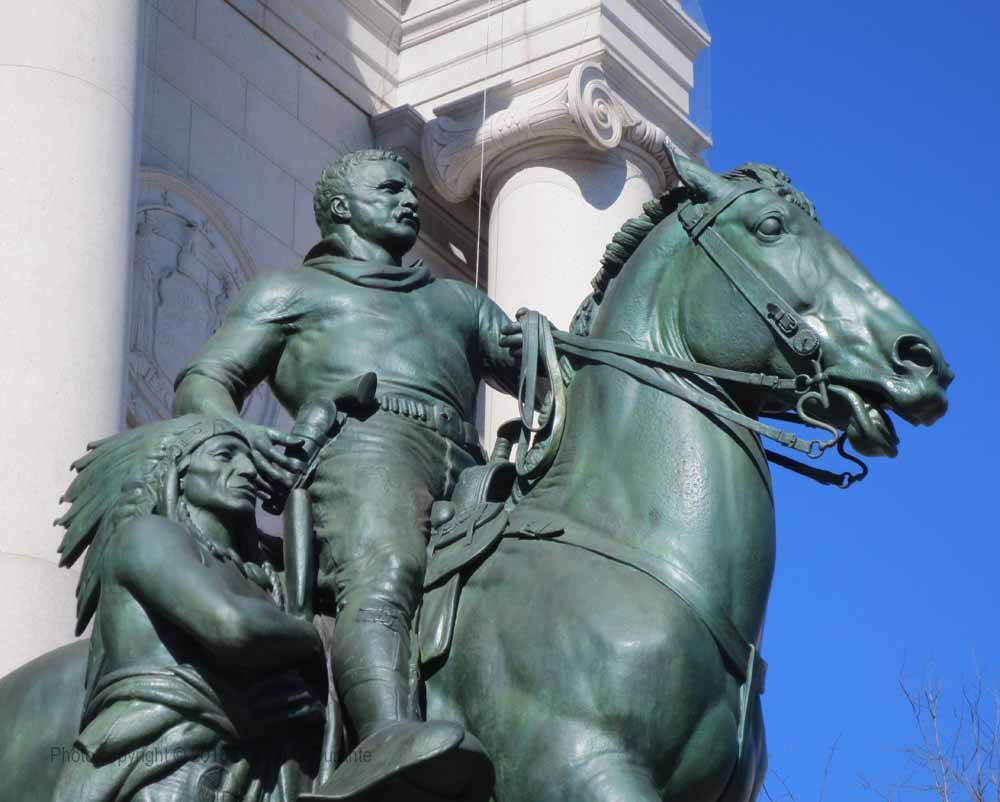 On the other is an African guide with a rifle and a nail-studded shield. (This side faces north: getting pics with decent light has been difficult.)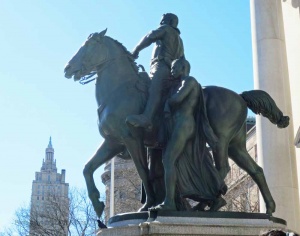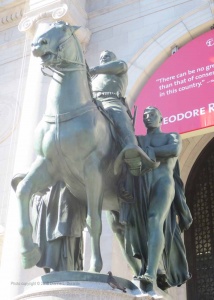 NOTE: Fraser, a personal friend of Roosevelt, intended the figures walking on either side to represent America and Africa, and Roosevelt's "friendliness to all races" (Gayle & Cohen, Art Commission and Municipal Art Society Guide to Manhattan's Outdoor Sculpture, p. 279). Because of those figures, this was among the sculptures that Di Blasio's Mayoral Advisory Commission on City Art, Monuments and Markers considered removing from city property. They decided against it. Pretty much all I have to say on this topic is in my essay "Politics and Portrait Sculptures."
The frieze
In low relief along the terrace behind Roosevelt are friezes of wild animals. The sources I've checked, including the Smithsonian Institution's Art Inventories Catalogue (SIRIS) and Gayle & Cohen, don't credit these to Fraser. But they're probably his work: he was known for his sculptures of animals.  You've probably held at least one of them in your hand: he designed the "buffalo nickel" that was minted from 1913 to 1938.
On the southern end are American fauna: wolves and bears at the very south.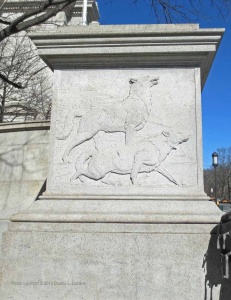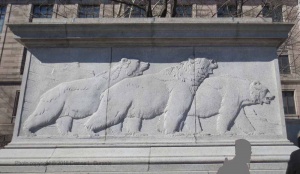 Then there's a stretch of wall with bench, on which wreaths alternate with Roosevelt's accomplishments: Scholar, Scientist, Conservationist, Naturalist.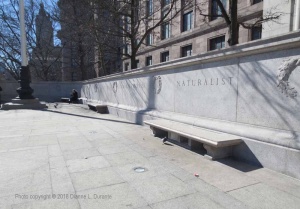 Just south of the main entrance are three more reliefs: mountain goats, buffaloes, and moose.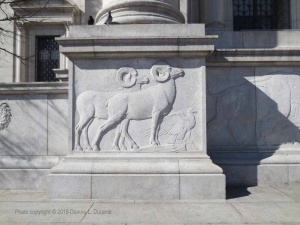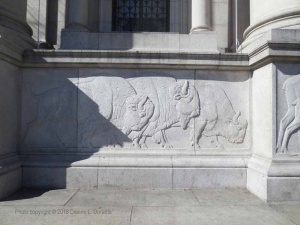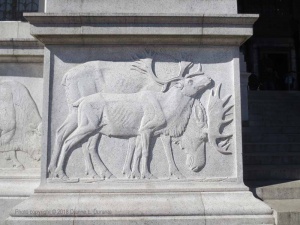 Just north of the main entrance are reliefs with ibex, water buffaloes, and a zebra (?) with another horned animal. (If you can identify it, let me know: DianneDurante@gmail.com.)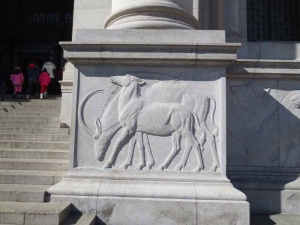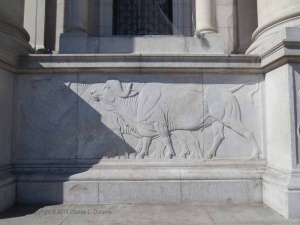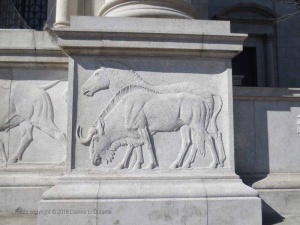 North of those are more of Roosevelt's accomplishments: Soldier, Patriot, Humanitarian, Statesman, Author, Historian.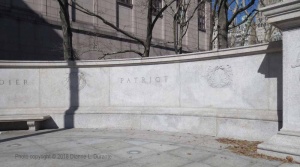 All the way at the north are reliefs of screw-horn antelopes (addax) and lions.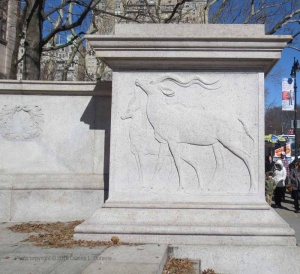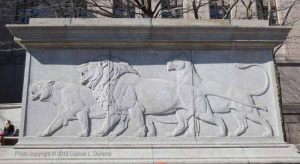 The cornice sculptures
High above Roosevelt are four life-size sculptures (also by Fraser) representing notable American explorers and naturalists: Daniel Boone, who in 1775 blazed the principal route westward from Virginia; ornithologist John James Audubon; and Meriwether Lewis and William Clark. (See Outdoor Monuments of Manhattan Ch. 50, on Jefferson.)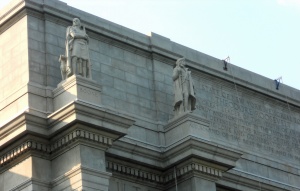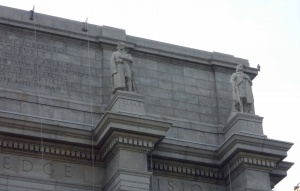 The setting of the Roosevelt Memorial
In Outdoor Monuments of Manhattan we've often focused on small telling details, but it's also important to pull back from the details to look at the wider context of a sculpture. This monument to Roosevelt included not only the equestrian sculpture, but a whole section of the American Museum of Natural History's facade, with Roosevelt framed in the center of three arches, plus the frieze and cornice sculptures. As originally conceived, it would also have included a 350-foot-wide plaza extending into Central Park, with a path leading east to the Metropolitan Museum. Although the Central Park Association vetoed that plan (thank goodness!), the grandiose conception indicates how highly his home town esteemed Teddy Roosevelt.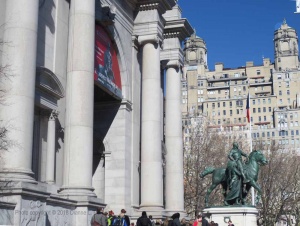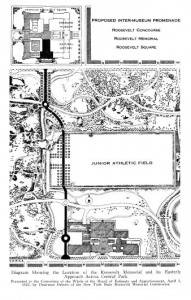 About the subject
Because of his military experience and political activities, it's odd to think of Theodore Roosevelt (1858-1919) as a man passionately interested in art. Yet he wrote a fascinating critique of the famous 1913 Armory Show, which introduced European Modernism to America. "An Art Exhibition" (from History as Literature and Other Essays) is quoted in full here.
During his presidency (1901-1909), Roosevelt actively promoted art, asking advice of such notables as painter Frank Millet and architects Charles McKim and Daniel Burnham. He even enlisted, for a government project, the services of the foremost American sculptor of the time: Augustus Saint Gaudens. (See Outdoor Monuments of Manhattan Chs. 10, 19, 31.)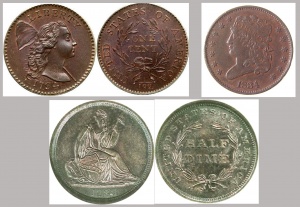 Roosevelt asserted that American coinage, designed since Revolutionary times by employees of the United States Mint, was in a state of "artistically atrocious hideousness." In 1905 he asked Augustus Saint Gaudens to redesign several coins. Saint Gaudens (d. 1907) finished only the exquisite "Double Eagle," a twenty-dollar gold piece. On one side Liberty strides forward, much like the Victory on the Sherman Monument (Outdoor Monuments of Manhattan Ch. 31). On the other, an eagle soars.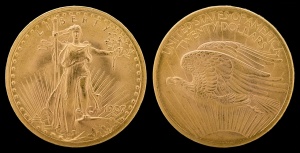 "It is simply splendid," said Roosevelt when he saw the final design. "I suppose I shall be impeached for it in Congress but I shall regard that as a very cheap payment."
Impeachment for a coin design? Ah, yes: Saint Gaudens had recommended that to reduce clutter on the coin, the words "In God We Trust" be omitted. That motto had first appeared on coins during the Civil War, after a Pennsylvania minister campaigned to have God mentioned on American coinage because otherwise, if the Union ceased to exist, "Antiquaries of succeeding centuries [might] rightly reason . . . that we were a heathen nation." In 1864 Congress authorized use of the motto "In God We Trust," but (as Roosevelt discovered) didn't require its inclusion.

To an outcry from clergymen and women's groups about the new Double Eagles, Roosevelt responded with the argument that invoking God's name on a coin often led to sacrilegious mockery. He finally caved in to pressure from Congress, agreeing that "In God We Trust" would appear on Double Eagles issued after July 1, 1908.
More
For my talk "Artist-Entrepreneurs: Saint Gaudens, MacMonnies, and Parrish," given at the Cordair Arts & Wine Weekend at the Cordair Gallery, I had to cut the discussion of Saint Gaudens's design of the Double Eagle. I hope those of you who missed it have enjoyed this version!
A favorite Roosevelt quote:
It is not the critic who counts: not the man who points out how the strong man stumbles or where the doer of deeds could have done better. The credit belongs to the man who is actually in the arena, whose face is marred by dust and sweat and blood, who strives valiantly, who errs and comes up short again and again, because there is no effort without error or shortcoming, but who knows the great enthusiasms, the great devotions, who spends himself for a worthy cause; who, at the best, knows, in the end, the triumph of high achievement, and who, at the worst, if he fails, at least he fails while daring greatly, so that his place shall never be with those cold and timid souls who knew neither victory nor defeat. — Theodore Roosevelt, "Citizenship in a Republic," 1910
Outdoor Monuments has been "translated" into a fabulous app that you can enjoy on your phone or tablet for the images and music – even if you're not in New York. The Guides Who Know Monuments of Manhattan videoguide is available for iPhone users (free Preview; complete app) and Android users (free preview; complete app). The supplementary page on ForgottenDelights.com is here.
Want wonderful art delivered weekly to your inbox? Members of my free Sunday Recommendations list (email DuranteDianne@gmail.com) receive three art-related suggestions every week: check out my favorites from last year's recommendations. For more goodies, check out my Patreon page.