If you're in the Ramble, you're probably wandering aimlessly – and Frederick Law Olmsted would be pleased about that. This wooded area with its convoluted paths harks back to the meandering rides that young Olmsted took with his father in rural Connecticut.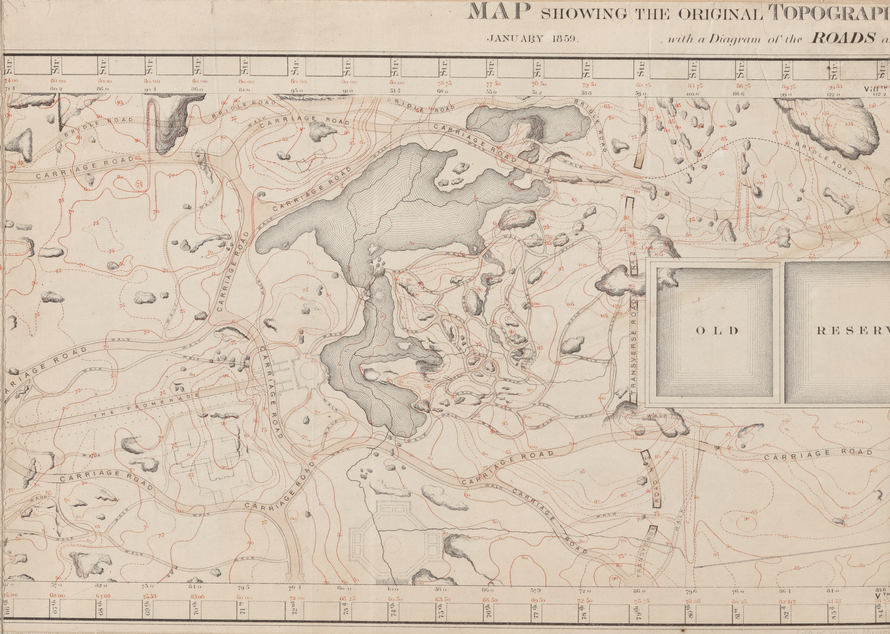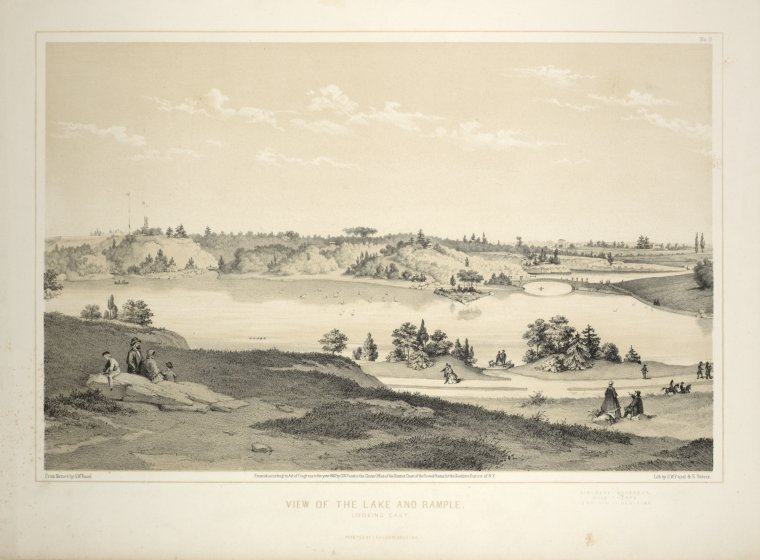 However natural the Ramble looks, it – like the rest of Central Park – is a landscape that was conceived and laboriously executed by man. Olmsted, who came to the Park almost by accident and initially found it disgusting, became one of its chief designers.
Work on the park had begun in 1856, under the command of Egbert Ludovicus Viele. The following year, a friend suggested that Olmsted apply for the new position of park superintendent. Later, Olmsted recalled that on his first visit to the site, he trudged through
a number of vile sloughs, in the black and unctuous slime of which I sometimes sank nearly half-leg deep … I had not been aware that the park was such a very nasty place. In fact, the low grounds were steeped in the overflow and mush of pig-sties, slaughter houses and bone-boiling works, and the stench was sickening. — Quoted in the New York Times 8/11/1912
Olmsted's job as park superintendent was to manage the day laborers and the police force. Viele, a West Point-trained engineer, sneered at his new subordinate for not being a "practical man." But what Olmsted did have, more than any of his countrymen, was knowledge of public parks – a relatively new civic amenity.
Olmsted's Qualifications
In the 1850s, the few Americans who traveled to Europe usually visited famous tourist destinations such as Paris, Rome, and London. Olmsted instead traveled to Liverpool to visit three-year-old Birkenhead Park – the first park in England built with public funds. No detail of Birkenhead Park was too minor for Olmsted to notice, from the grand entrances to the macadamized roads and graveled paths, from the drainage to the man-made ponds, from the plantings and turf to the pavilions, bridges, and cricket grounds.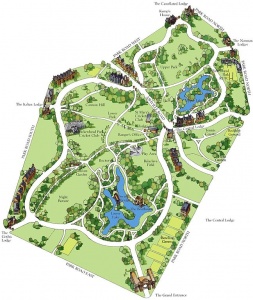 Olmsted's Walks and Talks of an American Farmer in England, published in 1852, established its thirty-year-old author as an authority on such "designed landscapes." At home, he transformed his run-down farm on Staten Island into showplace.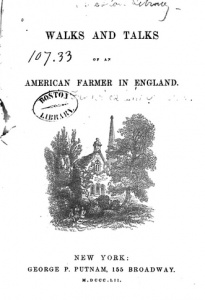 In 1857, around the same time that Olmsted was hired as park superintendent, the Board of Commissioners began advertising the competition for the design of Central Park. They required a host of features and amenities: at least four transverse roads, entrance arches, and a parade ground for military exercises, plus sites for an exhibition or concert hall, an observatory, fountains, flower gardens, and a skating pond.
Olmsted was soon recruited by Calvert Vaux to collaborate on an entry for the competition. They made a great team. Vaux had years of experience designing and drawing up plans for country homes. Olmsted had studied park design and landscape architecture extensively. And of course, his daily labors in Central Park made him minutely familiar with its terrain.
To the grab-bag of requirements listed by the Board of Commissioners, Vaux and Olmsted added their own overarching goals for the "Greensward Plan." First goal: the Park should be in sharp contrast to the city's "monotonous straight streets and piles of rectangular buildings." It would have picturesque vistas – views that would inspire quiet contemplation, but would also provide an element of mystery and surprise.
Vaux and Olmsted's second goal was management of crowds – whether well-behaved Sunday strollers or the "occasional malevolent torrents of a disorderly rabble." The complex intertwining of transverse roads, carriage roads, bridle paths, and pedestrian paths, with their unobtrusive bridges and underpasses – that was part of crowd management.
Implementing the Greensward Plan
After the Greensward Plan won the competition in April 1858, Olmsted was appointed architect in chief of the park. His duties included dispatching as many as 3,000 day-laborers to the areas of the park where they would do most good. Aside from overseeing the men, he had to oversee masses of material coming into the park. Gunpowder for blasting. Rock for fill and for drives. Manure by the ton – the stables for the city's horse-drawn trolleys were a major source. Flowers, shrubs, and trees – some of them quite large.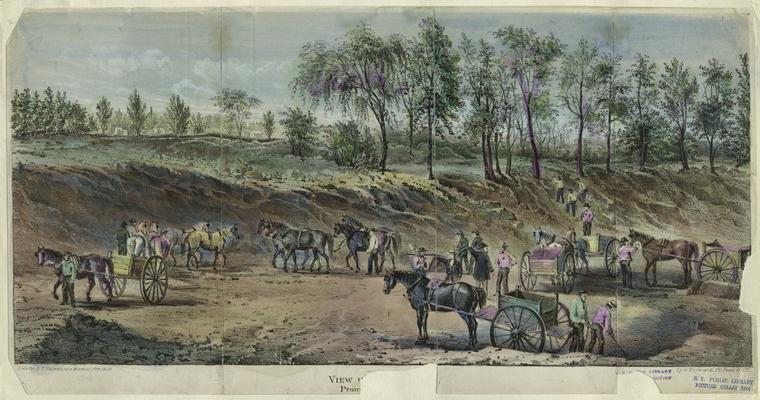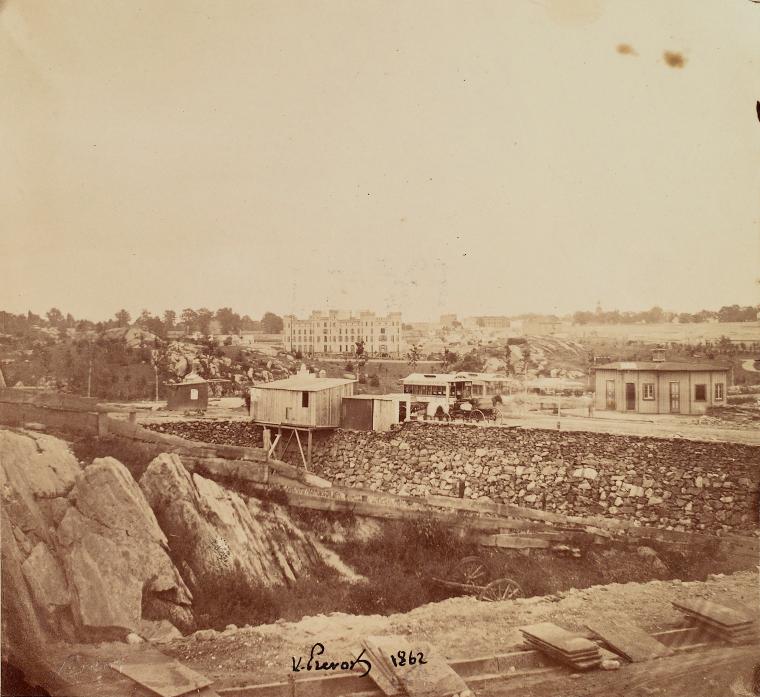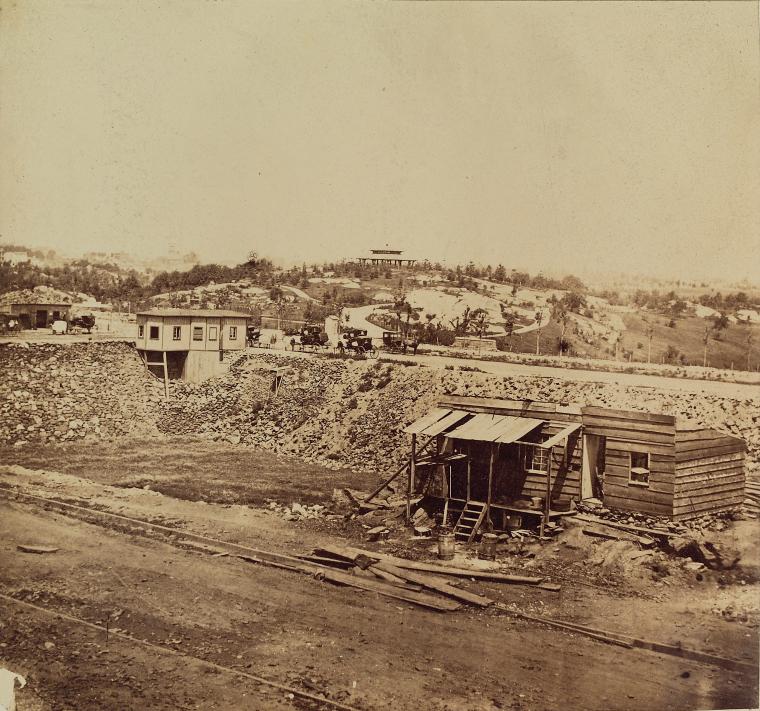 Olmsted also routinely dealt with goats and dogs roaming in the park (see Eagles and Prey), requests for baseball fields, and the installation of urinals.
All the construction was carried on with the park's borders largely open. The "very nasty place" that Olmsted had slogged through in August 1857 was by 1860 attracting thousands of visitors. They strolled on seven miles of paths and rode along more than three miles of carriage ways, wandered – aimlessly – in the Ramble, and skated on a man-made lake.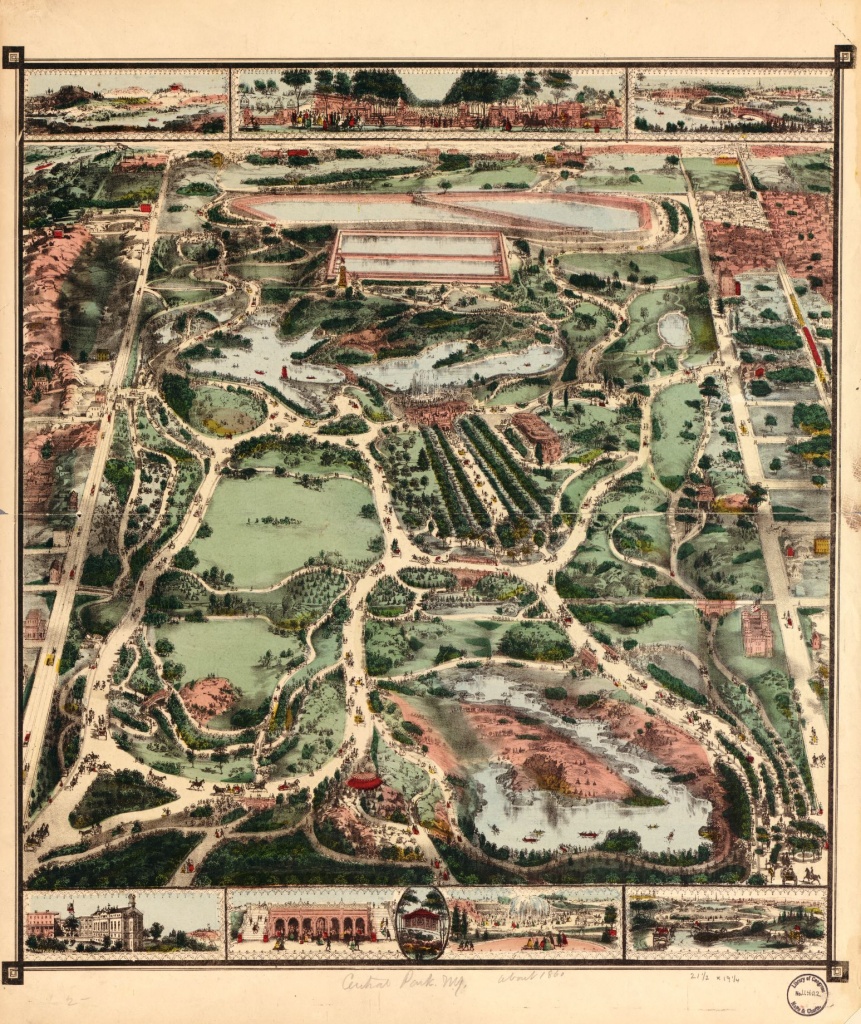 In 1860, a disgruntled Commissioner complained to the New York legislature (which controlled funds for Central Park) that the project was far over budget. Julius Kellersberger, the civil engineer dispatched to inspect the Park, praised the Park's design and Olmsted's supervision in glowing terms.
The works are carried on under efficient and proper supervision, and under a strict discipline; the best order and system prevails in the different offices as well as on the grounds, and in that respect there is no other public work in the United States to be compared with the Central Park. … I would state, that the plan and laying out of the park, the design, location, and proper construction of the four transverse roads, the division of roads and drives, rides and walks, the availing of natural propensities, the graceful grades and curvatures, the magnificent bridges, beautiful lakes and picturesque landscape, do as much honor to the taste, refinement, and wealth of the metropolis, as credit to its designer and executor.  — Fourth Annual Report of the Board of Commissioners of the Central Park, January 1861, pp. 120-122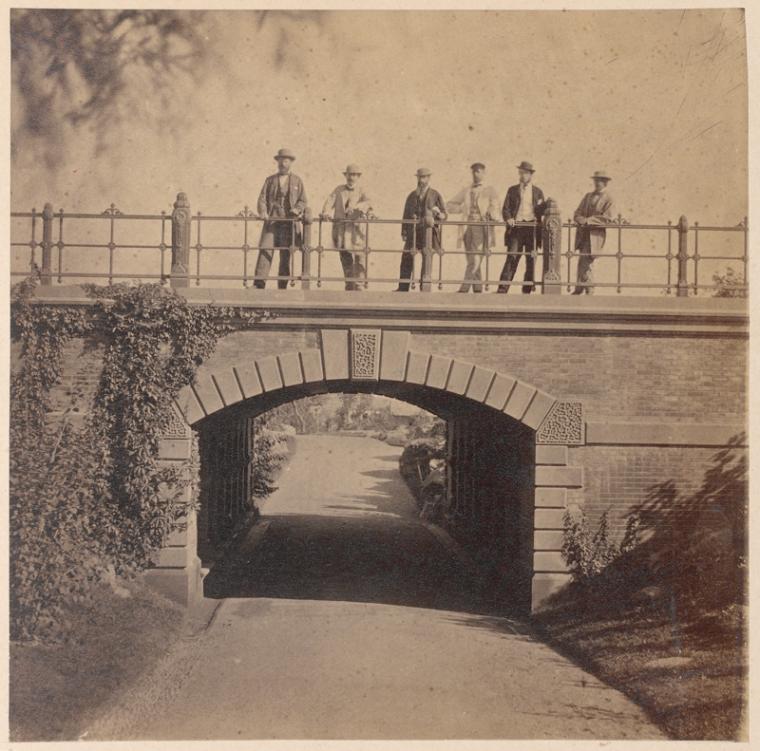 More