During the Mexican-American War, Lieutenant Egbert Ludovicus Viele watched helplessly as his men died of cholera. No one knew how to prevent or cure the disease, but it clearly spread most quickly in areas where water was contaminated. Viele, a West Point-trained engineer, became obsessed with drainage.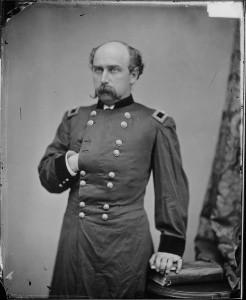 In the 1850s, just as the city and state of New York City were making slow, ponderous progress toward creating a great public park, Viele became a civilian engineer. On spec, he produced a minutely detailed topographical survey of the rock outcroppings, streams, and swamps that occupied the space chosen for "the Central Park."

His ankle-deep familiarity with the site made Viele a logical choice for chief engineer when work on the park began in 1856. Six months later he published his "Plan for the Improvement of Central Park, Adopted by the Commissioners on June 3, 1856."
Not surprisingly, Viele's first concern was drainage. Without it, the area would remain "a pestilential spot, where rank vegetation and miasmatic odors taint every breath of air." Viele did proclaim that "Nature's pencilings on the surface of the earth" should be left alone. "To alter them would be desecration, and to erase them, folly!" Still, he proposed major changes. The area that's now the Lake – a low-lying swamp – was slated to be transformed into a grassy, open area. Viele also sketched in a parade ground for military exercises, a botanical garden, and a cricket ground, to encourage "an indulgence in athletic and manly sports." More practically, several transverse roads would be created so traffic could cross the park. Inside the park would be separate roads for pedestrians, equestrians, and carriages.
Despite the heading on his map ("Plan for the Improvement of Central Park, Adopted by the Commissioners on June 3, 1856″), Viele's plan had not actually been adopted. The first official Board of Commissioners of Central Park was finally appointed in April 1857. They authorized Viele, as chief engineer, to begin work on Central Park. But meanwhile, Calvert Vaux – a trained landscape architect – persuaded the Board that Viele's proposal was the sort of unimaginative plan a mere engineer would produce. The only way to get a park worthy of New York, argued Vaux, was to sponsor a competition.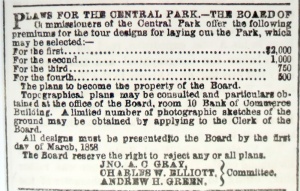 In April 1858, Vaux won the competition with the Greensward Plan, the entry he had designed in collaboration with Frederick Law Olmsted. Soon afterwards, Viele was fired. Olmsted and Vaux took over management of the Park.

Among engineers, though, Viele's work lives on. His "Sanitary & Topographical Map of the City and Island of New York" superimposed the city's street grid on a painstaking survey of Manhattan's streams, marshes, and original coastline. Today, anyone planning to build in Manhattan consults the 1865 "Viele Map" to find out just what he'll be sinking his foundations into.

More