As you might have guessed by now, I'm fascinated by the process of creating sculptures. See, for example, my posts on Clarence Darrow and on King George III, or my series of three posts on why sculptors use models. So you can imagine how excited I was when StudioEIS invted me to see an early stage of their next project!
StudioEIS is creating twelve life-size bronze sculptures for Voices in the Garden, the Virginia Women's Monument, which will stand near the Capitol in Richmond. More information on the women being honored is on the Monument's home page, where you can also make a donation. According to the Virginia Women's Monument Commission, "this monument is the first of its kind in the nation, honoring the significant but often unrecognized contributions of women to any state's history, in this case the 400-year history of the Commonwealth of Virginia."
In mid-May Ivan Schwartz of StudioEIS invited me to a photo shoot for the Monument. In their quarters in Brooklyn, the members of StudioEIS roughed out the oval shape of the monument.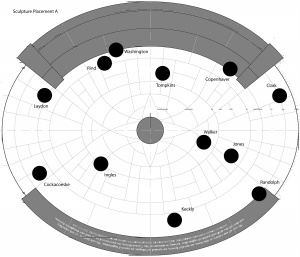 Actresses appeared in full period costumes that were researched and selected by James E. Crochet. They held poses that the Virginia Women's Monument Commission had agreed were appropriate for their time and their accomplishments.  Several photographers took images from all angles of the group, in several different combinations of poses.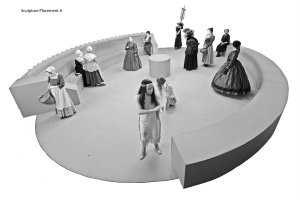 I snapped the photos below when the real photographers weren't in action.
Laydon and Ingles
The earliest woman honored is Ann Burras Laydon (ca. 1594 – ca. 1636), one of the original settlers at Jamestown. Mary Draper Ingles (1732-1815) traveled 600 miles to return to her family after being captured by Indians.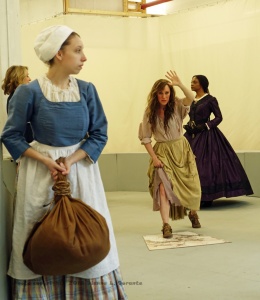 Cockacoeske
Cockacoeske (prounounced Coke a cow ski, fl. 1656 – d. 1686) ruled the Pamunkey for thirty years, during which she signed the Treaty of Middle Plantation in 1677.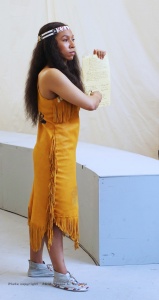 Washington and Rind
Martha Dandridge Custis Washington (1731-1802) was the first First Lady, although the title was not used at the time. Clementina Bird Rind (1740-1774) edited and managed the Virginia Gazette after the death of her husband.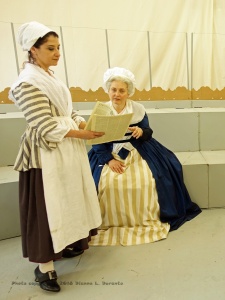 Keckley
Elizabeth Hobbs Keckley (1818-1907) bought her freedom and became Mary Todd Lincoln's seamstress and confidant. Her Contraband Relief Association provided support for recently freed slaves and wounded soldiers. This dress is so gorgeous that I asked StudioEIS if I could use one of their photos – mine didn't show the details.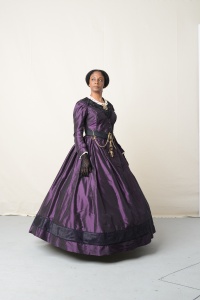 Tompkins
Sally Louisa Tompkins (1833-1916) established the Robertson Hospital in Richmond, which had the lowest death rate of any during the Civil War.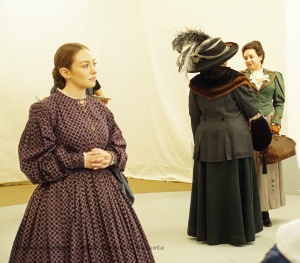 Walker
Maggie L. Walker (1864-1934) was the first woman to charter a bank in the United States.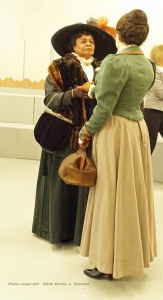 Jones
Sarah G. Boyd Jones (1866-1905), one of the first women to pass the Virginia Medical Examining Board's examination, opened a hospital and nursing school that ultimately became Richmond Community Hospital.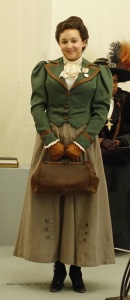 Copenhaver
Laura Lu Copenhaver (1868-1940) established Rosemont Industries and was director of information for the Virginia Farm Bureau Federation.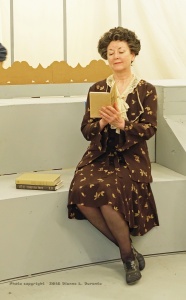 Randolph
Virginia Estelle Randolph (1875-1958) developed a nationally recognized approach to education.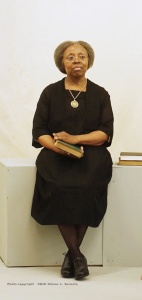 Clark
Adele Goodman Clark (1882-1983), an active suffragist, became president of the League of Women Voters in 1921 and was one of the founders of the Virginia Museum of Fine Arts.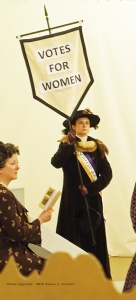 After the shoot: the actors with (left to right in front) Steven Horak, Hair Stylist / Wig Maker; Jana Violanta, Costumer; and James E. Crochet, Costume Consultant / Costumer.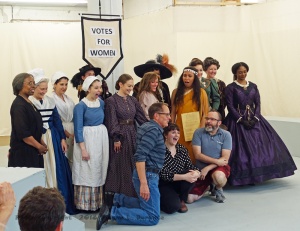 More
For more information on the women being honored see the Monument's home page, where you can also make a donation.
Want wonderful art delivered weekly to your inbox? Members of my free Sunday Recommendations list (email DuranteDianne@gmail.com) receive three art-related suggestions every week: check out my favorites from last year's recommendations. For more goodies, check out my Patreon page.