Manhattan has always been a target, first for its harbor and rivers, then as a commercial center. The British sailed in to grab it from the Dutch. The Dutch briefly grabbed it back. In 1776, the British grabbed it from the rebellious Americans. (See Hamilton post 13.) So when the War of 1812 began a generation after the Revolution, Americans hastened to build defenses around New York Harbor, in Manhattan, Brooklyn, Staten Island, Governors Island, Bedloe's Island, and Ellis Island.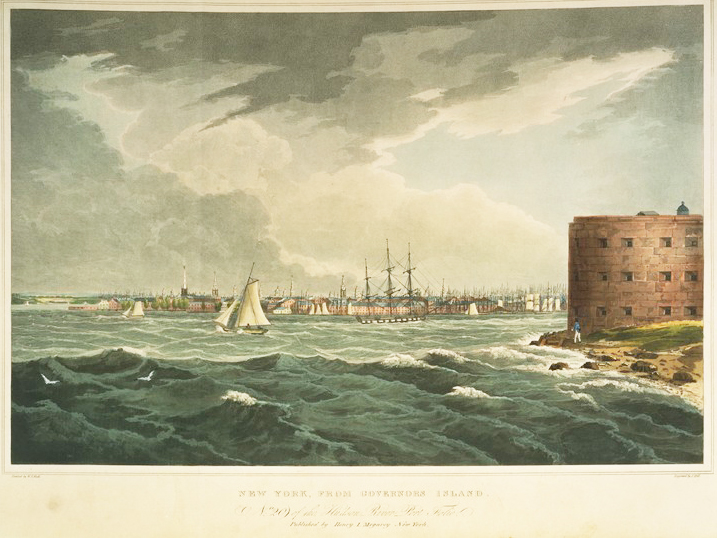 But in August 1814, those devious Brits sent a fleet to … Connecticut. New Yorkers panicked. What if the British attacked from Long Island Sound? DeWitt Clinton, mayor of New York, said he would rather "die in a ditch than tamely and cowardly surrender this delightful city." New Yorkers hastily constructed three fortified lookout posts on the heights of Manhattan. The last one standing is the Blockhouse in Central Park. On this map, it's just above Ft. Fish: a square with a "1" beside it.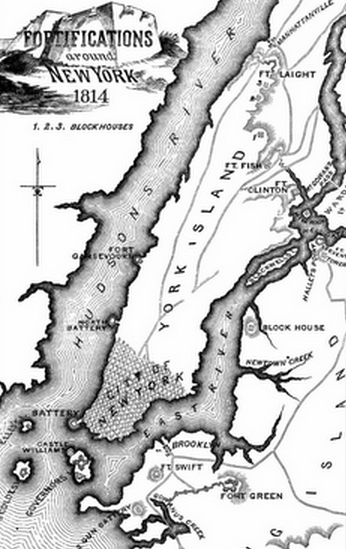 The Blockhouse wasn't within the original Central Park, which was symmetrically arranged around the receiving reservoir of that modern marvel, the Croton Aqueduct. With boots on the ground, though, it made sense to add the "precipitous and wildly picturesque heights" from 106th to 110th Streets. They offered wonderful, sweeping views. Besides, the city was responsible for cutting streets according to the Commissioners' Plan of 1811, and hacking the grid through those rocky outcrops would have been labor- and cost-intensive.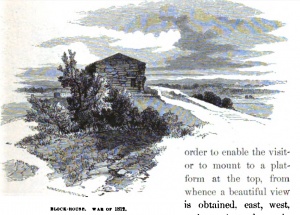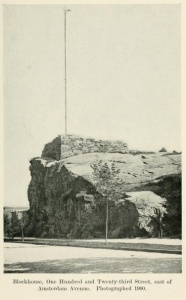 Frederick Law Olmsted and Calvert Vaux obligingly integrated the "Extension" into the Greensward plan, adding features such as the Harlem Meer, the Loch, the Ravine, and another loop in the park's drive. The addition of trailing vines and shrubbery transformed the 50-year-old blockhouse into a picturesque ruin.


But for some, the Blockhouse never lost its military associations. Veterans of the War of 1812 requested permission to erect a liberty pole at the Blockhouse on three holidays that celebrated victories over the British. July 4th is obvious. November 25th is the day the British evacuated New York City after the end of the Revolutionary War. (See this post on ForgottenDelights.com.)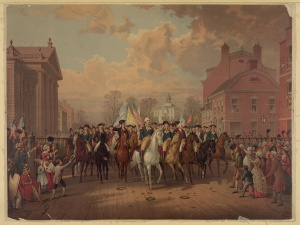 And January 8th … Why January 8th? In early 1815, "Old Hickory" whupped the British at New Orleans. That kept the city and the recently purchased Louisiana Territory in American hands.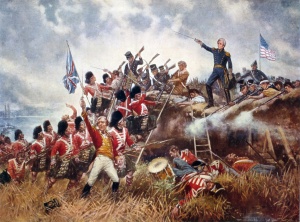 In the whole war of 1812, that was America's greatest victory on land. Ironically, it was fought two weeks after treaty of Ghent was signed (December 24, 1814) – but five weeks before the news reached distant Louisiana.
The Blockhouse in what is now Central Park was finished two days before the treaty was signed. It was never used during a war.
More