The Getty Museum opened Pacific Palisades in 1974. In 1982, with a bequest of $1.2 billion from Getty's will, it became the richest museum in the world. The collection of Western art from the Middle Ages to the present was moved in 1997 to the Getty Center in Los Angeles. The original home of the Getty, a re-creation of a villa from Herculaneum, now houses the art of ancient Greece, Rome, and Etruria.
The Getty has amassed a fantastic collection in its 35 years, including drawings by Leonardo, Michelangelo, and Raphael. This page lets you access highlights of antiquities, drawings, manuscripts, paintings, photographs, and sculpture and decorative arts.
Today's post is on favorites from the Getty Center … mostly because I'm waiting for the dust to settle on the antiquities at the Getty Villa. The Getty's desire for top-notch materials and its humongous budget have frequently run headlong into laws against exportation of antiquities. Several dozen objects that were excavated without government permission have been returned to Greece and Italy. At least two Getty curators have been encouraged to resign for practices considered unethical.
I am choosing my terms very carefully here, because I don't believe that artifacts should necessarily be held by their country of origin, or that the government owns every damn thing buried in its territory. On the other hand, as a scholar, illegal excavations distress me. Works found in such excavations aren't documented, so a great deal of information is lost that would be potentially useful to me and other art historians.
Portrait of a Woman and Child (Allegory of Liberality), by Francesco Bacchiacca, ca. 1525-1535
My usual way of sorting out five favorites is to toss images of them into a folder and see which ones jump out at me. This one did, because of the woman's profile and the colors of her hair and dress.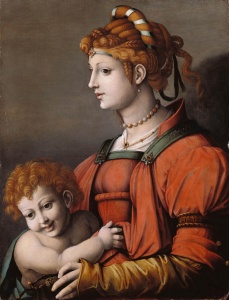 Why these two figures should represent "liberality" I have no idea. Most allegorical figures are derived from descriptions in Ripa's Iconologia (English translation abridgement here, more on Ripa in this post), but Ripa's work first appeared in 1603, eighty years or so after this painting. No wonder there's no resemblance!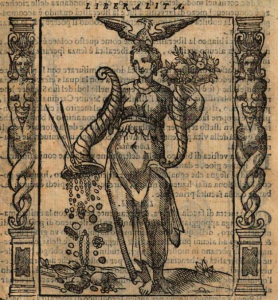 Note: the Bacchiacca isn't on the Getty Center's site, presumably because it's on loan. The Metropolitan Museum does the same thing. I wish I knew what is the problem is with listing artworks and saying they're on loan.
Portait of Joseph and His Brother John Gulston, by Francis Cotes, 1754
An utterly charming pastel portrait of a ten-year-old and a his younger brother who look happy, well-cared for, intelligent, and well-behaved. On the Getty's site, the portrait is here.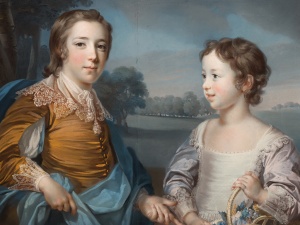 According to the Oxford Dictionary of National Biography, Joseph and John were the sons of a wealthy British merchant and his Portuguese wife. Joseph (1744/5-1786), a beautiful but sickly child, was spoiled by his mother. After attending Eton and Christ Church, Oxford, he was sent to Hamburg to study business. He studied music instead. Joseph's brother John died in 1764, at about age 14. When his father died two years later, Joseph inherited all his property. He married a celebrated beauty and burned through his father's estate by decorating their home lavishly, and accumulating a notable collection of books and 60,000 or so prints. Joseph died at age 41.
Portrait of Maria Frederike van Reede-Athlone at Seven Years of Age, by Jean-Etienne Liotard, 1755-1756
Just as charming as the boys in Cotes's portrait above, and done within a few years of it. The girl was the daughter of an aristocratic Dutch family.
The Getty's page on this portrait notes that artists who painted portraits of children often chose pastels because pastels had no odor, could be used more quickly than oils, and wouldn't dry out if the artist were interrupted at work.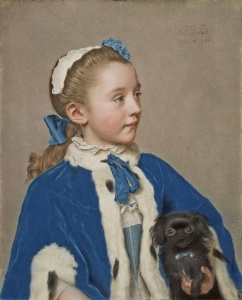 Mount Snowden Through Clearing Clouds, Alfred William Hunt, 1857
A well-executed watercolor is a wondrous thing. This one's fascinating for its variety of techniques. Hunt was interested in representing weather, so he's shown the clouds through mist, making them almost impressionistic (which bores me quickly), but shown the plants and rocks at lower right in sharp and precise detail. This work is on the Getty's site here.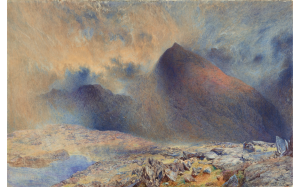 Young Girl Defending Herself Against Eros by William Adolphe Bouguereau, 1880
But how hard is she really trying?
I don't know why the image on the Getty's site is so dark: I've seen other reproductions that are much brighter. The image above is from Wikipedia.
Near misses
Masaccio, St. Andrew, 1425. Again the website image is far too dark, compared to the illustration in my copy of Masterpieces of Painting in the Getty Museum, 1988.
Cranach, Portrait of a Man (oil on paper), ca. 1530
Van Dyck, Portrait of Agostino Pallavicini,1621. My God, that red satin … in Masterpieces, anyway; not so much on the website.
Saenredam, Interior of the Church of St. Bavo, Haarlem,1628: a former Catholic church, stripped down to the walls when the Protestants took it over. I'm not a big fan of churches, but Saenredam's church interioirs always make me feel calm.
Ter Borch, A Lady and a Child Making Lace, 1629. So few lines, so much story!
A half-dozen amazing works by Andre-Charles Boulle, produced from the 1660s to 1732. I first met Boulle in writing up my five favorites from the Art Institute of Chicago.
Huysum, Vase of Flowers and Fruit Piece, both 1722. (Again with the lousy website illustrations!)  If you like still-lifes, Huysum's are irresistible.
Houdon, Bust of Fontaine de Bire, 1785
van Gogh, Irises, 1889. I adore bluish-purple irises – the centerpieces at my wedding were a red rose plus an iris plus some baby's-breath.
Alma Tadema, Spring,1894.
More
For more in the Five Favorites series, see Museums in the Obsessions cloud at right.
Want wonderful art delivered weekly to your inbox? Members of my free Sunday Recommendations list (email DuranteDianne@gmail.com) receive three art-related suggestions every week: check out my favorites from last year's recommendations. For more goodies, check out my Patreon page.