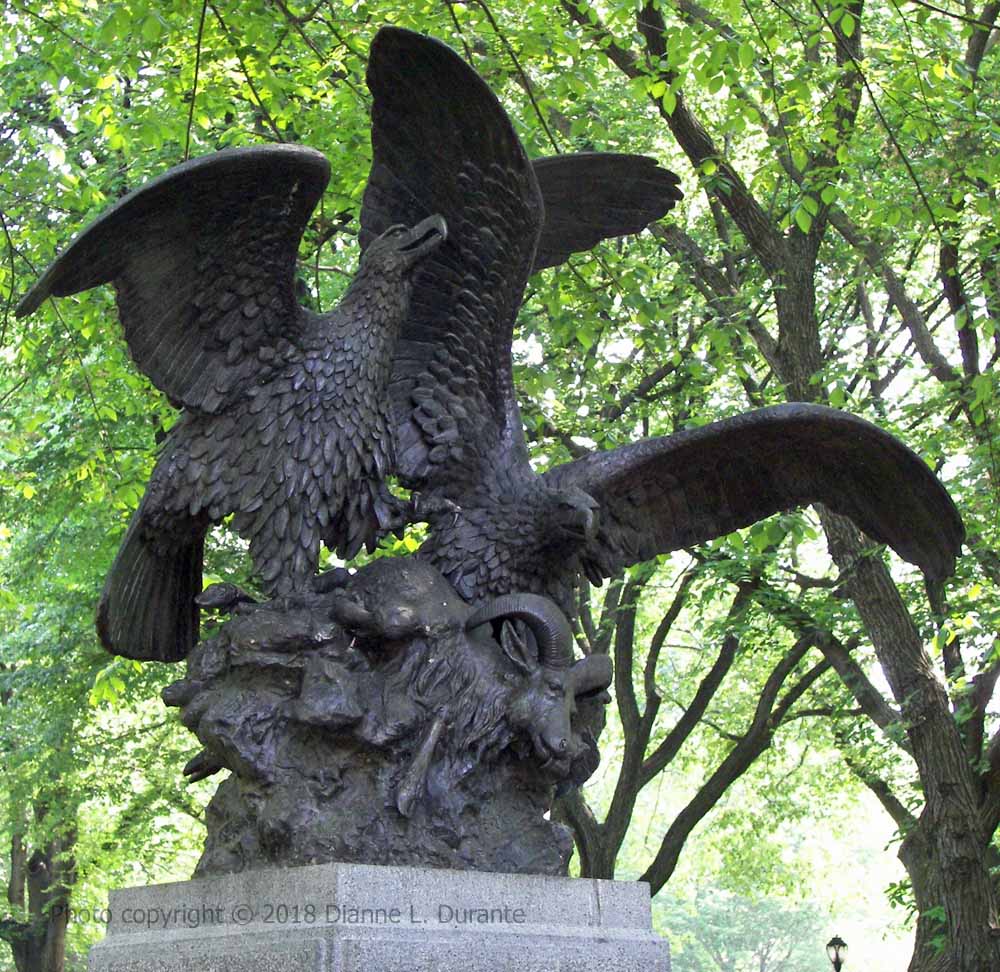 Date: Cast in 1850; placed in Central Park in 1863
Sculptor: Christophe Fratin
Medium & size: Bronze, lifesize.
Location: Central Park, west of the Mall. If the city street grid continued in the Park, it would be at about Sixth Ave. and 70th St.
Central Park was designed to give visitors a glimpse of peaceful, pastoral countryside, not nature red in tooth and claw. But behind this gory sculpture of eagles tearing at a goat is a grim joke.
For much of the 19th century, Manhattan was overrun with animals – and not cute little doggies on leashes. Since refrigeration didn't exist, cattle by the hundreds of thousands were herded into the city and slaughtered here. Tens of thousands of horses pulled private carriages, public transportation, and working vehicles. The fertilizer used in Central Park to make grass and trees and flowers grow where only rocks had been – that was mostly tons of locally sourced horse manure.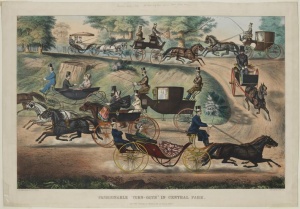 And there were other animals in New York. In 1865, the New York Times described a shantytown on what is now the posh Upper East Side.
Pigs, cows and goats … take possession of the sidewalks with the most impudent nonchalance, repose on your front steps, rub open your gate … browse on your shrubbery, and scare decent little children half out of their wits.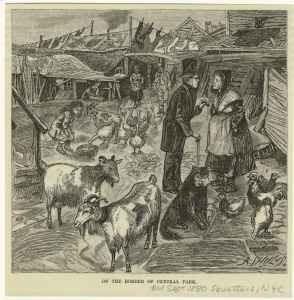 Until 1866, when the city sanitation department was set up, "garbage collection" in New York was accomplished by roaming hogs, dogs, and goats. When construction of Central Park was begun in 1858, the goats treated the new plantings as a buffet. The Board of Commissioners noted that "unless some measures are immediately taken, their depredations will be great and not easily reparable." At Olmsted's suggestion, the Board offered $1 – about half a day's wages – to anyone bringing a goat to the pound. Soon the only goats in the park were those pulling carriages for children.
Eagles and Prey, placed in 1863, was the second sculpture to be erected in Central Park. It stood at the north end of the Central Drive, where fashionable carriages would have pulled right up to it.  Although the sculpture is not in the spirit of pastoral calm, the thought of one fewer goat probably earned wry smiles from Olmsted and the Central Park Commissioners.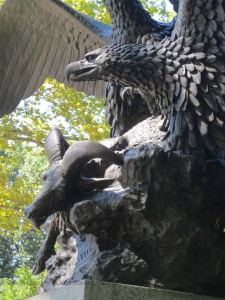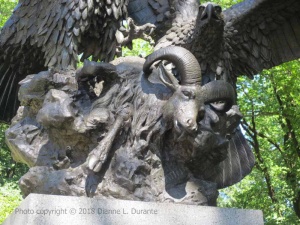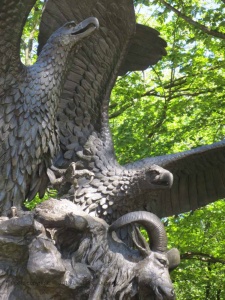 More
The first sculpture erected in Central Park was Schiller, dedicated in 1859.
For more on Central Park in the nineteenth century, see my book Central Park: The Early Years (details here) and my webpage incorporating an ever-increasing number of old images of the Park. For more posts on the Park, click on the "Central Park" tag in the Obsessions cloud at lower right.
This post is adapted from the forthcoming Guides Who Know app on Central Park.
Want more art like this delivered weekly to your inbox? Members of my free Sunday Recommendations list (email DuranteDianne@gmail.com) receive three art-related suggestions every week: check out my favorites from last year's recommendations. For more goodies, check out my Patreon page.