In 2011, two life-size bronze sculptures of Frederick Douglass were dedicated in New York: one at the north end of Central Park, one at the New-York Historical Society.
Douglass at Central Park North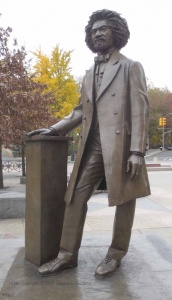 Date: 2011
Sculptor: Gabriel Koren. Site and fountain designer: Algernon Miller. Architect: Quennell Rothschild & Partners
Medium & size: Bronze, over life-size
Location: Central Park West at 110th St.
For more on Douglass's education and escape from slavery, see this post, which includes several of my favorite short quotes by Douglass:
Douglass at the New-York Historical Society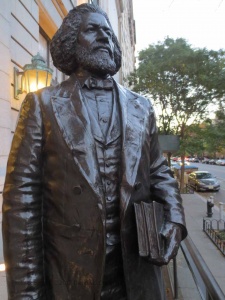 Date: 2011
Sculptor: Ivan Schwartz with Jiwoong Cheh (StudioEIS)
Medium & size: Bronze, life-size
Location: North side of the New-York Historical Society, West 77th Street at Central Park West
For more on this sculpture see this post, which includes a great excerpt from a speech Douglass gave "to the unknown loyal dead" on May 30, 1871, at Arlington National Cemetery.
Self-Made Men
One of my favorite Douglass quotes is from his essay "Self-Made Men." I quoted this in a blog post on Booker T. Washington last year.
Self-made men are the men who, under peculiar difficulties and without the ordinary helps of favoring circumstances, have attained knowledge, usefulness, power and position and have learned from themselves the best uses to which life can be put in this world, and in the exercises of these uses to build up worthy character. They are the men who owe little or nothing to birth, relationship, friendly surroundings; to wealth inherited or to early approved means of education; who are what they are, without the aid of any favoring conditions by which other men usually rise in the world and achieve great results. In fact they are the men who are not brought up but who are obliged to come up, not only without the voluntary assistance or friendly co-operation of society, but often in open and derisive defiance of all the efforts of society and the tendency of circumstances to repress, retard and keep them down. They are the men who, in a world of schools, academies, colleges and other institutions of learning, are often compelled by unfriendly circumstances to acquire their education elsewhere and, amidst unfavorable conditions, to hew out for themselves a way to success, and thus to become the architects of their own good fortunes. They are in a peculiar sense, indebted to themselves for themselves. If they have traveled far, they have made the road on which they have travelled. If they have ascended high, they have built their own ladder. …

Such men as these, whether found in one position or another, whether in the college or in the factory; whether professors or plowmen; whether Caucasian or Indian; whether Anglo-Saxon or Anglo-African, are self-made men and are entitled to a certain measure of respect for their success and for proving to the world the grandest possibilities of human nature, of whatever variety of race or color. Though a man of this class need not claim to be a hero or to be worshiped as such, there is genuine heroism in his struggle and something of sublimity and glory in his triumph. Every instance of such success is an example and a help to humanity. It, better than any mere assertion, gives us assurance of the latent powers and resources of simple and unaided manhood. It dignifies labor, honors application, lessens pain and depression, dispels gloom from the brow of the destitute and weariness from the heart of him about to faint, and enables man to take hold of the roughest and flintiest hardships incident to the battle of life, with a lighter heart, with higher hopes and a larger courage. — Frederick Douglass, "Self-Made Men"
More
Want more art like this delivered weekly to your inbox? Members of my free Sunday Recommendations list (email DuranteDianne@gmail.com) receive three art-related suggestions every week: check out my favorites from last year's recommendations. For more goodies, check out my Patreon page.