Sculptor: Milton Hebald
Date: 1977
Medium & size: Bronze, over lifesize, granite pedestal.
Location: Central Park, near the entrance to the Delacorte Theater, Central Park West at about 81st Street
Happy Valentine's Day!
My bounty is as boundless as the sea,
My love as deep; the more I give to thee,
The more I have, for both are infinite.
— Shakespeare, Romeo and Juliet, Act 2, scene 2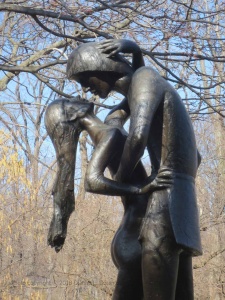 Robert Moses vs. Joe Papp: the creation of the Delacorte Theater
In 1959, a skirmish occurred over a few acres of Central Park that had major repercussions for New York City and New York State, as well as the Park. On one side was Robert Moses, age 70, graduate of Yale, Oxford, and Columbia. Although he had never been elected to office, he held five key positions in New York State and three more in New York City. Moses controlled vast amounts of territory and tens of millions of dollars – mostly revenues from New York's toll roads. When the skirmish began in Central Park, Moses had on his side the mayor, the governor, the press, and the public. In any fight within the state of New York, Moses was odds-on favorite. That iconic pic by Arnold Newman of Moses balancing on a beam with the skyline behind him was taken in 1959.
Facing off against Moses was scrappy Joe Papp, age 37. He grew up in Williamsburg long before it was hip, and fell in love with Shakespeare borrowed from his local library. After studying at the Actors' Laboratory of Hollywood, Papp was hired in 1952 by CBS.
While holding down that day job, he founded the Shakespeare Workshop. Starting in 1954, with a mobile stage and a shoestring budget, the Workshop delivered the Bard to New Yorkers in all five boroughs, free of charge. Audiences – even critics! – were entranced.
In 1957, Papp hit the big time. Parks Commissioner Moses gave him permission to set up stage in Central Park, near Turtle Pond and Belvedere Castle. Despite the Park's unsavory reputation, each performance drew an audience of more than 2,000 people. (The New York City Parks Department has photos of those early performances, but they don't seem to be available online, even in low res.)
A year later, Joe Papp was summoned before the House Un-American Activities Committee. He admitted that he had once belonged to the Communist Party, but refused to name other Party members. Learning of this, the Parks Department decided to save Central Park from the Red Menace.  How? It told Papp that if his fledgling company was going to perform in Central Park, it would have to raise $100,000 to improve facilities near the Belvedere, provide police protection, and revive the grass.
And so, in spring 1959, the fight began. Papp appealed to the mayor, the press, and the courts. The appellate court issued a mild rebuke to Moses. Moses permitted the show to go on. Not only that: in 1960, Parks Commissioner Moses asked the city for $250,000 to build a permanent home for the Shakespeare Festival.
For Robert Moses, the skirmish with Papp was the beginning of the end. Mayor, governor, press, and public began to turn against him. In May 1960 he resigned most of his appointed positions in exchange for becoming president of the 1964 World's Fair committee. (Famous pic of Moses in front of the Unisphere is at Getty Images.)
For Papp, on the other hand, the skirmish was the end of the beginning. The wave of publicity attracted throngs of new donors and audience members.
When the city ran out of funds for construction of the Festival's home in Central Park, George Delacorte stepped in with a contribution of $150,000. The 1800-seat theater opened in 1962, with The Merchant of Venice.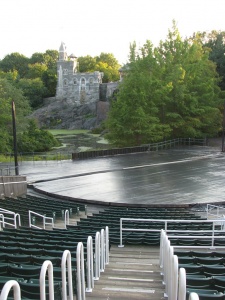 The two sculptures outside the theater were also donated by Delacorte: one of Romeo and Juliet, the other of Miranda and Prospero from the Tempest.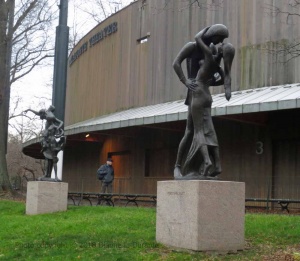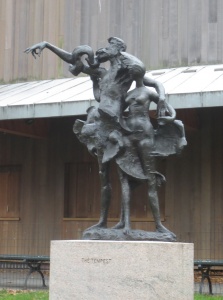 More
Mark your calendars for March 23, 2018: a Romeo and Juliet  in which Shakespeare meets Bellini, combining the play Romeo and Juliet and the opera I Capuleti ei Montecchi. A great intro to opera and/or to Shakespeare. Venue: Details on Facebook.
For more on opera, including how performers prepare for their roles, click the Opera tag in the Obsessions cloud at right.
George Delacorte also donated to Central Park Alice in Wonderland and the Delacorte Clock.
This post is adapted from the forthcoming Guides Who Know app on Central Park.
Want more art like this delivered weekly to your inbox? Members of my free Sunday Recommendations list (email DuranteDianne@gmail.com) receive three art-related suggestions every week: check out my favorites from last year's recommendations. For more goodies, check out my Patreon page.