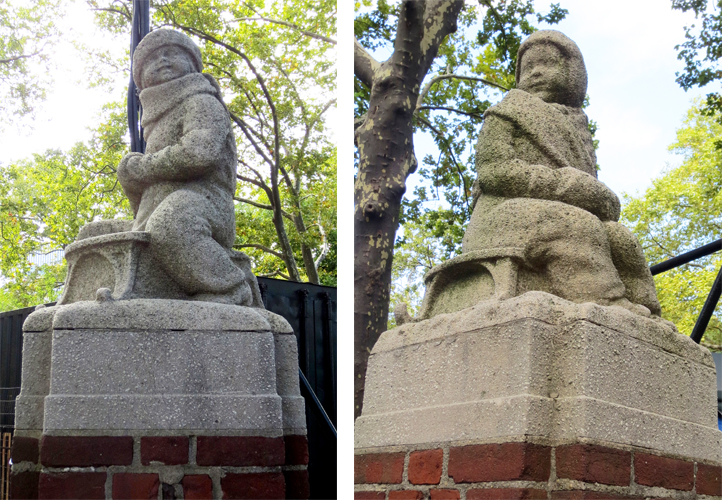 Snow Babies
Date: 1938
Sculptor: Victor Frisch
Medium & size: Cast stone, each figure 2 feet 9 inches high
Location: Central Park, entrance to Rumsy Playfield (formerly a playground, now the site of SummerStage), west of the East Drive at about 71st Street
Winter sports in New York City
Once upon a time, the sight of a red ball hoisted over the Arsenal or Belvedere Castle sparked rejoicing throughout the city. The red ball signaled that the ice in Central Park was thick enough for skating. Snow babies may wait a long time to use their sleds, but every New York winter gets cold enough for skating.
In the late 1850s, while the Park was under construction, more visitors came in the winter for the skating than in the summer for the soothing pastoral scenery. The Board of Commissioners estimated that in 1860, some 40,000 skaters raced and pirouetted on the Lake and the Pond.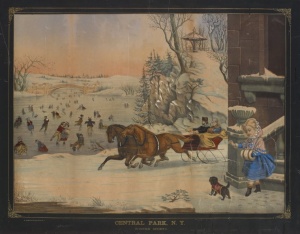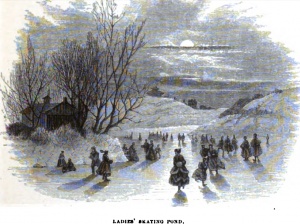 Until Central Park opened, the high cost of skates and of traveling out of the city to a pond had made ice skating a rich man's hobby. Once Central Park provided a safe and convenient place to skate – on the Pond, on the Lake, on the Harlem Meer – it became everyone's favorite winter sport. By 1867, Edward L. Gill's The Skater's Manual was already in a revised edition. (More images from the Manual are included at the end of this post.)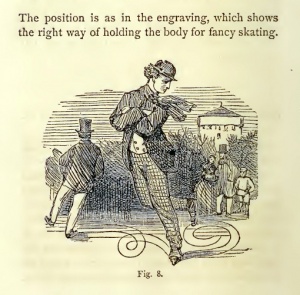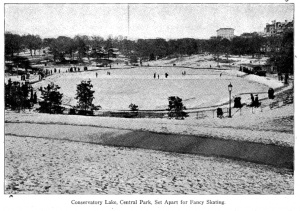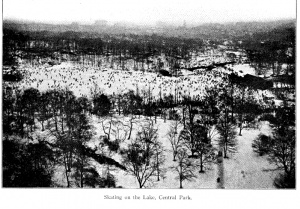 For more than 90 years, skating in the Park happened only when the weather cooperated.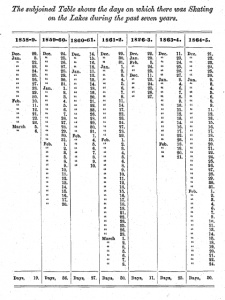 Wollman / Trump Rink
Then, in the 1940s, Kate Wollman donated $600,000 to build a mechanically frozen ice-skating rink. Formed from the northern end of the Pond, the rink allows skaters to glide, twirl, leap and tumble from October into April.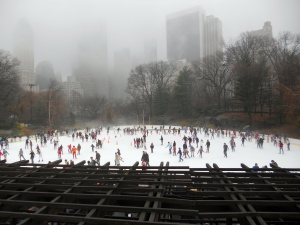 Snow Babies
A bit further north, the Snow Babies by Victor Frisch have been sitting on their sleds, waiting for flurries and blizzards, since 1938. The little girl tucks her hands demurely into a muff. The boy, clutching a giant snowball, looks at her with mischievous intent. These sculptures of cast stone were created under Parks Commissioner Robert Moses – one of the smaller Works Progress Administration projects that he added to Central Park.
More
In 1980, the Wollman Rink was shut down for what was supposed to be 2 1/2 years of renovations. Six years later, Donald Trump persuaded Mayor Koch to let him finish the job. The rink opened again three months later. It's now officially the Trump Rink, although most New Yorkers still call it the Wollman Rink.
The original "Snow Babies" are a type of collectible figurine that has been around since the first decade of the 20th century, when Rear Admiral Robert E. Peary reached the North Pole.
Edward L. Gill's The Skater's Manual, revised ed. 1867, is available on Google Books. These are a few of my favorite images.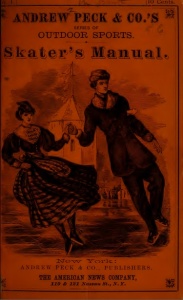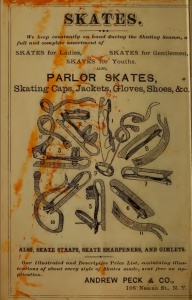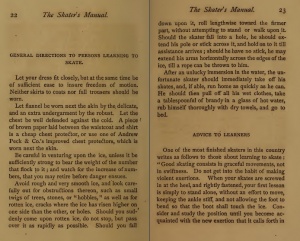 Want wonderful art delivered weekly to your inbox? Members of my free Sunday Recommendations list (email DuranteDianne@gmail.com) receive three art-related suggestions every week: check out my favorites from last year's recommendations. For more goodies, check out my Patreon page.