One of my hobbies is snapping photos as I take long walks around New York City. These are my favorites from 2017.
Maybe I do get a kink in my neck from looking upwards, but I also get a grin on my face.
Lower Manhattan and the Bridges
At least once a year, my husband and I watch the sun rise from the east (Brooklyn) end of the Manhattan and Brooklyn Bridges. It's a thrill to watch the light appear at the foot of the Financial District's skyscrapers and glitter its way up. During the daytime I prefer Art Deco towers, but at sunrise and sunset, those shiny glass facades are gorgeous.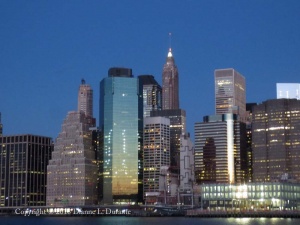 One World Trade Center, 8 Spruce Street (Gehry's twisty building), and the Brooklyn Bridge. So that's why Homer called it "rosy-fingered dawn"!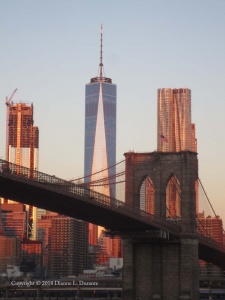 Manhattan Bridge at dawn on New Year's Day 2017. The Williamsburg Bridge is in the distance.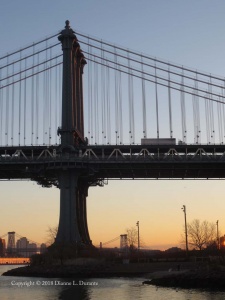 Manhattan Bridge a year later, with Extell's 71-story tower under construction at the west end, near Canal Street in Manhattan.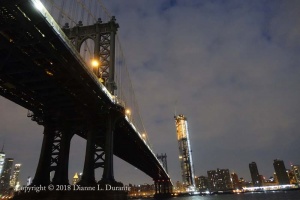 Brooklyn Bridge and lower Manhattan, December 2017. At the far left (the lighted arches) is Empire Stores, a converted warehouse filled with upscale stores and restaurants.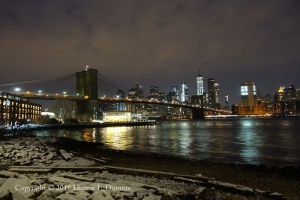 Entrance lobby of Empire Stores. The composition of this photo makes me exceedingly happy. I thought of getting rid of that bluish glare on the right via Photoshop, but I think that would make the right side of the pic too dark.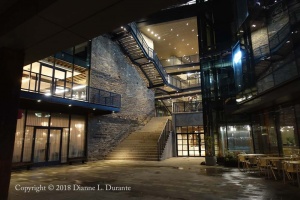 Brooklyn Bridge from the upper level of Empire Stores.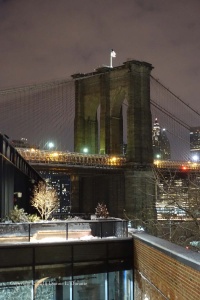 Battery Maritime Building, the terminal for the Governor's Island Ferry, in lower Manhattan, just east of the Staten Island Ferry Terminal. Not interesting at dawn, but amazing in daylight!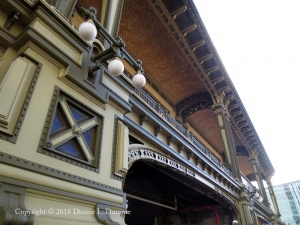 Part of the interior of Santiago Calatrava's transit hub, beneath One World Trade Center.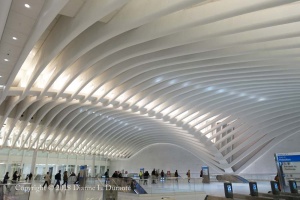 Midtown
The Glory of Commerce atop Grand Central Terminal. See Outdoor Monuments of Manhattan, Chapter 26.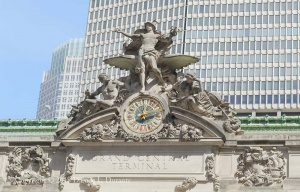 Chandelier in Grand Central: or, why you should always glance upward.
The massive 875 Third Avenue, between 52nd and 53rd Streets.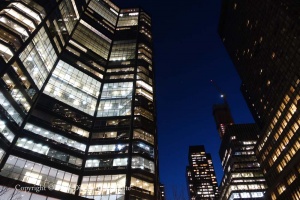 Prometheus (see Outdoor Monuments, Chapter 28) and the Christmas tree at Rockefeller Center. The skating rink is empty while the zamboni polishes the ice.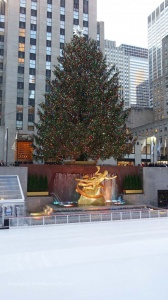 View east across the Pond in Central Park, toward Fifth Avenue and 59th Street. The tall, slender building near the right with 2 horizontal stripes is the relatively new 432 Park.
Detail of the Chanin Building, an Art Deco wonder. See my blog post for more.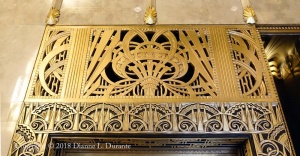 Hudson Yards is a massive construction project on Eleventh Avenue at 34th Street, just southeast of the Javits Center. That rusty gizmo almost at the center is the Vessel, which will eventually have a shiny bronze finish and a lovely view. The pointy bit just behind the Vessel is the top of the Empire State Building, six long blocks to the east.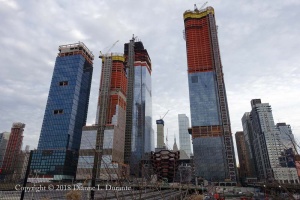 New residential towers in the West 50s, photographed from Columbus Circle. Soon this view will change: Extell's project for West 57th at Columbus Circle (soon to begin construction) will be the tallest residential building in the world.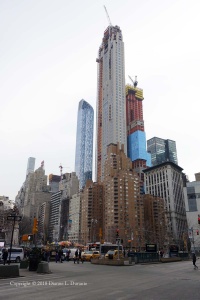 Upper West Side
One of my favorite restaurants near Lincoln Center is Rosa Mexicano. This stunning wall, visible from the street, shows a series of Acapulco divers as if in slow-mo. The ones near the top are almost horizontal; the ones at the foot are almost vertical.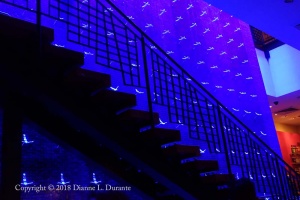 Lincoln Center looking southeast from the second-story sidewalk on West 65th Street. I love the colors on this one. Not Photoshopped: I'd rather be out taking more pics than sitting at my computer tweaking pics.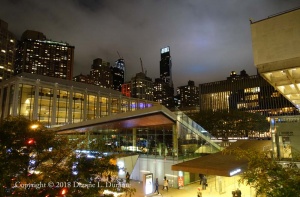 Exotic Places
Wave Hill, in the Bronx. We had these wee little bluish-purple flowers in our yard when I was growing up, so they've got sentimental value.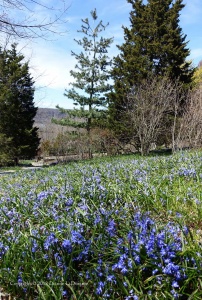 Wave Hill House, the largest of the buildings at Wave Hill. Former home to Arturo Toscanini, Mark Twain, and others: more here. Wave Hill is a great place to spend a lazy afternoon. The cafe's outdoor seating has a view south to the George Washington Bridge.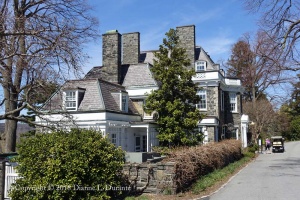 The blue hour at Rock Lodge Club, New Jersey. I was putting my new camera (Sony RX100 iii) through its paces, since it was billed as being very good in low light. It is! I couldn't see half of what it picked up.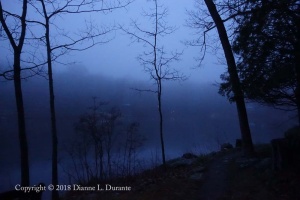 Assorted pretty pretties …
Door handles from the former Williamsburg Bank Building, now the Weylin, an event space. Visiting it is on my list of must-dos for 2018.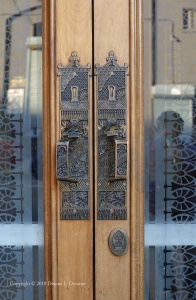 Japanese cherry blossoms in Carl Schurz Park on the Upper East Side. Like the tiny bluish-purple flowers at Wave Hill, these have sentimental associations: we had one of these trees on the farm where I grew up.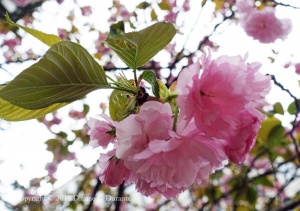 For my Capitalist Christmas 2017 post, I found a Captain America quote to go with this bracelet: "When the mob and the press and the whole world tell you to move, your job is to plant yourself like a tree by the river of truth, and tell the whole world 'No, you move.' "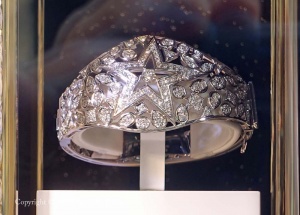 If I were married to George Jetson, this is where we'd live: 520 West 28th Street, by Zaha Hadid.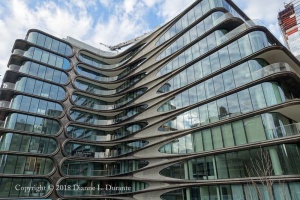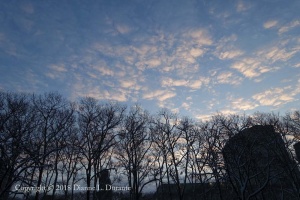 More
Favorite photos from 2016 are here. Favorite photos from previous years are on Facebook.
Want wonderful art delivered weekly to your inbox? Members of my free Sunday Recommendations list (email DuranteDianne@gmail.com) receive three art-related suggestions every week: check out my favorites from last year's recommendations. For more goodies, check out my Patreon page.