The web page for the proposed Elizabeth Cady Stanton and Susan B. Anthony Woman Suffrage Movement Monument states that the proposed sculpture  will be the first figurative piece in Central Park to depict real women. I'd like to point out, in a polite, non-confrontational way, that Central Park has three sculptures honoring women. They are not portrait sculptures, but they evoke the achievements of the women who inspired them more than any portrait sculpture would have. This is third in a series of three posts. The first post is on the Burnett Fountain, the second on Creeft's Alice in Wonderland (the Margarita Delacorte Memorial).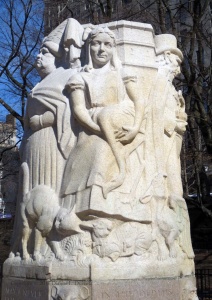 Date: 1936
Sculptor: Frederick George Richard Roth
Medium & size: Reinforced concrete, 4 feet high.
Location: Central park, 76th St. off Fifth Ave., at James Michael Levin Playground
Two sculptures from Alice in Wonderland stand near each other in Central Park. This is the one that you've probably never noticed. It's dedicated to Sophie Irene Loeb, once known as the "godmother of American children."
At age 35, Sophie divorced her husband – shocking behavior in 1910 – and moved to New York, where she began writing for Joseph Pulitzer at the Evening World. Loeb became a prominent advocate of making welfare payments to widowed mothers so their children weren't sent off to state-run institutions.
Loeb also favored a revolutionary change for Central Park. Olmsted and Vaux designed the park as a country-like escape for quiet relaxation. Skating was allowed, because ice was easily renewed. But in their 1874 minutes, the Board of Commissioners of Central Park protested that they did not know of "any instance of a satisfactory appearance being maintained in a public park where the play of games is generally allowed on the grass." For decades, the only playgrounds in Central Park were baseball fields where boys under age 16 were allowed to play … if they could show certificates that they were doing well in school.
Then, in the 1920s, August Heckscher, a German immigrant who made his money in zinc and in Manhattan real estate, donated money for a huge playground in the southwest corner of the park. Those who favored the park's traditional use were unable to galvanize enough support to block the playground. Soon Heckscher donated money for another playground, on the East Side. Sophie Loeb helped campaign for that one. When it was renovated in 1935, a few years after her death, Heckscher commissioned this fountain in her honor.
It would take a brave six-year-old to clamber on this sculpture the way so many kids do on the nearby bronze Alice. Part of the reason is the material and design: the Loeb Fountain is made of pristine white stone, set off by a wide basin, and carved in low relief. Part of the reason is the subject: the figures are grown-ups, looking very grown-up indeed. There's the Duchess, the King and Queen of Hearts, Alice holding her flamingo croquet mallet, and the Hatter, looking more sad than mad. At their feet, smaller and definitely subsidiary, are the White Rabbit, Father William balancing an eel on his nose, the baby who turned into a pig, the Frog-Footman, and a wild-looking Cheshire cat.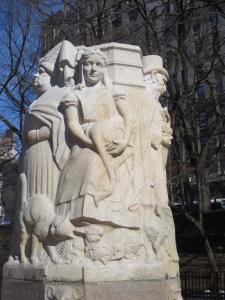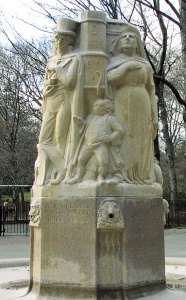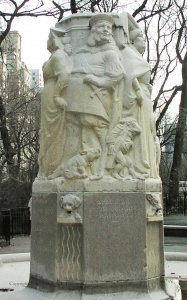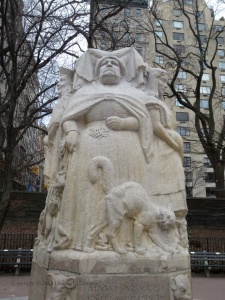 To cap the unchild-like feeling, the Fountain includes sober and edifying messages from Loeb's own writings. They're not bad sentiments, but they don't have the zip of "Twinkle, twinkle, little bat." (See the other Alice in Wonderland in Central Park.)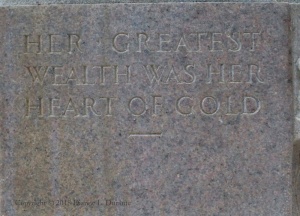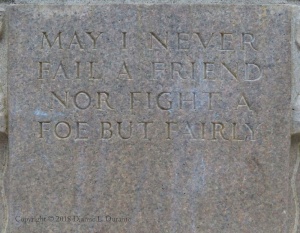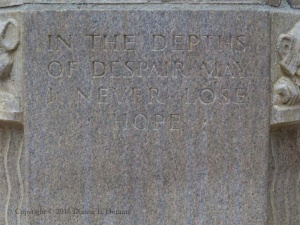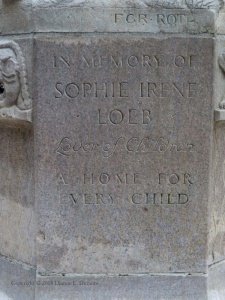 More