The web page for the proposed Elizabeth Cady Stanton and Susan B. Anthony Woman Suffrage Movement Monument states that the proposed sculpture  will be the first figurative piece in Central Park to depict real women. I'd like to point out, in a polite, non-confrontational way, that Central Park has four sculptures honoring women. They are not portrait sculptures, but they evoke the achievements of the women who inspired them more than any portrait sculpture would have. This is second in a series of three posts. The first post is on the Burnett Fountain, the third on the Loeb Fountain.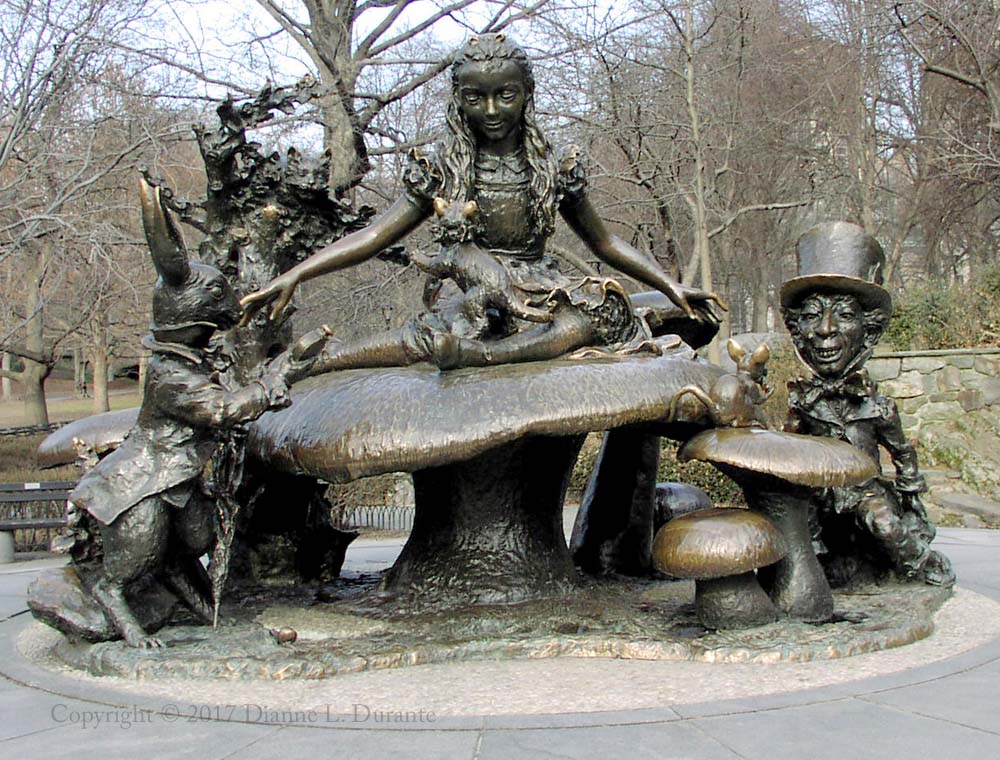 Alice in Wonderland, formally the Margarita Delacorte Memorial
Date: 1959
Sculptor: Jose de Creeft
Medium & size: Bronze, 11 feet.
Location: Central Park, north of the Conservatory Pond, on axis with 75th St.
One lazy July afternoon in 1862, in a rowboat on the Thames, a mild-mannered professor of mathematics improvised a nonsensical story to amuse his boss's daughters. At the insistence of ten-year-old Alice Liddell, he eventually presented her with a manuscript version illustrated with his own drawings. (It's now at the British Library: image below.) Then, at the urging of his grown-up friends, he doubled the length and paid for its publication. Diffident Professor Dodgson avoided publicity for Alice in Wonderland and several other deliriously silly books by writing under the pseudonym "Lewis Carroll".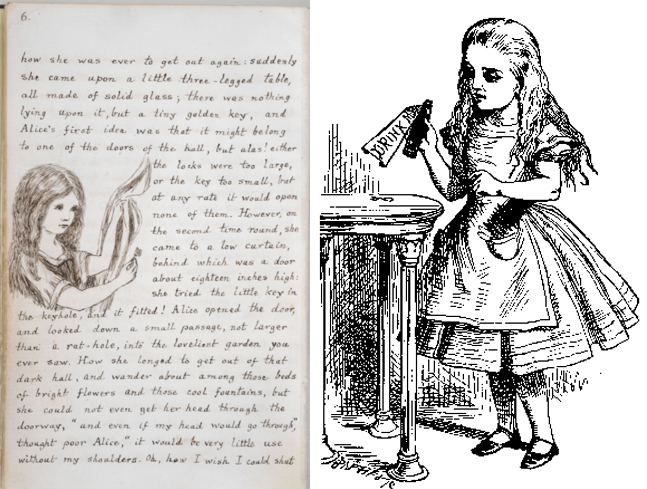 In Wonderland, when Alice picks up a bottle labeled "Drink me," she looks to see if it's labeled poison, "because she had read several nice little histories about children who had got burnt, and eaten up by wild beasts, and other unpleasant things, all because they would not remember the simple rules their friends had taught them." Until the mid-19th century, most children's literature was didactic. It treated young people as adults-in-training, to be constantly bombarded with facts and moral lessons.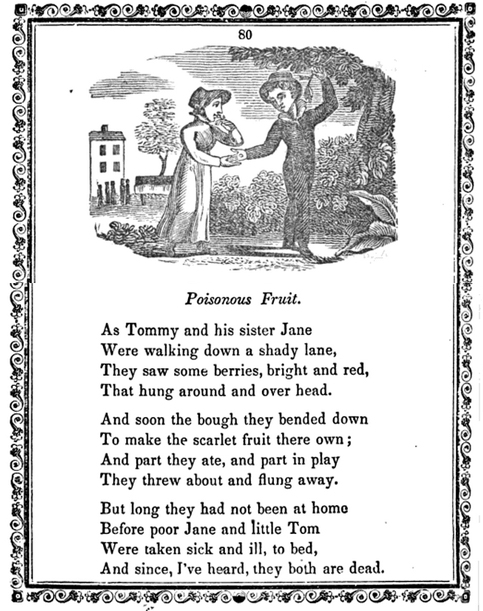 Alice in Wonderland was a new sort of children's book, written with no other goal than to entertain. It seems fitting that Jose de Creeft designed his Alice sculpture for kids to climb, perch, and dangle on.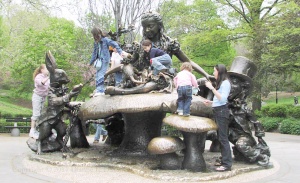 Creeft's figures are based on the illustrations for the first edition of Alice, commissioned by Dodgson from political cartoonist John Tenniel.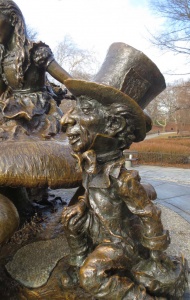 Creeft's Hatter bears a strong resemblance to Tenniel's character, but also to George Delacorte: see the Getty photo here. Delacorte  (6/20/1894-5/4/1991) donated the sculpture Alice in Wonderland to Central Park in honor of his late wife, Margarita, who loved reading the Alice stories to their children. Margarita's name is incised and gilded at the base of the sculpture.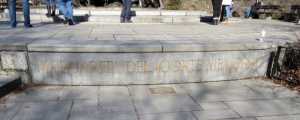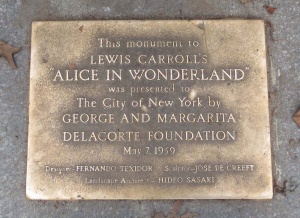 The six plaques around the base of the sculpture are Margarita's favorite bits from Alice's adventures.
Jabberwocky and Tweedledum and Tweedledee are visiting from Alice Through the Looking-Glass.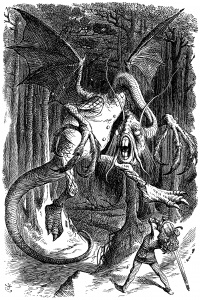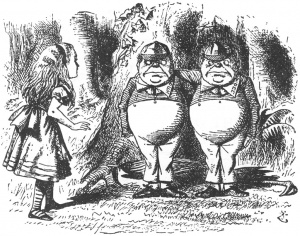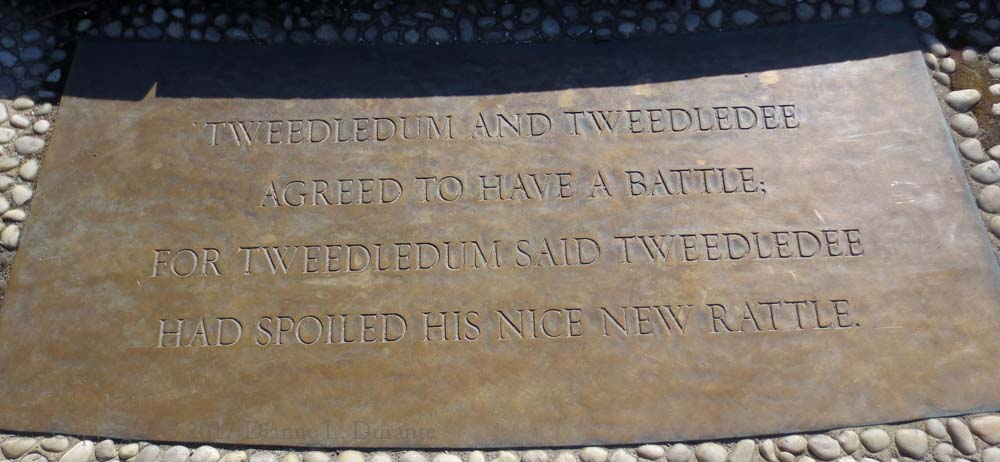 The Mock Turtle, who never goes on a journey without a porpoise, sings with disturbing fervor about the tastiness of Mock Turtle Soup.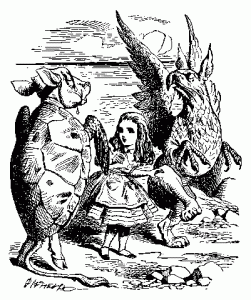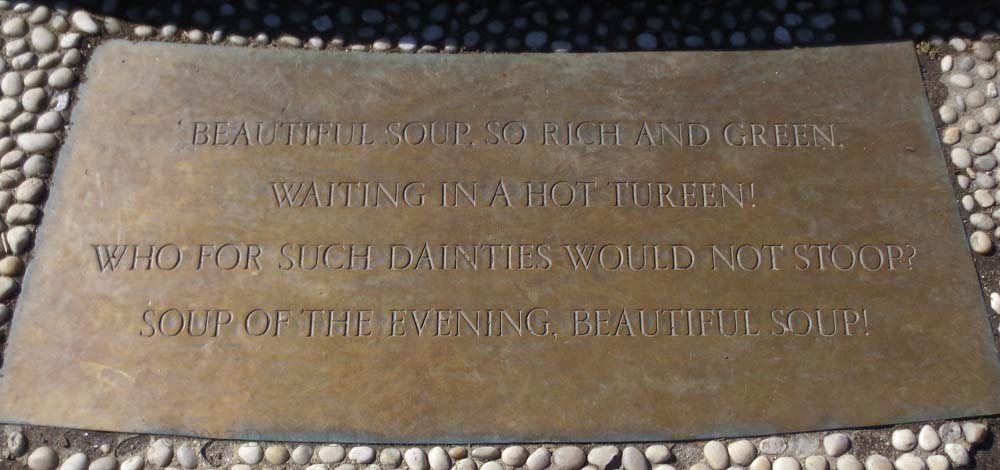 The Duchess's advice on child-rearing is so bizarre that it serves her right (doesn't it?) that her child turns into a pig. Rather a handsome pig, though.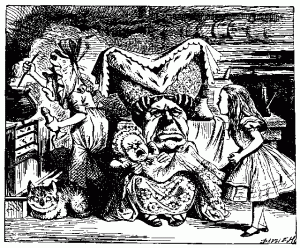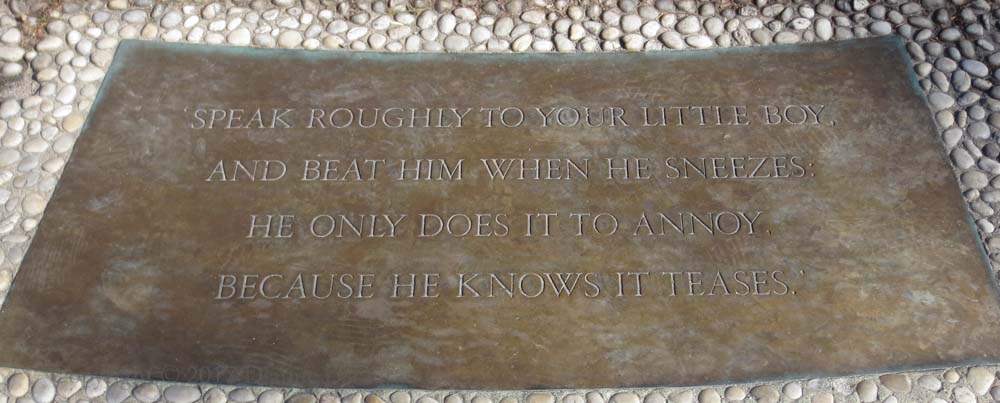 The poem read by the White Rabbit, prosecuting attorney at the trial of the Knave of Hearts, has the fearsome illogic of psychedelic rock.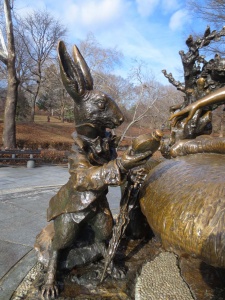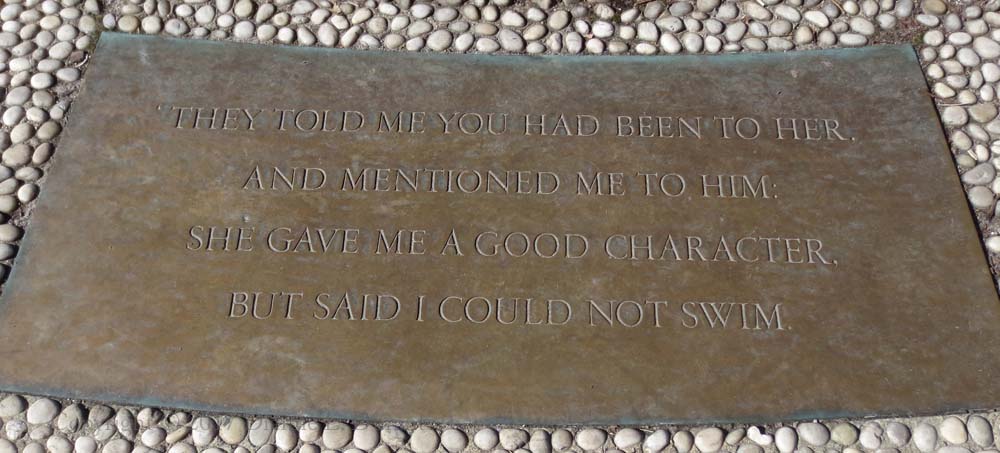 The final poem is the one with which the Mad Hatter murdered Time at the Queen of Hearts's concert. Here's the Knave on trial.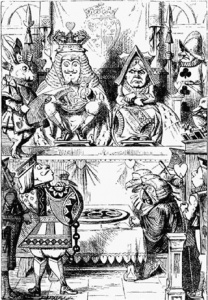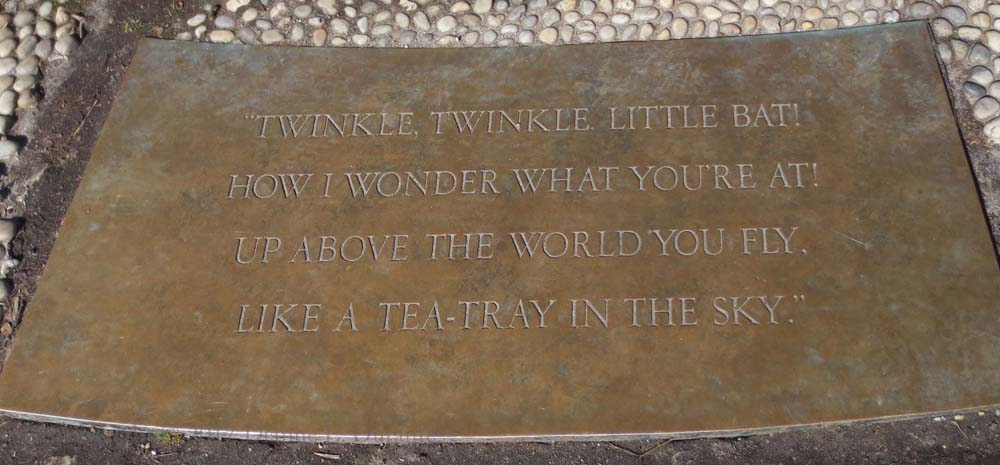 A few more photos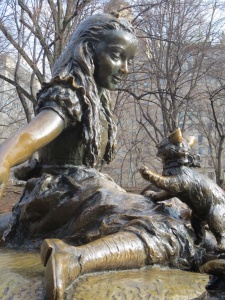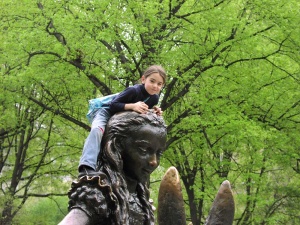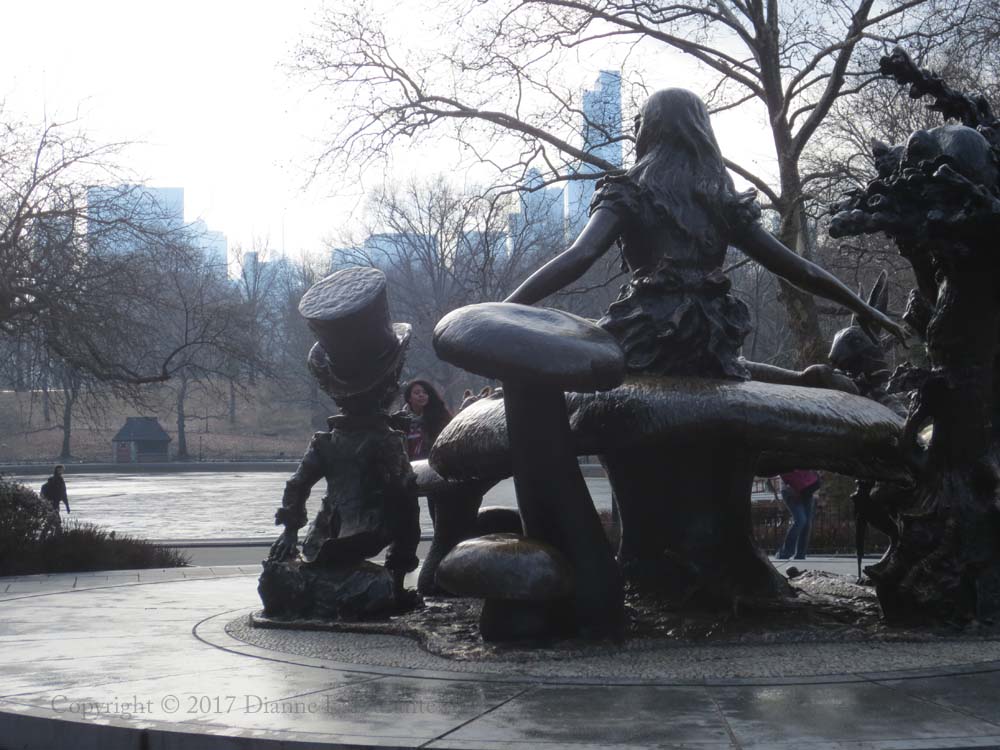 More
George Delacorte also donated to Central Park the wonderful Delacorte Clock, near the Children's Zoo (see ForgottenDelights.com, with a bit more about Delacorte's career) and the Delacorte Theater, near the Belvedere, where Shakespeare in the Park performances are held during the summer.
The page on Alice in Wonderland on Forgotten Delights includes another frightening poem from Cottrell.
Want wonderful art delivered weekly to your inbox? Members of my free Sunday Recommendations list (email DuranteDianne@gmail.com) receive three art-related suggestions every week: check out my favorites from last year's recommendations. For more goodies, check out my Patreon page.