The web page for the proposed Elizabeth Cady Stanton and Susan B. Anthony Woman Suffrage Movement Monument states that the proposed sculpture  will be the first figurative piece in Central Park to depict real women. I'd like to point out, in a polite, non-confrontational way, that Central Park has three sculptures honoring women. They are not portrait sculptures, but they evoke the achievements of the women who inspired them more than any portrait sculpture would have. This is first in a series of three posts: second  is Alice in Wonderland, a.k.a. the Delacorte Memorial; third is the Loeb Fountain.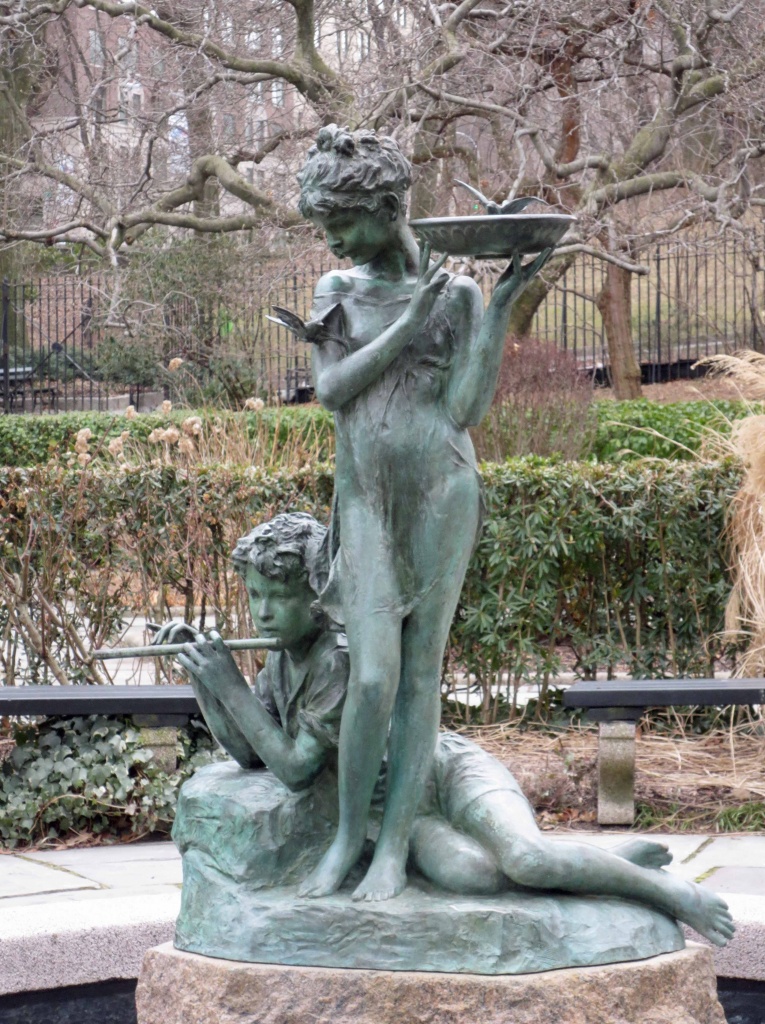 Burnett Memorial Fountain
Dedicated 1937
 Sculptor: Bessie Potter Vonnoh
Medium & size: Bronze, lifesize, on a granite pedestal in a lily pond
Location: Central Park, in the Conservatory Garden; enter at Fifth Ave. and 105th St., turn left and go south to approximately 103rd/104th St.
Frances Hodgson Burnett
The figures on the Burnett Fountain represent Mary and Dickon from The Secret Garden, one of the most popular books by Frances Hodgson Burnett. Burnett's home town of Manchester, England, fell on hard times when the American Civil War broke out in 1861,  and Southern cotton stopped coming to the city's textile mills. (Shipping cotton to towns like Manchester was so profitable that many New Yorker ship-owners opposed the Civil War.) Burnett's family left Manchester for Tennessee, where 19-year-old Frances tried to help the family finances by writing short stories for women's magazines, and later books.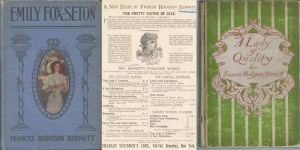 Burnett's great successes were children's books, starting with Little Lord Fauntleroy in 1886. For the next decade, hapless little boys were decked out in velvet suits and lace collars, like young Cedric.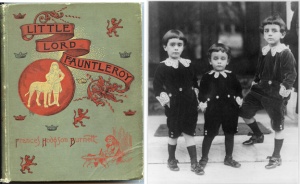 In 1917, the legendary Mary Pickford produced and starred in a silent movie of Burnett's 1905 novel, The Little Princess;  in 1921, she starred as Little Lord Fauntleroy.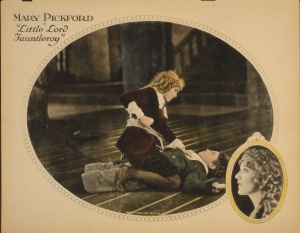 In The Secret Garden, published in 1911, a spoiled child named Mary and her bedridden cousin Colin come vividly alive as they restore the locked, neglected garden at Misselthwaite Manor. Their guide is Dickon, who talks to the wild things on th' moor and can whisper a flower out of a brick walk. Although The Secret Garden wasn't immediately popular, during the past century it has been made into three movies, four TV serials, a musical, an opera, and an anime film.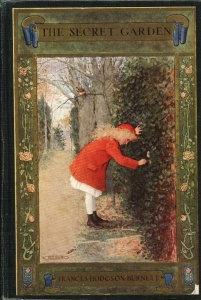 The Conservatory Garden
Fittingly, this sculpture of Mary and Dickon sits in an almost-secret garden in Central Park: the Conservatory Garden. As of 1898, the site was occupied by a huge greenhouse – but that proved difficult to heat and to maintain.

In the 1930s, Robert Moses decided to demolish the rundown greenhouse. Thousands of Works Progress Administration workers and hundreds of thousands in federal funding were used to build the Conservatory Garden. All that remains of the old greenhouse is the bricks of the sidewalks and the two small brick buildings that contain the restrooms, at either end of the Italian Garden's pergola.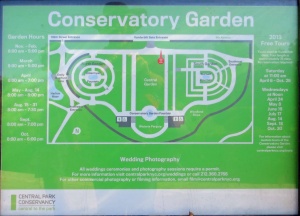 The Conservatory Garden is fenced off from the rest of the park and laid out in formal style. Its main entrance is the grand wrought-iron gate from the home of Cornelius Vanderbilt II, a Richard Morris Hunt extravaganza that was the largest private residence ever erected in New York City. The Vanderbilt mansion faced onto Fifth Avenue, filling the whole block between 57th and 58th Streets – the present site of Bergdorf Goodman.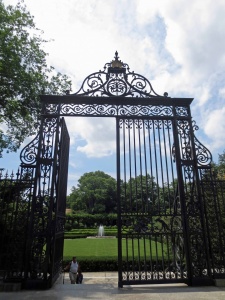 The center section of the Conservatory Garden is in the Italian style, with an open lawn flanked by flowering crab-apple trees and backed by a wisteria-covered pergola.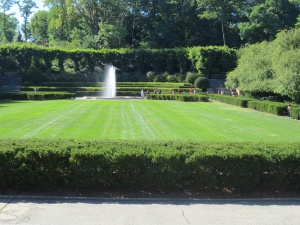 The northern section, centered on the lovely Untermyer Fountain, is in the French style, with symmetrical, segregated, precisely trimmed flower beds.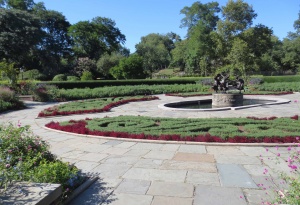 The Burnett Memorial sits in a lily pond in the southern section, which is laid out as an informal, English-style garden that's reminiscent of the untended oasis in Burnett's Secret Garden.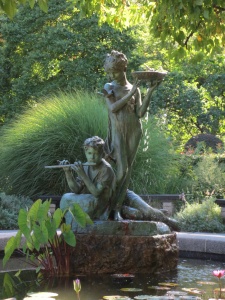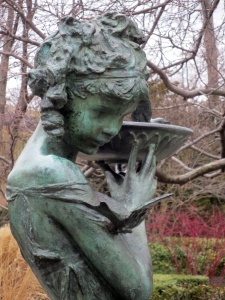 Preventing vegetative anarchy
As you wander the gorgeous paths of the Conservatory Garden, I leave you with the words of Dr. John H. Finley, who spoke at the opening of the garden in September 1937. I thought on first reading that he had his tongue firmly in cheek, but this is the height of the New Deal, with increasing concerns about Fascists and Communists, so I suspect he was serious.
I am glad to know that it is to be a formal garden … where each plant has its place, where each group of plants contributes its share to the perfection of the whole, instead of a crowd of plant and flower of mob potentialities that may break into a riot and deprive the minorities of their rights or become a drab, uninteresting anarchic mass of vegetation where things seem to grow haphazard. This city must be lastingly grateful for what the Park Department under the direction of Commissioner Moses has done in cooperation with the Creator in making this a more beautiful, happier city and world. ("Garden Replacing Greenhouses in Garden Opened by Moses, New York Times 9/19/1937)
More
Burnett wrote The Secret Garden in Plandome, Long Island, where she lived from 1907 until her death in 1924. Within a few years of her death, fans began raising funds for a tribute to her in Central Park. This memorial was completed in 1931. It was dedicated in the Conservatory Garden in 1937.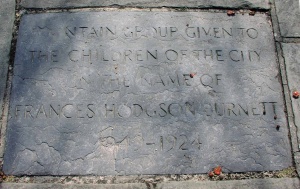 Want wonderful art delivered weekly to your inbox? Members of my free Sunday Recommendations list (email DuranteDianne@gmail.com) receive three art-related suggestions every week: check out my favorites from last year's recommendations. For more goodies, check out my Patreon page.