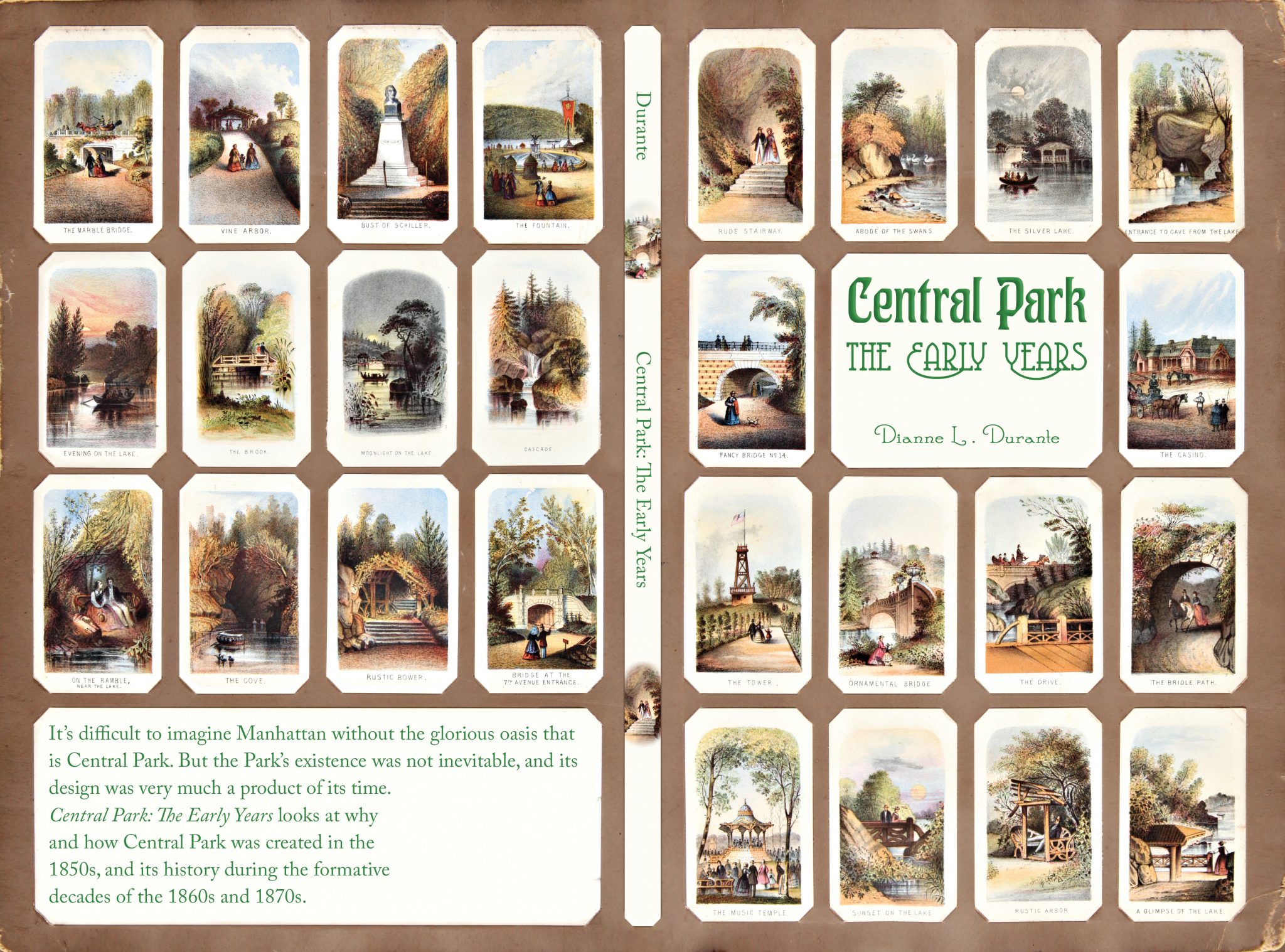 Central Park: The Early Years is now available in print and as a Kindle ebook from Amazon, in print from Barnes & Noble. If you're a bookseller, it's available via Ingram (standard discount, returnable, ISBN 9780974589961; sell sheet here).
Central Park: The Early Years focuses on the first few decades of the Park's history (1850s-1870s), particularly why Central Park was created and what events and choices in its early history created the Park's unique character. I've relied heavily on primary sources such as the annual reports of the Board of Commissioners of Central Park and early guidebooks, and have collected hundreds of images of the Park in its early days. The book is printed in full color throughout.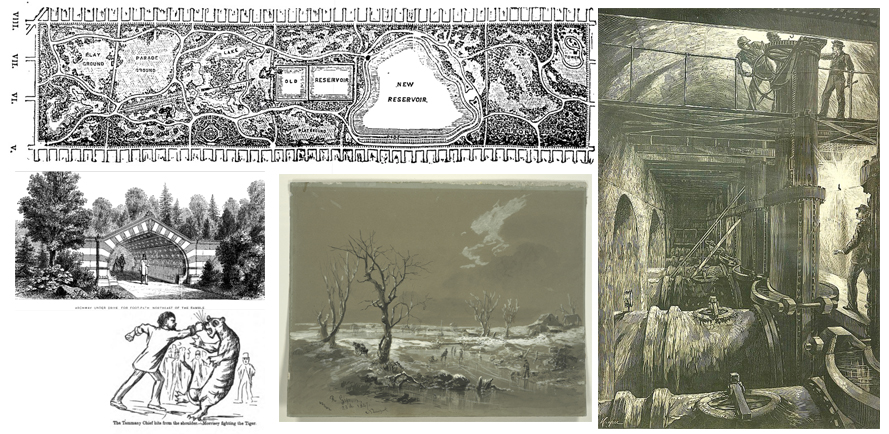 Details
Central Park: The Early Years, 6×9", 96 pp., 135 illustrations (color and B&W)
Note: the Barnes & Noble version has the title on the spine, as shown at the top of this post. The copy available via Amazon has no spine text, because Amazon doesn't allow it for 96-page books.
Reviews
Pure delight. I must revisit the park to see all the things I have missed! – T.H.

Thoroughly researched with an eye to the essentials, making it a relaxing and retainable read. This utterly charming and informative book is a must have for anyone who loves cities and the parks that grace them. Especially New Yorkers! Filled with stunning details and photos which vibrantly enrich the text, it is a treasure to frequently enjoy, written in a direct and easily understood style. – M.D.

The history of the Park is fascinating, largely due to its size and complexity, but also as a result of the competing ideas and their proponents. Durante quotes Andrew Haskell Green: "While the Park is intended as a place for freedom and relaxation, for play, and not for work, it has been constructed with no ideas of encouraging habits of laziness, or in any way for the benefit of idlers and drones … Its paramount object is to offer facilities for a daily enjoyment of life to the industrious thousands who are working steadily and conscientiously in the great city which spreads in every direction around it." The art in the Park, its sculpture and architecture, are expertly summarized by Durante, a skilled New York art historian. Read this before your first, or next, visit. – E.K.
Excerpt from the book
Chapter 1: Introduction
I'm fascinated by the choices and chances that bring about what we think of as "inevitable". Take Central Park. Although it's difficult to imagine Manhattan without a glorious oasis in its center, the Park's existence, its location, and its design were much debated. Central Park: The Early Years looks at why and how Central Park was created in the 1850s, and its development during the formative decades of the 1860s and 1870s. Included are many quotes from those who worked on the park and more than a hundred early photographs and images of the Park.
Among the topics:
The context: New York circa 1850
The original aim of the Park
The most important figures in the Park's early history
The construction of the Park
Early buildings and sculptures in the Park
The Tweed years and their effects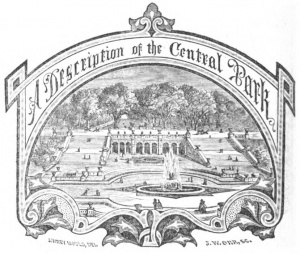 Chapter 2: New York Circa 1850
2.1 The Early History of Manhattan
By the early 1850s, when a major park for Manhattan was first discussed, the island had been settled by Europeans for more than two centuries. It offered a unique combination on the east coast of America: a well-protected, deep-water harbor that was never closed off by ice, and a river that was navigable inland for some two hundred miles. The Dutch trading post of New Amsterdam, founded in 1624, began as a fort and a few houses near the harbor, and grew northward.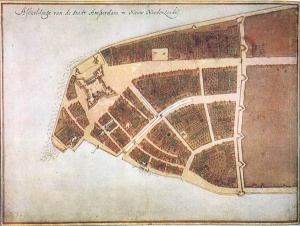 As a successful trading center, Manhattan was a target. In 1664, four British warships sailed into the harbor and forced Peter Stuyvesant to surrender the town. New Amsterdam became New York.
The town continued to prosper under British control, although it remained small. When the Declaration of Independence was read to a cheering crowd at the Common (now City Hall Park) in 1776, most of the town's buildings still huddled south of Fulton Street.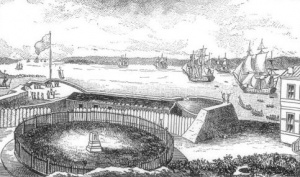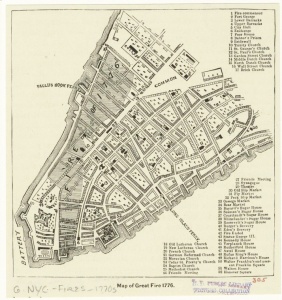 During the Revolutionary War, the British occupied New York for seven years. When they evacuated in 1783, the town was crippled. A fire had destroyed a third of its buildings. (That's the shaded area in the map above.) Soldiers had used public buildings as barracks and stables. Every tree and bush on the island had been burned for fuel. The town's wharves—its lifeline, its link to global commerce—were collapsing into the rivers.
2.2 Why the city grew
How did New York rise from literal ashes to become America's most populous city?
2.2.1 Transportation hub
The harbor and river made Manhattan a hub for transatlantic trade and trade with upstate New York. The mind and muscle of men made the island the hub of an even larger network. In 1825, after eight years of construction, the Erie Canal opened for business. …
Table of Contents
Chapter 1: Introduction
Chapter 2: New York Circa 1850
2.1 Early History of Manhattan
2.2 Why the City Grew
2.2.1 Transportation hub
2.2.2 Transfer point or destination for immigrants
2.2.3 Manufacturing center
2.2.4 Financial center
2.3 High Points of New York Circa 1850
2.3.1 Business and wealth
2.3.2 Literacy and the search for knowledge
2.3.3 Architecture
2.3.4 Music
2.3.5 Sculpture
2.3.6 Painting
2.4 Low Points of New York Circa 1850
2.4.1 Prejudice and slavery
2.4.2 Corruption in city government
2.4.3 Overcrowding
2.4.4 Health hazards
Chapter 3: Sidling Toward a Park
3.1 Why Build a Park?
3.1.1 Fresh air and exercise
3.1.2 Pastoral views
3.1.3 Culture
3.2 Where?
3.3 The Site before the Park
3.3.1 Homes and businesses
3.3.2 Institutions
3.3.3 Topography
Chapter 4: Players and Plans
4.1 Egbert Ludovicus Viele
4.2 Frederick Law Olmsted
4.3 Calvert Vaux
4.4 The Design Competition
4.5 The Greensward Plan
Chapter 5: Construction of Central Park
5.1 Execution of the Greensward Plan
5.2 Early Revisions to the Greensward Plan
5.2.1 The Extension, 106th-110th Streets
5.2.2 The Bow Bridge
5.2.3 The circulation system
5.3 Finances: Andrew Haswell Green
Chapter 6: Architectural Elements in Central Park
6.1 Bethesda Terrace
6.2 The Belvedere
6.3 The Dairy
6.4 The Zoo
6.5 The Sheepfold
6.6 The American Museum of Natural History
6.7 The Metropolitan Museum of Art
6.8 Wall and Gates
Chapter 7: Sculptures in Central Park
7.1 Earliest Sculptures
7.1.1 Bethesda Fountain,  dedicated 1873 (Emma Stebbins)
7.1.2 Schiller, 1869 (C.L. Richter)
7.1.3 Eagles and Prey, 1863 (Christophe Fratin)
7.1.4 Tigress with Cubs, 1866 (Auguste Cain)
7.1.5 Indian Hunter, 1866 (John Quincy Adams Ward)
7.1.6 Seventh Regiment Memorial, 1869 (John Quincy Adams Ward)
7.1.7 Humboldt, 1869 (Gustaf Blaeser)
7.1.8 Morse, 1871  (Byron M. Pickett)
7.1.9 Scott, 1871 (Sir John Steell)
7.1.10 Shakespeare, 1872 (John Quincy Adams Ward)
7.1.11 The Falconer, 1875 (George Blackall Simonds)
7.2 Board of Commissioners' Rules on Sculpture, 1873
7.3 The Halleck Fiasco, 1877
Chapter 8: The Tweed Years, 1870-1871, and Their Effects
8.1 Boss Tweed and His Cronies
8.2 Effects of Tweed's Reign
Chapter 9: Episodes in the Guides Who Know Central Park App
Chapter 10: Further Readings
Chapter 11: References
More
This book is a spin-off from the Guides Who Know app on Central Park. For the GWK app, I wrote narrations and found illustrations for 75 short videos on Central Park. Each 3-5 minute video explores one of the Park's landscape features, buildings, or sculptures via a lavish number of current photos, archival images, maps, and animations. Orchestral music composed just for this app sets the mood. GPS will tell you which of the Park's features are near where you're standing – or you can listen to them in any order you choose. Although the app was conceived for visitors to Central Park, you'll be able to be entertained and inspired anywhere, anytime. To be notified when the Guides Who Know app on Central Park is available, join my email list (DuranteDianne@gmail.com).
Want wonderful art delivered weekly to your inbox? Members of my free Sunday Recommendations list (email DuranteDianne@gmail.com) receive three art-related suggestions every week: check out my favorites from last year's recommendations. For more goodies, check out my Patreon page.