The Metropolitan Museum of Art keeps all the works in this post in the American Wing, on the west side of the second floor (Gallery 706).
Among the unforgettable images of decorative arts tucked away in my memory, under the heading "Can't afford to own but delighted they exist," are an Hermes silk scarf in a pietra dura pattern and a Harry Winston diamond caftan necklace. The latest addition to the collection: this silver set in the Met's American Wing mezzanine – a dazzling piece of Art Nouveau in which the waves seem to be rising up to form a pitcher and its stand.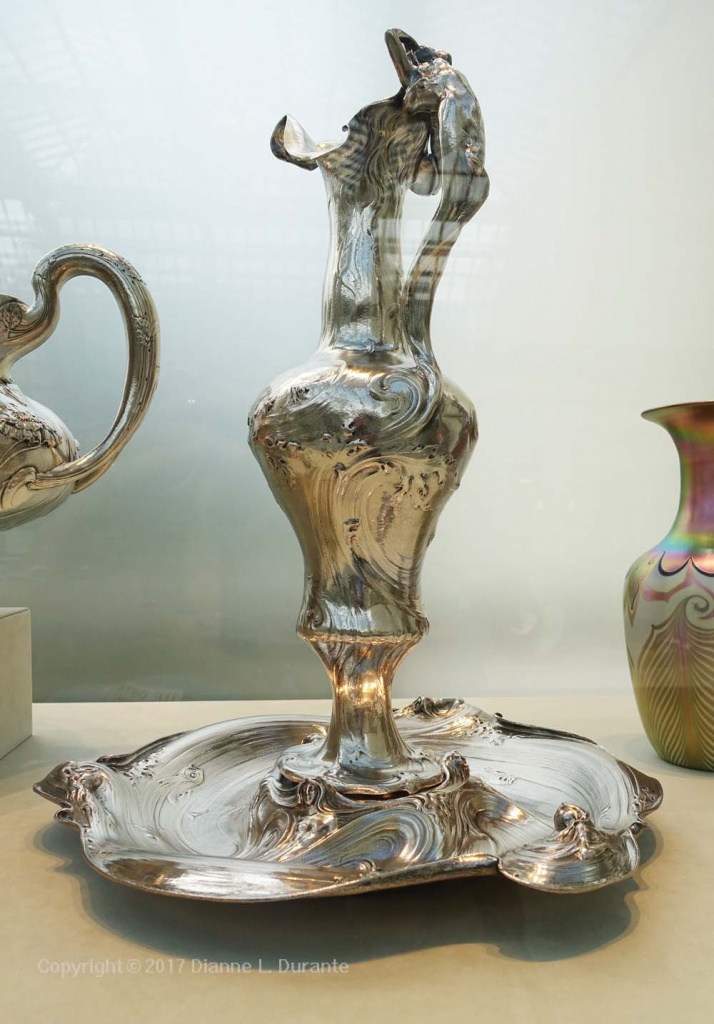 Seriously: stop! You scrolled past too fast! Look at the details of the waves on the stand: someone had to conceive each and every one of those undulating lines, then execute them one hammer stroke at a time on silver. If you're in a zippity mood, this is the wrong time to read this post.
On this photo from the Met's site, in which you can see the handle more clearly – and it is a lovely handle!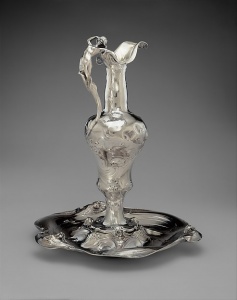 More American silver from the Met
In chronological order.
James Horton Whitehouse for Tiffany & Co., Bryant Vase, 1875-1876
A jaw-dropping example of what Tiffany & Co. could do: the scale (33 inches) and the quality of workmanship boggle my mind. This vase was commissioned in 1874 to commemorate William Cullen Bryant's eightieth birthday. It includes Renaissance-style medallions with scenes from Bryant's life, set amidst decorative elements based on American flora. I like this vase more than I like most of Bryant's poetry … although when I get around to posting the chapter on Bryant from Outdoor Monuments of Manhattan, I'll include a poem of his that I find very moving. More pics of the Bryant Vase are on the Met's site.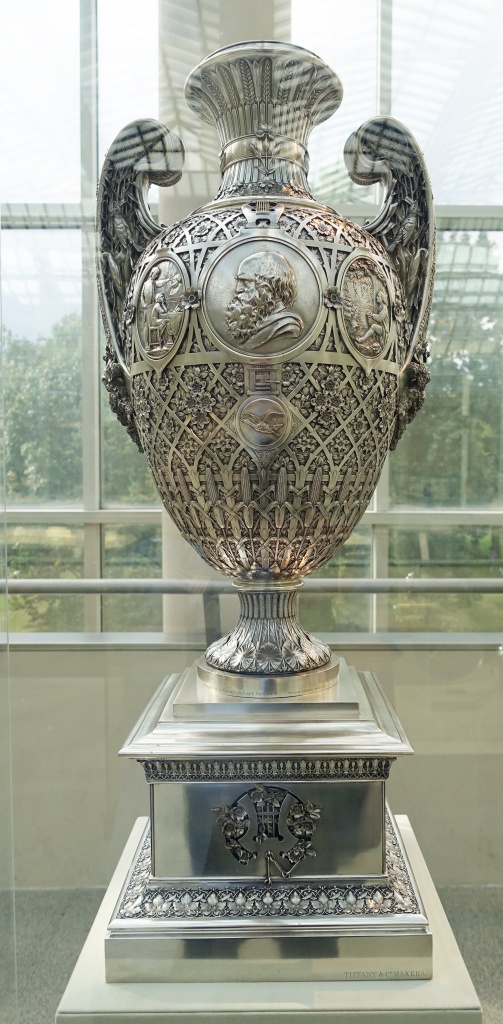 Gorham Manufacturing Company, Coffee pot, 1881
If I owned this, I would learn to drink coffee.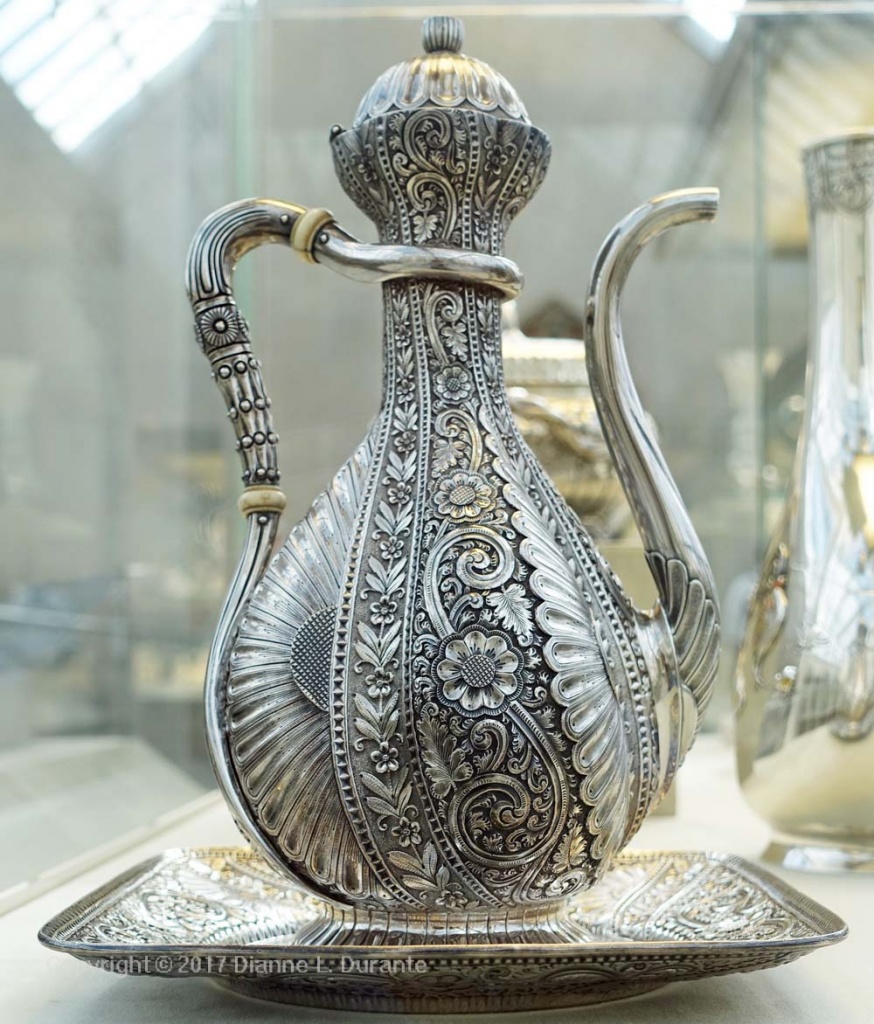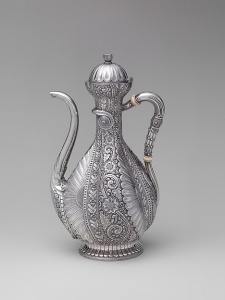 Gorham Manufacturing Company, Pitcher, 1882
The  way the fish are worked into the undulating waves, the froth on top of the waves, the varying depths of the relief, that critter forming the handle … I'm reduced to exclamation points!!!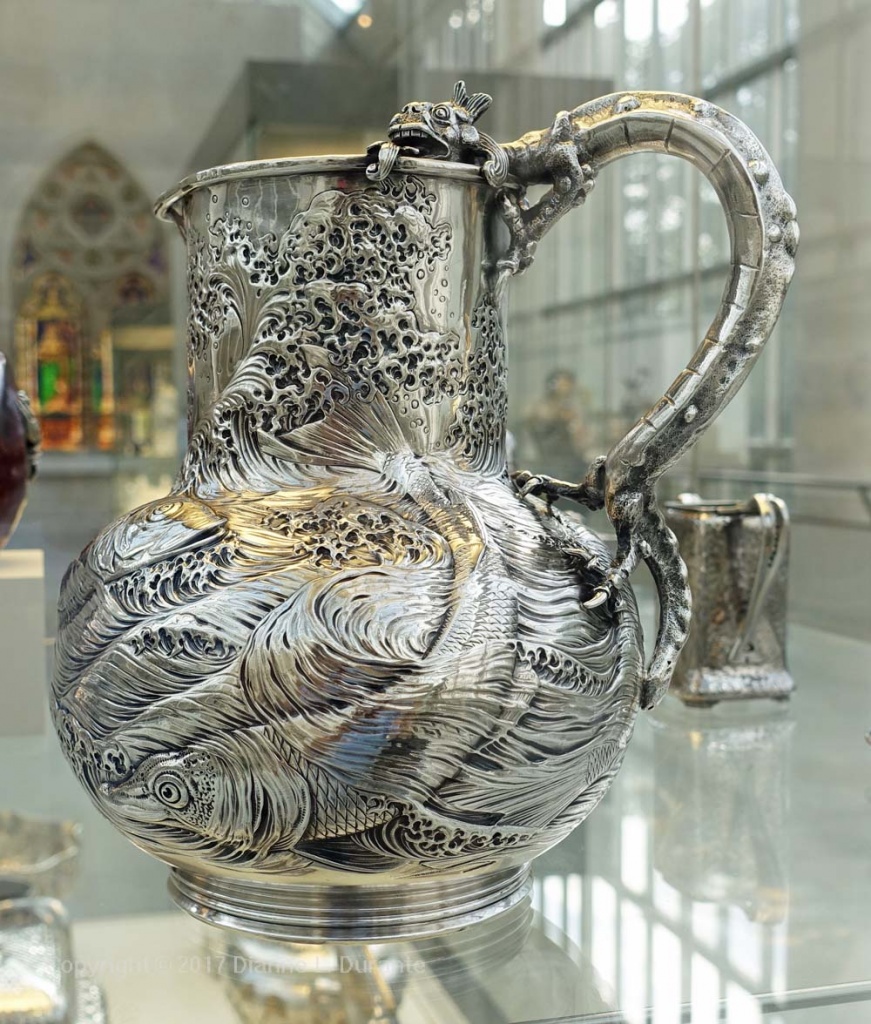 More photos on the Met's site. The Met's description mentions Hokusai's polychrome woodblock print, "The Great Wave off Kanagawa" (ca. 1829-1833) – I can see the resemblance in the froth at the top of the waves.
Tiffany & Co., Goelet Schooner Prize, 1884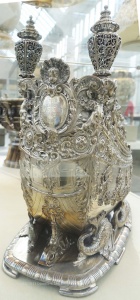 This doesn't seem to be on the Met's website, perhaps because it's only on loan (inventory no. L.1989.45.1). According to the label in the case, it was designed by Charles Osborne, Eugene J. Soligny, and James H. Whitehouse. (Whitehouse designed the Bryant Vase, above). It's less than two feet long, stem to stern.
The periodical Outing and the Wheelman, vol. 5 (1885), states that the schooner Grayling of the New York Yacht Club won this Goelet Cup on August 8 [1884], over the Block Island course. The prize, on display at the Club,
is after the style of Cloepatra's barge. It has a base of solid silver, on which are marine nondescripts, part mermaid and part fish. The stern [sic] terminates or blends into a demi-figure, in solid silver, of old Neptune, who is striking his trident, down into the deep below him, and to which his extended left hand points. On the stern, burnished spaces have been left, upon which suitable inscriptions will be engraved.
The cartouches now read, "The Goelet Cup for Schooners 1884" and "Won by Grayling".
The Goelet Cup was  established by Ogden Goelet, heir to a Manhattan real estate fortune, for schooner and sloop races held off Newport, Rhode Island. … Oh, that's why Gorham Manufacturing Company was based in Providence, R.I.: Newport was where the wealthiest people from the East Coast spent their summers.
Tiffany was so proud of this cup that they featured it in their display at the World's Columbian Exposition in 1893.
Marcus & Co., Two-handled footed dish, ca. 1910
This dish looks as if it could take to the sky, although it was created only a few years after Wilbur & Orville's first flight (1903), when airplanes were still canvas boxes rather than silver ships.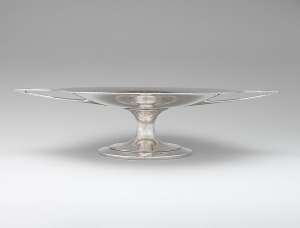 More
Silver by Gorham Manufacturing occasionally comes up for auction, although at a quick glance I don't see anything like the Met's pieces. Sotheby's and Christie's also regularly have auctions of silver – no charge to go and look!
For our 25th anniversary, my husband bought me a Lois Hill silver bracelet: like our relationship, it required a lot of work and is utterly fabulous. The bracelet I own isn't available any more, but many others are illustrated on LoisHill.com.
Want wonderful art delivered weekly to your inbox? Members of my free Sunday Recommendations list (email DuranteDianne@gmail.com) receive three art-related suggestions every week: check out my favorites from last year's recommendations. For more goodies, check out my Patreon page.