This post is adapted from the forthcoming Guides Who Know app on Central Park.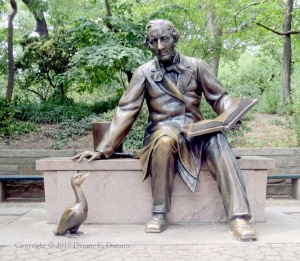 Medium & size: Bronze, over lifesize.
Location: Central Park, on the west side of Conservatory Lake, at about East 74th St.
In 1819, 14-year-old Hans Christian Andersen (1805-1875), son of a small-town shoemaker, set off for Copenhagen with a couple dollars, a few clothes, and a letter to a famous ballerina. She refused to see him. He tried acting, and failed. After reading his early literary efforts, Copenhagen intellectuals awarded him a scholarship … so he could learn to spell. But at age 24, Andersen self-published a book that made him famous, locally at least.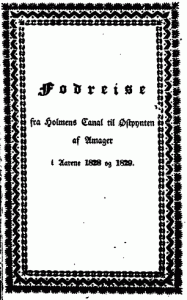 Soon afterwards, funded by a royal stipend, Andersen jaunted off to Europe to write poems and travelogues. While in Rome he met the sculptor Bertel Thorvaldsen, a fellow Dane, a statue of whom also stands in Central Park.
Andersen hit his literary stride with children's stories that became worldwide favorites, such as "The Little Mermaid," "The Emperor's New Clothes," "The Little Match Girl," "Thumbelina," and "The Princess and the Pea."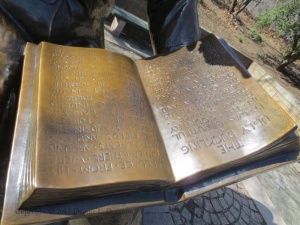 The book on Andersen's lap is open to his most famous story, "The Ugly Duckling," which appeared in 1843. It's a pretty grim story . No one tells the ugly critter that he's special. No one offers him antidepressants or plastic surgery. Tormented by cats, hens, and children, he finally shivers his way through a miserable winter in a cave. In the spring, when a flock of swans descends on the lake outside his cave, the ugly creature decides he'd rather be killed by these beautiful birds than live in misery. But when the new arrivals see him, they greet him as one of their own – and looking into the water, he realizes he's grown up into a swan.
Years later a critic asked Andersen if he planned to write an autobiography. Andersen replied that he already had.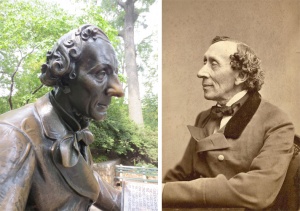 More
Back in 1973, when the city and Central Park were nearing low ebb, the duckling (cygnet, actually) was stolen. Before a new one could be cast, the bronze baby was found out in Queens, wrapped in a paper bag; it was quickly returned to its proper place.
The Andersen sculpture was dedicated on the 150th anniversary of Andersen's birth. Its $75,000 cost was covered in part by Danish and American schoolchildren.
The sculptor, Georg Lober, was a student of Gutzon Borglum, who designed Mount Rushmore and sculpted General Daniel Butterfield in New York.
Andersen's Little Mermaid was adapted into the opera Rusalka, with music by Dvorak.
Edmund Dulac (1882-1953) created a set of gorgeous illustrations for a 1911 edition of Andersen's stories.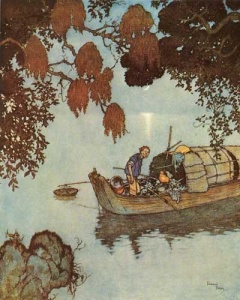 Want wonderful art delivered weekly to your inbox? Members of my free Sunday Recommendations list (email DuranteDianne@gmail.com) receive three art-related suggestions every week: check out my favorites from last year's recommendations. For more goodies, check out my Patreon page.