Most of the greatest ancient Greek works that remain in the hands of the Greek government are on display at the National Archeological Museum in Athens. Here are some of my favorite works in their collection.
Fresco of Boxing Children
This wall painting was preserved in the volcanic eruption that destroyed the island of Thera (Santorini) around 1627 B.C. The sinuous lines of the figures and the accuracy with which the artist has observed his young subjects are remarkable. I don't care about (or for) boxing, but this Minoan work has a charm that doesn't reappear in Greek art for 1300 years or so.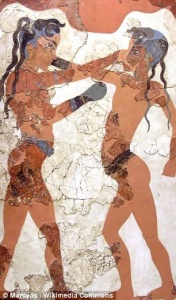 The "Mask of Agamemnon"
Until the late 19th century, everyone believed the Iliad was just a great story and the Trojan War was fiction. Everyone except Heinrich Schliemann, who excavated this object from a burial shaft at Mycenae in 1876 and proclaimed it to be the death mask of Agamemnon, who figures prominently in the Iliad  as one of the leaders of the Greeks. The Mycenae finds inspired Schliemann to excavate in Turkey on the site that turned out to be the historical Troy.
Scholars now date this mask to 1550-1500 B.C., three centuries before the probable date of the Trojan War. Agamemnon or not, I'm always blown away by seeing the features of a man who died in the 16th century B.C.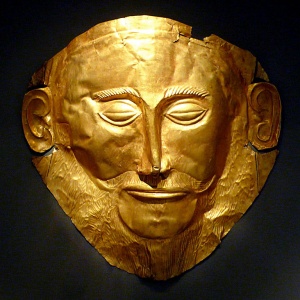 Zeus (or Poseidon) of Artemisium
Underwater archeology has returned to us some of the greatest surviving ancient bronze sculptures, including this one, discovered in a shipwreck off Cape Artemisium in 1926. It's the first sculpture I ever saw that literally took my breath away. Although the dominant view of this Early Classical sculpture (ca. 460 B.C.) is from the front, no two-dimensional image can do it justice. The identification as Zeus or Poseidon depends on whether you think he was hurling a thunderbolt or a trident.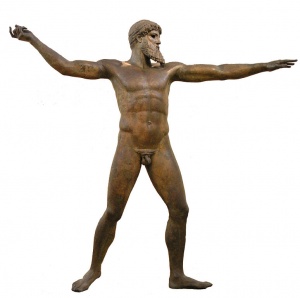 Aristonautes
Like Agias (see More below), this little-known  sculpture makes me realize how amazing the ancient Greek sculptors were … because in any other civilization, this would be a famous work of art. Erected in an Athenian cemetery ca. 350-325 B.C., it stands more than eight feet tall and bears an inscription identifying the figure as Aristonautes.
Marathon Boy
Another shipwreck survivor, this time from the Bay of Marathon. (For other Greek bronzes recovered from shipwrecks, see the list here.) This sculpture was probably created by Praxiteles or one of his followers around 340-330 B.C.: that sinuous curve to the side is never seen earlier. See Innovators in Sculpture for more on Praxiteles and other Greek innovators of the 4th c. B.C.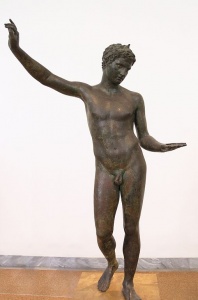 More
My earliest coffee-table book about ancient Greek art was a gift from the Greek government to students like me, who had won 6-week scholarships to Greece because we had learned Modern Greek in college. The Greek Museums, by Manolis Andronicos and others, has lovely, lovely photos from the ten major museums in Greece. If I had a second copy, I'd long since have sliced out the pages and framed my favorites.
I discussed Agias in one of my Sunday Art Recommendations emails back in June. If you're on my mailing list, search your inbox. If you're not, what are you waiting for? Email me to join (DuranteDianne@gmail.com). Subscribers on Patreon have access to a compilation of all the posts.
The Christmas after I told my parents (farmers in Pennsylvania) that I was going to study Greek and Roman civilizations for a living, they gave me Irving Stone's The Greek Treasure: A Biographical Novel of Heinrich and Sophia Schliemann. Thanks yet again, Mom and Dad. Miss you.
Want wonderful art delivered weekly to your inbox? Members of my free Sunday Recommendations list (email DuranteDianne@gmail.com) receive three art-related suggestions every week: check out my favorites from last year's recommendations. For more goodies, check out my Patreon page.