This post is adapted from the forthcoming Guides Who Know app on Central Park.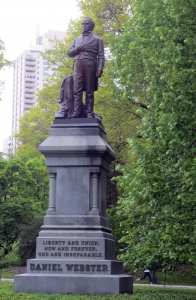 Fame …
The national reputation of "the god-like Daniel" dates to 1830. Two years earlier, no less a person than the vice president of the United States had argued that any state had the right to nullify an unconstitutional federal law, and even to secede from the United States.
Webster, with eyes like burning coals and a voice like an organ, responded to John Calhoun's "nullification" argument on the floor of the U.S. Senate. In unforgettable words he explained why the Union is necessary, what holds it together and makes it strong … and what would happen if it disintegrated. Here are his closing lines.
Let the last feeble and lingering glance [of my eyes] behold the gorgeous ensign of the republic, now known and honored throughout the earth, still full high advanced, its arms and trophies streaming in their original luster, not a stripe erased or polluted, nor a single star obscured, bearing for its motto, no such miserable interrogatory as "What is all this worth?" nor those other words of delusion and folly, "Liberty first and Union afterwards"; but everywhere, spread all over in characters of living light, blazing on all its ample folds, as they float over the sea and over the land, and in every wind under the whole heavens, that other sentiment, dear to every true American heart – Liberty and Union, now and forever, one and inseparable!"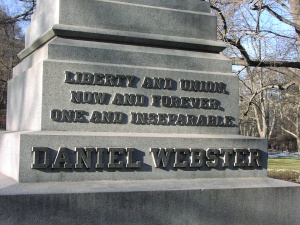 Webster's 1830 speech is still regarded by many as the greatest speech ever made in the U.S. Senate.
… and notoriety
But slavery and states' rights issues continued to fester as the United States grew. In 1850, to the stunned outrage of many, Daniel Webster – a lifelong Abolitionist – spoke in favor of measures that allowed slavery to spread. The Compromise of 1850 permitted residents of western territories to decide whether they would join as slave-owning states or not. It permitted California to enter the Union as a free state. To balance that, there was the Fugitive Slave Act. Under threat of fines and imprisonment, Northerners were legally required to return escaped slaves to their masters in the South.
Webster feared for the very survival of the Union if some compromise was not reached: "There can be no such thing as peaceable secession." His speech drew the wrath of Abolitionists such as the poet John Greenleaf Whittier:
All else is gone; from those great eyes
The soul has fled:
When faith is lost, when honor dies,
The man is dead.
But Webster's speech of 1830 was – and is – still acknowledged as a definitive statement about value of the Union and the Constitution. When America celebrated its centennial in 1876, a decade after the Civil War, a wealthy New York merchant thought it fitting to offer this twice-life-size figure of Webster to Central Park: "a statue of America's greatest statesman in America's noblest pleasure ground."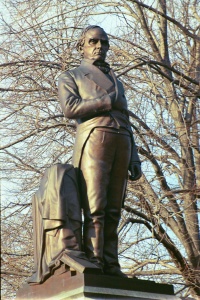 More
The donor, Gordon W. Burnham, requested that this sculpture be placed on the Mall. Frederick Law Olmsted and the Board of Commissioners of Central Park felt that its 15-foot height would dwarf the sculptures already on the Mall (Sir Walter Scott, Shakespeare, and Fitz-Greene Halleck), so they assigned it to a space near the western border of the Park on 72nd Street.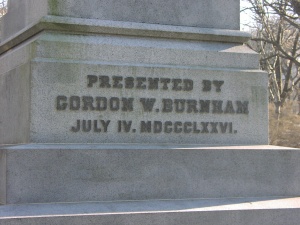 If you haven't read Stephen Vincent Benet's "The Devil and Daniel Webster" (1937), here you go. At the end the Devil prophesies Webster's future:
"You have made great speeches," said the stranger. "You will make more."

"Ah," said Dan'l Webster.

"But the last great speech you make will turn many of your own against you," said the stranger. "They will call you Ichabod; they will call you by other names. Even in New England some will say you have turned your coat and sold your country, and their voices will be loud against you till you die."

"So it is an honest speech, it does not matter what men say," said Dan'l Webster. Then he looked at the stranger and their glances locked. "One question," he said. "I have fought for the Union all my life. Will I see that fight won against those who would tear it apart?"

"Not while you live," said the stranger, grimly, "but it will be won. And after you are dead, there are thousands who will fight for your cause, because of words that you spoke."

"Why, then, you long-barreled, slab-sided, lantern-jawed, fortune-telling note shaver!" said Dan'l Webster, with a great roar of laughter, "be off with you to your own place before I put my mark on you! For, by the thirteen original colonies, I'd go to the Pit itself to save the Union!"
Want wonderful art delivered weekly to your inbox? Members of my free Sunday Recommendations list (email DuranteDianne@gmail.com) receive three art-related suggestions every week: check out my favorites from last year's recommendations. For more goodies, check out my Patreon page.