Excerpted and adapted from Innovators in Sculpture.
Faun Teased by Children is a technical tour de force by 18-year-old Gian Lorenzo Bernini (1598-1680), whose career spanned seven decades. I'm a sucker for virtuosity; and besides, this makes me laugh.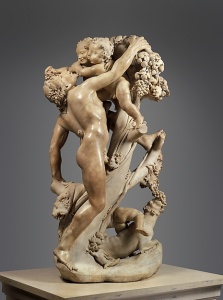 Michelangelo's figures (Moses or the Dying Slave, for example) were twisting and energetic. Bernini's make Michelangelo's look almost … sedate. And every angle offers new and fascinating details – an amazing feat of composition.
Young Bernini was already an expert at using the tiniest details to make his sculptures more vivid. When you've explored all the angles of this piece, you can get absorbed in the sharp differences in the surface of skin, hair, leaves, and branches.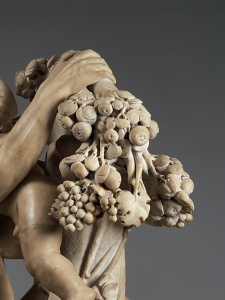 The mouths of all four figures are marvelously expressive. One of Bernini's contributions to the progress of sculpture was showing figures open-mouthed, as if they're drawing breath.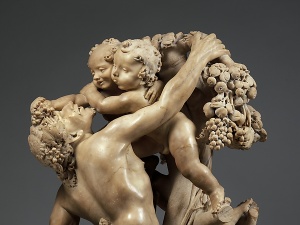 More