First an  an occasional series of posts on works I'd love to visit again … or see for the first time.
My choices for the Five Favorites series aren't all works that show me new heights to aspire to. More often, they help me gather fuel that will, eventually, give me the energy and focus to decide which particular heights I want to scale. The fuel can be the sight of one of my values, or an object of exquisite workmanship, or a color that has a positive association going so far back that even a psychiatrist probably couldn't track down the source. I don't expect you to love all the artworks I include. But I'm hoping my picks will persuade you to visit a museum or gallery, where you may turn a corner and find an artwork that makes you catch your breath.
These five fabulous works are at the Walters Art Museum in Baltimore.
Visitor info here
Browse the collection here (a bit glitchy: it won't find "faberge" but will find "faberg".
Faberge egg, 1907
This elegant 3-inch-high egg was commissioned by Tsar Nicholas for his wife. It held a diamond necklace and an ivory portrait miniature of the heir to the throne. More here.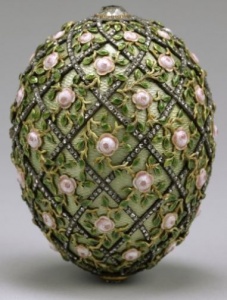 Hashiguchi Goyō, Woman in Blue Combing Her Hair, 1920
Japanese colour woodblock print. More here.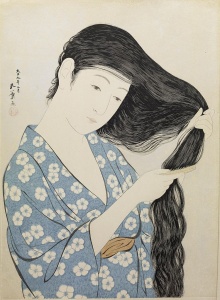 Veronese, Countess Livia da Porto Thiene and Her Daughter, 1550s
Just charming: at this period, children tend to be posed very stiffly, as if they've been told to behave or else. More here. A pendant portrait of the Countess's husband and son is in the Contini-Bonacossi Collection, part of the Uffizi Gallery in Florence. Both paintings are about 6 1/2 feet high.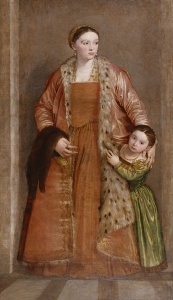 Maerten van Heemskerck, Landscape with Abduction of Helen, 1535
Five feet high and twelve feet wide: I'd love to go squint at the details, which include buildings in Rome in the early 16th century. More here.

Sofonisba Anguissola, Marchese Massimiliano Stampa, 1557
My hands-down favorite of the paintings I remember at the Walters. Those eyes, that posture: I want to give this kid a hug and tell him to go play with his dog and I'll bring him some chocolate ice cream. The figure is life-size. More here.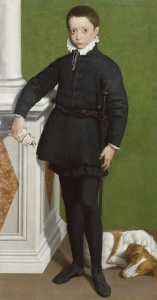 More
On my bookshelf: Fifty Old Master Paintings from the Walters Art Gallery (1988). The colors of the images are more highly saturated (and I assume more true to the originals) than those on the Walters website.
For more favorites from museums, see the Obsessions cloud at right: Museums, Metropolitan Museum, and Washington National Gallery.
Want wonderful art delivered weekly to your inbox? Members of my free Sunday Recommendations list (email DuranteDianne@gmail.com) receive three art-related suggestions every week: check out my favorites from last year's recommendations. For more goodies, check out my Patreon page.