This talk has been postponed. Future talks will be listed here, or ask to be added to my mailing list (DuranteDianne@gmail.com).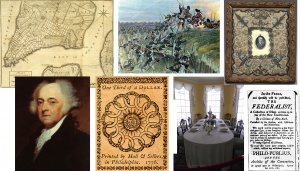 On Saturday January 21, 2017, from 11:00-1:00, I'll be giving my talk "Hamilton: Man & Musical." It's a 2-hour bio of Hamilton with images from his life and times. Come put yourself in Hamilton's shoes: volunteers can read excerpts from his writings, all linked to the musical. Fellow fanatics will occasionally have the chance to burst into a linen or two of song.
If you're in love with the musical and want to know more about what drove the man, or love the soundtrack and can't get tickets, this is a great way to spend more time with Hamilton!
Comments from previous attendees:
"Enjoyable." "Great time!"
"Very well organized, created a sense of Hamilton that I didn't have before."
"Delightful, funny, and interesting."
Sign up early to read your choice of excerpts
In my weekly blog posts on Hamilton, I rely heavily on primary sources, including Hamilton's own writings. "Hamilton: Man & Musical" includes about twenty substantial excerpts from Hamilton's writings (100-200 words). Sign up in early and you'll get your best chance at impersonating Hamilton on the topic of your choice: Ambition, the Hurricane Letter, Great Britain, Trade, Liberty vs. anarchy, Swooning death wish, Philip, Articles of Confederation, Neutrality, Judiciary, Bill of Rights, War I.O.U.s, Implied powers, French Revolution, Jefferson, Adams, Burr, and Dueling.
Details
Space is limited. Advance tickets are available at Eventbrite. Price is $30, or $25 if you appear in frockcoat, panniers, or other 18th-c. attire. Then email me (DuranteDianne@gmail.com) for a list of available readings.
Date & time: Saturday January 21, 2017, 11:00-1:00.
Place: Studios 150, at 150 West 46th St. (between 6th and 7th Avenues). For admission, ring the bell for the 6th floor. Then take the elevator to the 7th floor and look for Room 3.
If you can't attend the talk this time but want to be notified when I'll be giving it again, email DuranteDianne@gmail.com .