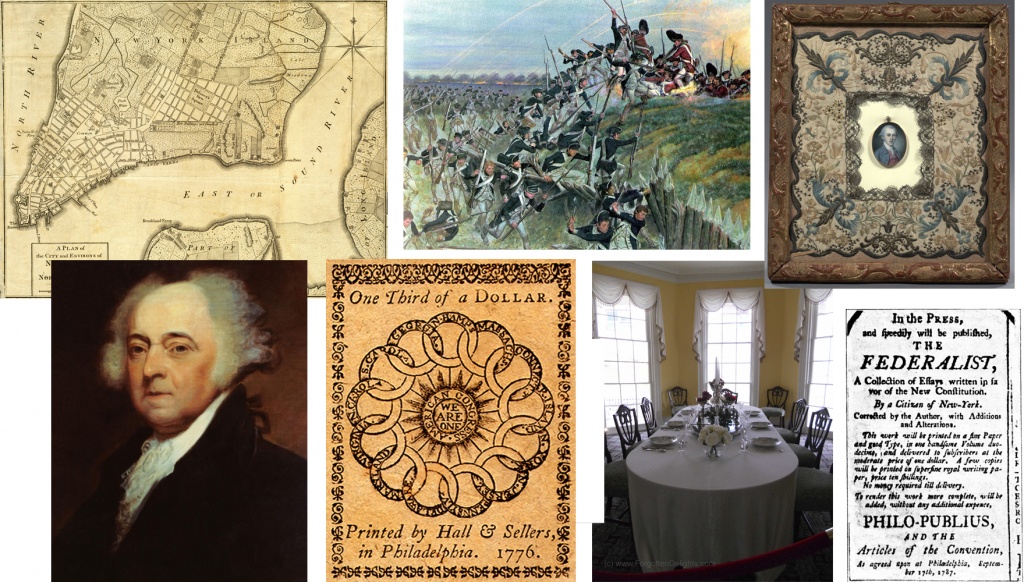 On Sunday November 6, 2016, at 1 p.m., I'll be giving my talk "Hamilton: Man & Musical." Learn about the important events of Hamilton's life and the ideas that drove him, via excerpts from his writings and a slideshow of images from his life and times. Fellow fanatics will have the chance to help read the excerpts and/or burst into song.
Sign up early to read your choice of excerpts
In my weekly blog posts on Hamilton, I rely heavily on primary sources, including Hamilton's own writings. "Hamilton: Man & Musical" includes about 20 substantial excerpts from Hamilton's writings (100-200 words) that volunteers can read aloud. Sign up in advance and you'll get best chance at reading Hamilton's words on the topic of your choice: Ambition, the Hurricane Letter, Great Britain, Trade, Liberty vs. anarchy, Swooning death wish, Philip, Articles of Confederation, Neutrality, Judiciary, Bill of Rights, War I.O.U.s, Implied powers, French Revolution, Jefferson, Adams, Burr, Dueling, and (bonus) Washington on Hamilton.
Details
The room only holds 40 people. Tickets in advance are $30 each; at the door (if available) $35. Email me (DuranteDianne@gmail.com) to ask about ticket availability & payment methods.
Date & time: Sunday November 6, 2016, at 1 p.m.
Place: Nola Studios, 250 West 54th St., just east of 8th Ave. (NOTE: sometimes you have to enter instead at 244 West 54th.) Take the elevator to the 11th floor and look for Studio C.
If you can't attend the talk this time but want to be notified when I'll be giving it again, email DuranteDianne@gmail.com .
More
Want wonderful art delivered weekly to your inbox? Members of my free Sunday Recommendations list (email DuranteDianne@gmail.com) receive three art-related suggestions every week: check out my favorites from last year's recommendations. For more goodies, check out my Patreon page.