Washington Irving on Columbus
Certain it is that at the beginning of the fifteenth century, when the most intelligent minds were seeking in every direction for the scattered lights of geographical knowledge, a profound ignorance prevailed among the learned as to the western regions of the Atlantic; its vast waters were regarded with awe and wonder, seeming to bound the world as with a chaos, into which conjecture could not penetrate, and enterprise feared to adventure. . . . It is the object of the following work, to relate the deeds and fortunes of the mariner who first had the judgment to divine, and the intrepidity to brave the mysteries of this perilous deep; and who, by his hardy genius, his inflexible constancy, and his heroic courage, brought the ends of the earth into communication with each other. The narrative of his troubled life is the link which connects the history of the old world with that of the new. — History of the Life and Voyages of Christopher Columbus, 1828
New York City has four life-size or over-life-size sculptures of Christopher Columbus. On October 12 – the real Columbus Day – why not go salute the Admiral of the Ocean Sea?
Circa 1867: Columbus Park, Brooklyn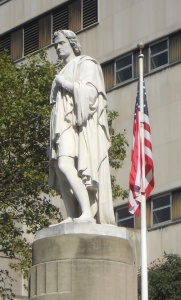 The earliest Columbus in New York City was sculpted by Emma Stebbins (1815-1882) in the same decade as her most famous work, the Angel of the Waters, a.k.a. Bethesda Fountain in Central Park. Her Columbus was donated to the Park by Marshall O. Roberts, a self-made millionaire (shipping, railroads, and the transatlantic cable) who became an avid art collector.  The Board decided not to put Stebbins's Columbus on display, although according to one 1936 article,it debuted "in the old tavern in Central Park" and then vanished for a generation. (L.H. Robbins, "A City Statue's Lot Is Not a Happy One," New York Times 8/23/1936.) [What tavern? Vaux's Casino? The restaurant at Mt. St. Vincent? Definitely not Tavern on the Green, a Robert Moses creation opened in 1934.]
According to the NYC Parks site, Stebbins's Columbus was discovered in 1934, stashed away in a Central Park maintenance yard. Aymar Embury II, Moses's go-to architect, gave it a new pedestal, and the city installed it in Columbus Park, on the site of the former Mulberry Bend Park. Mulberry Bend was notorious for crowded tenements full of immigrants: immortalized by Jacob Riis in How the Other Half Lives, 1890. Mildred Adams, a New York Times art critic, noted in 1935 that although the Columbus was in an Italian neighborhood, "instead of pride he has evoked smears of green paint, black pencilings and stains on the back of his immaculate white robe that look like the marks of mud pellets or of quids of tobacco shot through a blow-gun" ("Our Statues Regain Places in the Sun," 7/21/1935). In 1971, Stebbins's Columbus was moved to its present location in Cadman Plaza, Brooklyn.
Medium & size: Italian marble, limestone. Figure H: 7′. Pedestal H: 11′; Diameter: 3'6″. Base H: 2'6″; Diameter: 8'9″. Plinth H: 1′ Diameter: 17'3″.
Location: Columbus Park, Supreme Court Building, Brooklyn (near Court & Montague Sts.)
1894: Central Park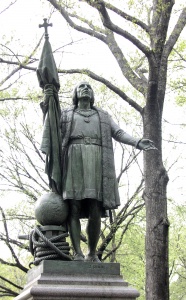 Columbus in Central Park is a bronze copy of a marble original created for Madrid, Spain, in 1886. I've written about this one in Outdoor Monuments of Manhattan: A Historical Guide, and obsessed about the medallion around his neck here. The wrap-around page for this episode in the Guides Who Know Monuments of Manhattan app includes a photo of the first Ferris Wheel, which debuted at the Columbian Exposition of 1892, and an illustration of New York City's celebrations for the 400th anniversary of Columbus's first voyage. See also the NYC Parks site.
1898: Columbus Circle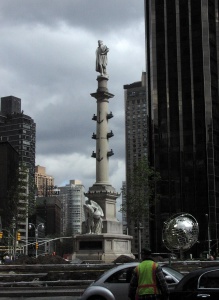 I've also written about Russo's Columbus Monument in Outdoor Monuments of Manhattan: A Historical Guide. A shorter version is here.  Further details on the NYC Parks site.
Medium & size: Overall 77 feet high. Marble statue of Columbus (13 feet), marble Genius on the south side (9 feet), bronze eagle on the north side (6 feet), bronze reliefs on the south and north sides (each 2 x 6 feet).
Location: Columbus Circle, intersection of Eighth Avenue, Central Park South and 59th Street (great views from the third and fourth floors of the Time Warner Building).
1925: D'Auria Murphy Square, Bronx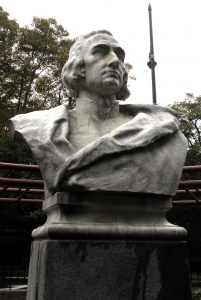 This Columbus (my favorite!) is by Attilio Piccirilli, who's famous for the Maine Monument and the Firemen's Memorial, both 1913. See also NYC Parks site.
Attilio (1866-1945) came from a family of Tuscan stonecutters whose studio was in the Bronx. The Piccirillis carved for Daniel Chester French (including the Continents at the Customs House and the Lincoln in the Lincoln Memorial in Washington), and for John Quincy Adams Ward (including the New York Stock Exchange pediment), plus works such as the lions outside New York Public Library, 1911, parts of the Washington Arch, ca. 1895-1918, and the Pulitzer Fountain, 1916. Of Attilio's own design are the sculptures on the Maine Monument and the Firemen's Memorial, both 1913, as well as Youth Leading Industry and the Joy of Life at Rockefeller Center, ca. 1936 and 1937 (the latter at 15 West 48th Street), the pediments of the Frick Art Reference Library (71st Street off Fifth Avenue), and the doors of the Riverside Church (Riverside Drive at 122nd Street). Brooklyn has Indian Literature and Indian Law Giver, ca. 1900 (Brooklyn Museum). Aside from this Columbus, the Bronx has his Outcast, 1908 (Woodlawn Cemetery).
Columbus quotes (not)
The statement "One does not discover new lands without consenting to lose sight of the shore for a very long time" (or "You can never cross the ocean unless you have the courage to lose sight of the shore") is often attributed to Columbus – probably because it seems to very appropriate! It was actually written by Andre Gide: "On ne découvre pas de terre nouvelle sans consentir à perdre de vue, d'abord et longtemps, tout rivage."
In a tweet of 5/24/15, I quoted from Guest's "The Things That Haven't Been Done Before." Here it is in full.
Medium & size: Marble bust (4'3″ high) on granite pedestal (5'7″ high).
Location: D'Auria Murphy Square (bordered by East 183rd St., Crescent Ave., Adams Place, and Arthur Avenue), Bronx.
1941: Astoria, Queens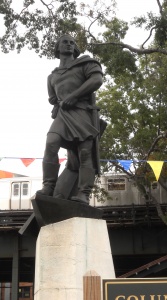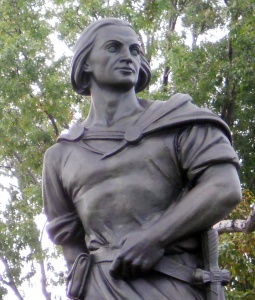 The NYC Parks site has an amusing anecdote about Racioppi's Columbus, which stands near the east end of the Triborough Bridge:
The City acquired this park in 1910, and the Board of Aldermen named it Columbus Square in 1930. Angelo Racioppi created the bronze statue with funds from the New York City Works Progress Administration Art Project. It depicts a youthful Columbus at the helm of a ship, and it is set on an angular cast stone base suggestive of a boat prow. Dedicated on October 12, 1941, the artwork provoked a public feud between Queens Borough President George U. Harvey and Parks Commissioner Robert Moses (1888-1981).

At a May 1941 meeting of the Board of Estimate in which plans for the statue were discussed, Harvey referred to Moses as an "appointed official who couldn't be elected as dogcatcher." Moses responded in a letter, "I have no thought of running against you for dogcatcher. The job is right up your alley." Later, Moses wrote, "We don't think the statue looks like anything we have read about Columbus, or that as a piece of symbolism it represents anything associated with Columbus. On the other hand, just as a piece of sculpture without any particular significance, it is not objectionable." Harvey replied, "Anything Moses doesn't design himself, he thinks is no good."
Medium and size: Bronze, 7 foot 6 inches; cast stone base (4′)
Location:  Astoria Blvd., Hoyt Ave. & 31st St., Queens
More
If you're willing to settle for less than full-length …
This profile relief of Columbus decorates the former Tammany Hall headquarters at the northeast corner of Union Square. Tammany Hall was founded in 1788 as the Society of St. Tammany or the Columbian Order – hence the medallion of Columbus. The other medallion on the north facade is of "Tamanend," a legendary chief of the Delaware tribe. For more on Tammany's long and often corrupt existence, see the Encyclopedia of New York City (one of my go-to reference works – I still used the first edition, since most of my research isn't on recent topics).
2. Massari's bust of Columbus is part of the group Mother Italy,  ca. 1953-1962, at Hunter College – see my post here.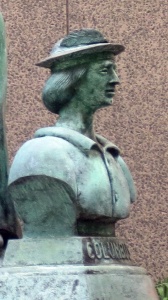 3. The cornice of the Alexander Hamilton Customs House at Bowling Green has a row of 12 figures commemorating countries who engaged in international trade. (More on them here.) The fourth figure from the left  is officially Genoa, but it looks very much like the usual portraits of Genoa's favorite son. Augustus Lukeman, the sculptor, also created the ravishing Straus Memorial.
Have a great Columbus Day!
Want wonderful art delivered weekly to your inbox? Members of my free Sunday Recommendations list (email DuranteDianne@gmail.com) receive three art-related suggestions every week: check out my favorites from last year's recommendations. For more goodies, check out my Patreon page.