The American Civil War pitted brother against brother and friend against friend. Yet memorials to those involved in it are far less grim than memorials for the First World War. Why is that?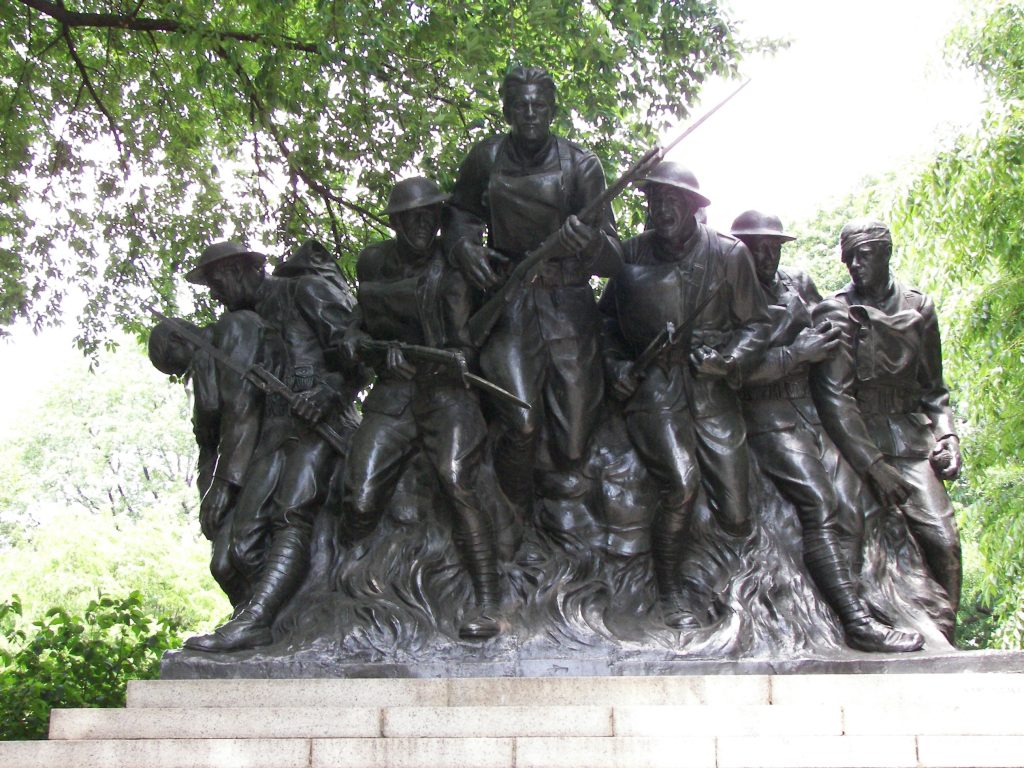 During the Civil War, over 600,000 men died. That's almost as many as the total deaths in all the other wars that the United States has ever fought. General William Tecumseh Sherman, one of the Union's most brilliant leaders, said flatly: "War is cruelty, and you cannot refine it." But he followed that up with, "I will ever conduct war with a view to perfect and early success." When the Civil War ended, the Confederacy's will to fight was unequivocally destroyed, and the States were once again United. Victory made the losses more bearable. That's why the 7th Regiment Memorial shows a dignified soldier with an air of quiet heroism. It's why Sherman is shown in triumph.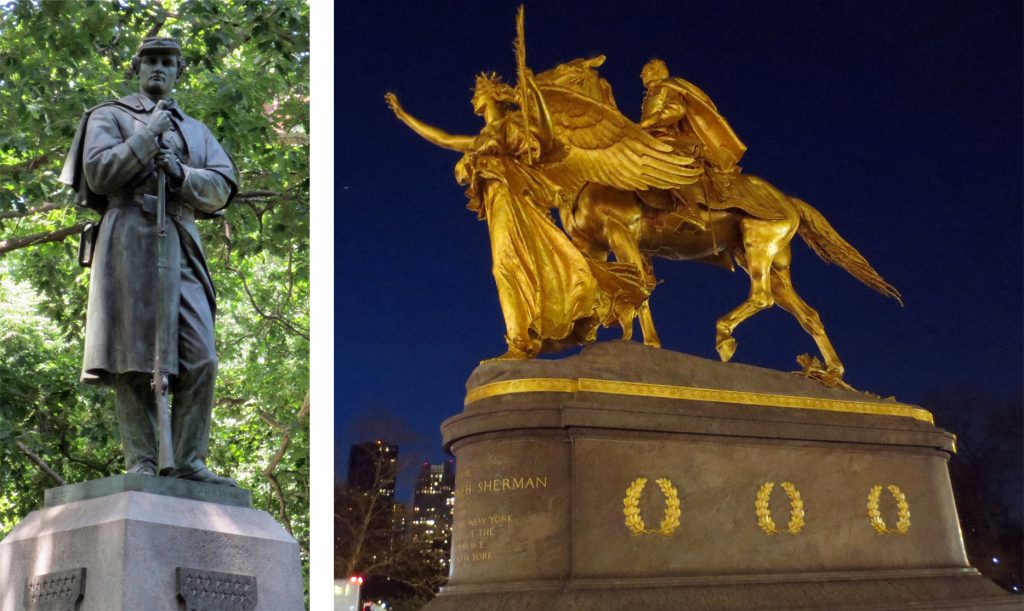 The 107th Infantry Memorial was created after a different sort of war that led to a different sort of outcome. President Woodrow Wilson was narrowly elected in November 1916 on a promise to keep the United States out of the war that had been devastating Europe for 2 years. Five months later, he asked Congress to declare war "to make the world safe for democracy." Few men volunteered for the job. Half the Americans who fought in "the war to end all wars" went "over there" because they were drafted.
On September 29, 1918, New York's 107th Infantry was dispatched to attack a section of Germany's Hindenburg Line. It was their most notable engagement. Yet … there's a sense of desperation in the way the 3 soldiers charge forward. And the other 4 figures are just struggling along, trying to survive for the next few days, hours, or minutes. By the time the men of the 107th reached their objective, more than half the regiment had been slaughtered.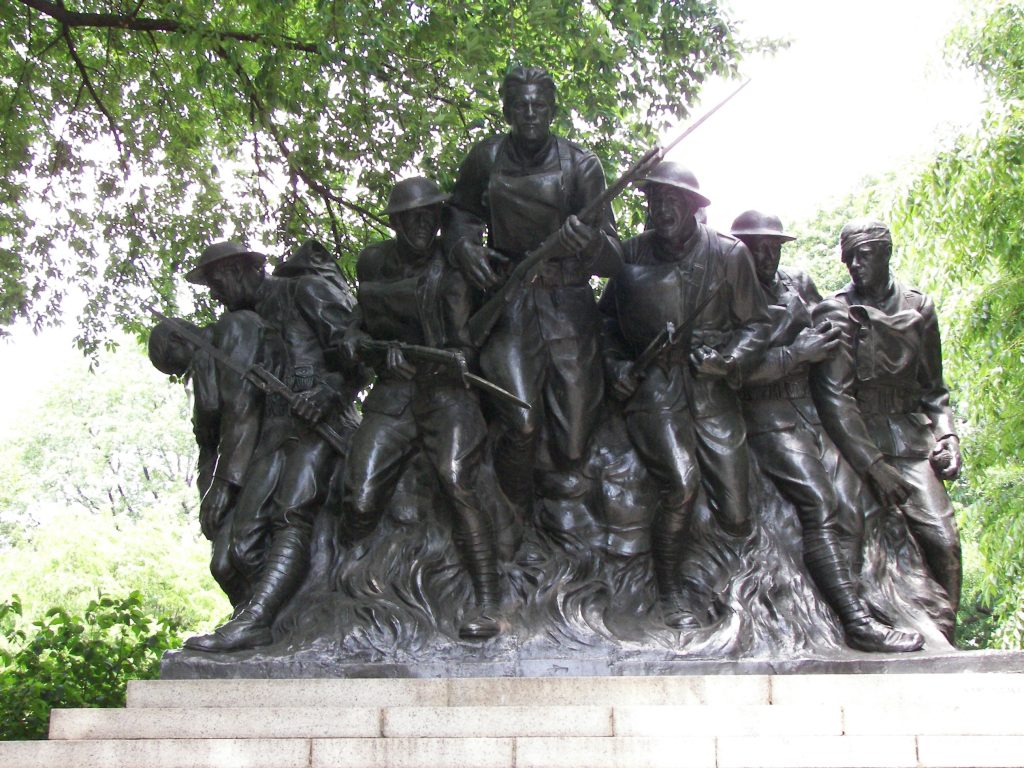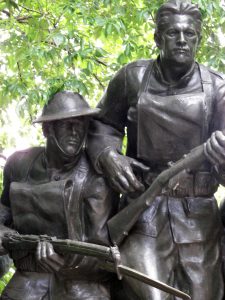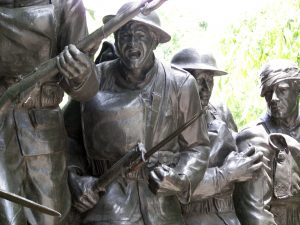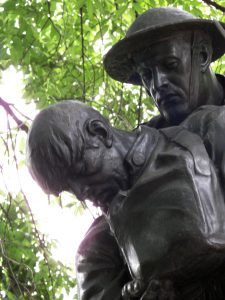 War memorials aren't created by those who perish, but by those who survive. The survivors knew the cost of breaking the Hindenburg Line. By 1927, when this memorial was dedicated, they also knew the effects of the Great War.
Five days after the Hindenburg Line was broken, the German government requested an armistice. In the negotiations that followed, President Wilson pressured the Allies to accept peace without victory and to become one big, happy, self-determined, openly allied, minimally armed, free-trading family in the League of Nations. By the mid-1920s, when this sculpture was created, the family was clearly dysfunctional.
In New York City, memorials to the Great War were not to political or military leaders, but to anonymous infantrymen. Many of those mourning America's 100,000 fallen soldiers believed their loved ones had died in vain. That's why the 107th Infantry Monument is a quarter mile, a quarter century, and worlds away from Central Park's memorials to the Civil War.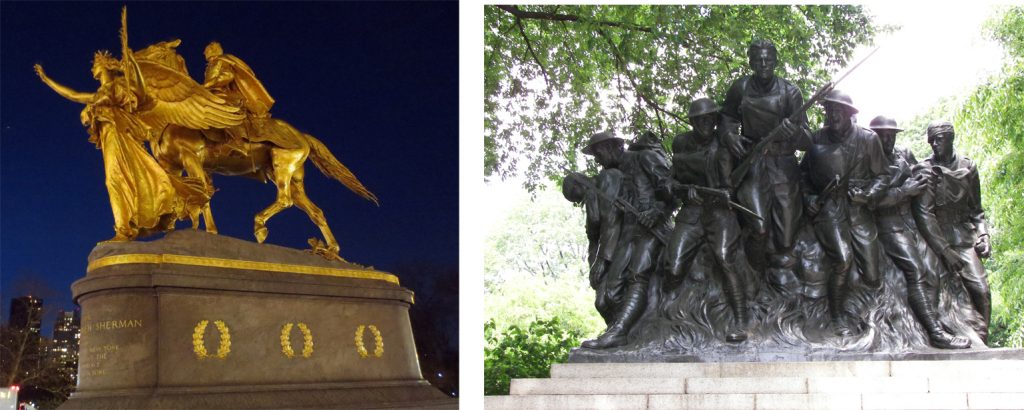 More