On May 17, 1792, outside 68 Wall Street, twenty-four stockbrokers signed an document that established the New York Stock & Exchange Board. Since a buttonwood tree stood outside the building, the document is nicknamed "The Buttonwood Agreement." And here it is: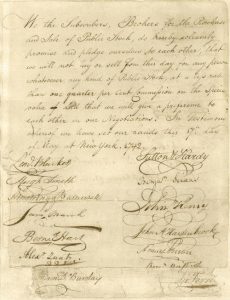 The text reads:
We the Subscribers, Brokers for the Purchase and Sale of the Public Stock, do hereby solemnly promise and pledge ourselves to each other, that we will not buy or sell from this day for any person whatsoever, any kind of Public Stock, at a less rate than one quarter percent Commission on the Specie value and that we will give preference to each other in our Negotiations. In Testimony whereof we have set our hands this 17th day of May at New York, 1792
The list of original signers (see the Wikipedia article on the Buttonwood Agreement) is remarkable for its diversity.
The actual document (don't you just love actual documents?!) is at the New York Stock Exchange Archive, which is not open to the public.
More
This image of the Buttonwood Agreement is by Samuel Gottscho, a brilliant photographer (see the exhibition catalogue The Mythic City) – a photo of a diorama at the Museum of the City of New York.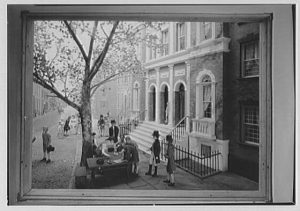 As far as I can tell without walking down there (which I don't have time to do before posting this), 68 Wall Street would have been on the south side of Wall Street, where that huge Postmodern Neo-Greco-Egyptian-&c. building is, at 60 Wall Street.
On the sculpture of the New York Stock Exchange's headquarters, see here. I don't know of anyone else who has done an analysis of this (preens). Hint: producers.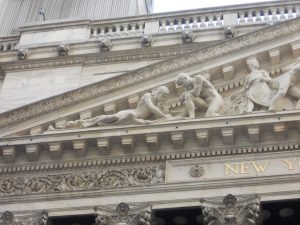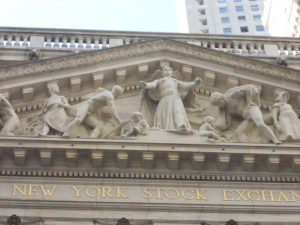 My 2-hour tour of sculptures in the Financial District includes the NYSE pediment, Washington at Wall Street, two media moguls, the image of defiance, and America the most beautiful. To arrange a tour, email DuranteDianne@gmail.com.
Want wonderful art delivered weekly to your inbox? Members of my free Sunday Recommendations list (email DuranteDianne@gmail.com) receive three art-related suggestions every week: check out my favorites from last year's recommendations. For more goodies, check out my Patreon page.